Fulfillment by Amazon (FBA) is definitely a "get rich quick" scheme, but it's legitimate. People just don't use the right strategies to start their Amazon FBA businesses. Scaling your Amazon store in 2021 is very different from doing it in 2006 – and it's not just the competition.
I'm definitely not some all-knowing Amazon selling 'guru.' In fact, I wouldn't even call myself an expert (I'm just your typical high school senior), but I've built a couple of online businesses and stores from scratch with $7.28 in my bank account.
So are you willing to put aside everything you've heard from those "I made $1,294,140 overnight" folks and think about the business model from a new, updated perspective? The perspective of a digital marketer?
Pro tip: It's like how the blogging business scene has changed drastically in the past 5 years. Back then, it was just "wait and they will come." Now? You need to market yourself and your site.
That said, if you're not willing to put in the work and hustle, I'm afraid this guide isn't for you.
But if you'd just love to start a blog or online store anyway, you can get started with Bluehost hosting for $3.95/month (70% off your hosting plan) with my link below.

If you're in a rush, here are some options for you to navigate this post.

If you're comfortable, let's get started.
Amazon FBA in 2021 is NOT Like it Was in 2006
Back then, things were extremely passive. You could put up a listing without taking into account competition, pricing structures or search volume and still get tons of sales.
Just like in 2012 when could put a 500-word piece of sh*t on your stupid niche site and generate thousands in ad revenue. It's not the same now.
Here's a glimpse at the Amazon selling scene now:
Individuals & businesses alike are a part of FBA.
Amazon has over 350 million items in its inventory.
9.7 million sellers with 238,000 new sellers each year. That's a lot.
More than 80% of those are 3rd party sellers (we'll get into this).
25,000 sellers are making over $1,000,000/year in sales.

Those numbers look big, but blogging is still bigger. That just means selling on Amazon isn't as hard as starting a successful blog.
Where traditional ecommerce sites fail, Amazon FBA comes into the picture. It's not only easy to use but also does away with hassles like shipment, inventory management, etc.
There's a reason why many sellers want to be a part of this seller's program today.
You can easily enroll in the Amazon's fulfillment program in a few simple steps and join as a third-party seller.
You can then send your products to Amazon fulfillment centers – they will pick it up, pack, and ship them to buyers.
One of the most significant advantages of joining the FBA program is that you get to showcase your products in front of millions of potential buyers without having to do much work yourself.
Your products are even qualified for Prime shipping. And buyers naturally prefer Prime shipping as it is fast and free.
What is Amazon FBA (Fulfillment by Amazon)?
You hear the brand name "Amazon," what comes to your mind?
Alright, that's off topic.
What I'm trying to get at is that Amazon is the world's largest online marketplace, where buyers can start selling their products right away after registration and setting up their online stores.
Amazon's fulfillment program makes the process even simpler.
Amazon FBA was initially launched in September 2006.
It gave merchants the opportuniy to sell their products on Amazon, essentially starting an Amazon business.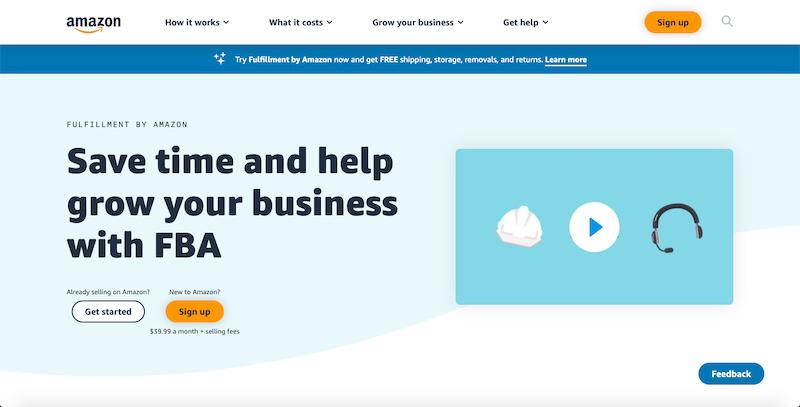 TL;DR (What is Amazon FBA?)
Merchants (hopefully that means you in the near future) join as third-party sellers, and they are allowed to send products from suppliers into Amazon fulfillment centers.
The products are then picked, packed, and shipped to buyers by Amazon.
Amazon offers two primary fulfillment options, namely:
Amazon FBA (Fulfillment by Amazon) – Here, Amazon will take care of all the aspects of your selling process (like storage, shipping, customer service). You just have to send your products to the Amazon fulfilment centre and they'll take care of the rest.

Amazon FBM (Fulfillment by Merchant) – Here, the seller (you) will take care of the shipping and packing process on your own and deliver the product directly to the customer. You merely need Amazon as a credible platform to reach your audience and generate traction.

That said, you'll pay both storage and fulfillment fees to Amazon. Unfortunate huh?
However, it's worth paying the fee as once you sign up, you will get access to Amazon's 24/7 customer service and one of the most advanced fulfillment networks.
The cost also includes shipping goods to customers.
Here's a good video by Amazon themselves about the basics of FBA.
Almost everybody can list an item for sale on the massive ecommerce platform.
It can be something you have bought wholesale, a handicraft, or simply a product you don't want to own anymore.
How does Amazon FBA work?
It doesn't take a lot of work to get started with Amazon FBA since Amazon will be handling pretty much everything for you.
Just follow through these simple steps to see how Amazon FBA works and how to get started.
Step 1. Create an FBA seller account.
You have two options: you can either use your customer account to start selling or create a seller account specifically.
Before that, make sure you're ready with these documents and information:
Chargeable credit card
Tax information
Business email address/Amazon customer account and your phone number
Government ID (identity verification protects sellers and customers)
A bank account where Amazon can send you proceeds from your sales

Step 2. Send your products to the Amazon Fulfilment Center.
First, make sure that the product you're sending is listed in your seller account.
Here's a video on how to create Amazon Product listings:
Next, label all the products you're going to send. You can either do it yourself or via Amazon FBA Label Service.
Finally, send your products to Amazon.
Initially you'd have to let them know which products you're sending and they'll tell which warehouses to send your products to.
Amazon will then store your products in their warehouses. The company charges just $39.99 per month for a professional selling account.
That's really not much, considering the fact you'll be making a whole lot more if you take my strategies seriously.
Step 3. Amazon Stores & Takes Care of Your Products.
Once your inventory reaches Amazon's warehouse, they'll scan the labels, sort your products, weight them, and store them safely.
You don't have to worry about your products getting damaged either. Amazon will reimburse you for any damage incurred.
Step 4. Amazon Ships Your Product.
If someone is interested in purchasing your products, Amazon will pick, pack, ship, and track the order for you.
The company also takes care of the entire transaction, including returns and refunds, making sure your customers are satisfied with the shipment.
Step 5. Automated Order Fulfillment.
After you enroll in the FBA program, you can automate order fulfillment with Amazon's advanced shipping and fulfillment services.
It will help you in earning more sales from Amazon's popular Prime customers.
If statistics are anything to go by, half of all sales on Amazon can be credited to third-party sellers.
And out of the top 10,000 sellers, 66% of them utilize FBA.
Step 6. Adding Up Your Sales.
Amazon sums up all your sales every two weeks, takes away your seller fees, and credits your bank account with the profits you make.
But note that Amazon will charge both storage and fulfillment fees.
However, the fees include Amazon's excellent 24/7 customer service, shipping costs and access to one of the best fulfillment networks in the world.
Here's a little infographic to give you a quick overview of how Amazon FBA works. We'll go into some more "less-quick" overviews soon: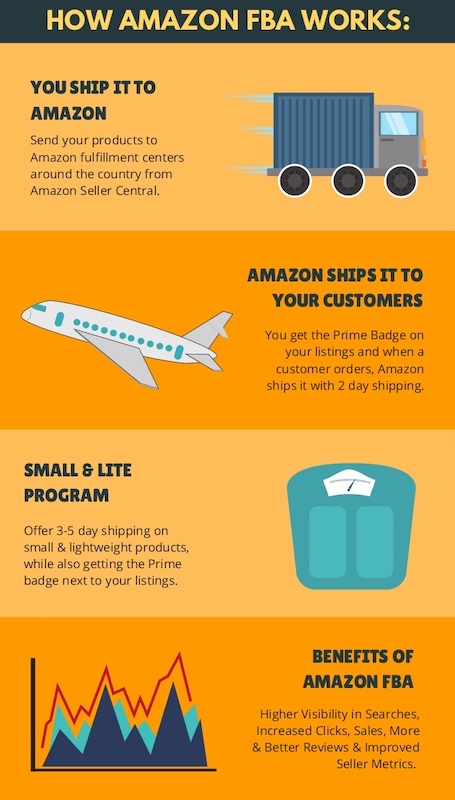 All in all, Amazon FBA is great for those businesses who want to scale more quickly as their service is reliable and the cost is predictable.
Now that you know the gist of how Amazon FBA works, let's get into what your job is.
Amazon FBA Statistics

1. 300 Million Active Customers.
Amazon has over 300 million active customers in over 180 countries across the world.
In the US alone, there are 195 million monthly unique visitors and 90 million Prime subscribers.
And if you utilize Amazon FBA, your brand will become accessible to even Prime buyers.
And Prime customers usually spend more money with Amazon than regular customers.
2. Prime Customers Spend More Than 2x the Average Customer
In a year, the average customer spends $700 on Amazon, while Prime customers spend approximately $1,300 per annum. (Source)
It means that if you use Amazon FBA and make yourself more visible to Prime buyers, you can gain more profit.
3. FBA Leads to a 30-50% Increase in Sales
Since Amazon FBA accounts get access to Prime members, it leads to a 30-50% spike in sales of an average brand. (Source)
It's the simple art of correlation. Higher demand from loyal Prime buyers means more sales.
Your FBA Responsibilities
Though Amazon does the majority of the work for you, there are some responsibilities you will have to take up.
Selecting Your Product – You will have to choose the products you will sell. It can be any product. But it is better to pick products that will sell fast in order to avoid storage fees.
Keeping Inventory Before Sending to Amazon – You will also be responsible for keeping the inventory in stock. After all, you would need some place to keep the products with you before sending them over to Amazon warehouses.
Marketing & Advertising – While Amazon itself is a huge brand name, you still have to get engaged in marketing and advertising of your products, especially if you are selling custom goods.

How Do You Get Products Into the FBA Program?
Here are the steps you need to follow to get your products into FBA:
1. Set Up a Selling Account.
If you're already selling on Amazon, simply FBA to your account, and you are ready to roll. Or set up a new selling account and select the FBA option in the beginning.
If you have an individual account, you can still sell via Amazon FBA, but you won't be able to advertise or use other program features.
2. Select Your Product Category.
While you can sell a lot of things on Amazon, you still have to check and see whether Amazon allows you to sell some particular category of product.
There are some categories that are open to all sellers (both Individual and Professional sellers), while some categories require you to have a Professional Seller account.
Note that the Professional Seller account requires you to pay $39.99 per month.
Here's a chart that shows all the major differences between an Individual Seller account and a Professional Seller account.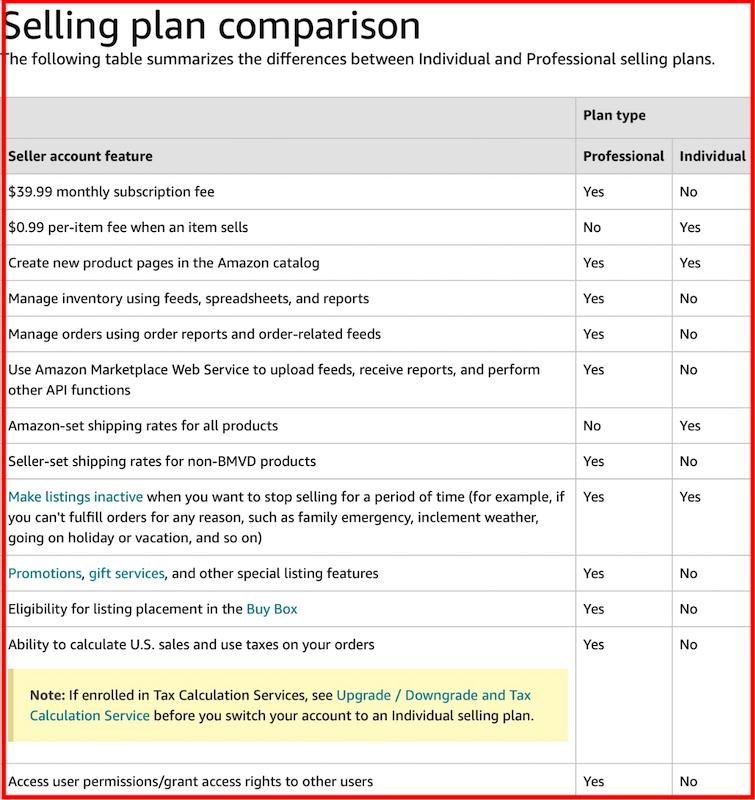 On the other hand, there are some categories that require special approval to sell and some cannot be sold by third-party sellers altogether.
Before moving forward, you might also want to have a look at this list of FBA product restrictions.
3. Create Product Listings.
After selecting your product category, it's time to create your product listings.
You can either add your items in bulk through flat files or add them one at a time.
Also, you have the option to match an existing listing in case someone else is selling the similar product.
Otherwise, you have to create an entirely new listing altogether (when you're the first seller).
A product listing includes: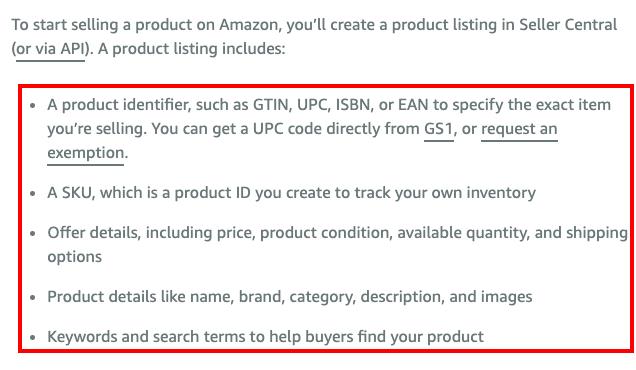 Other than this, there are several other perks of an Amazon's Professional Seller account, including:
It lets you sell more than 40 items a month.
You get access to APIs and more selling reports.
It also lets you sell with programs like Launchpad or Handmade.

4. Create an Optimized Product Detail Page.
Chances are that you're already familiar with this page. Your product detail page is where the customers find all the relevant details.
Before building your product page details, try to keep yourself in your target audience's shows and make sure that you answer all the necessary questions.
Moreover, keep your description concise, engaging, accurate, and easy to understand. You might also want to include important keywords for SEO purposes and ranking.
Here's a list of everything you need to prepare for your product page:
Note: If multiple other sellers are offering the same product as yours, then Amazon combines all the essential details from other products to create an optimum detail page. Don't worry, you can get it reviewed if it doesn't satisfy you or you find the information incorrect.
5. Prepare Your Products.
Finally, it's time to start earning big bucks. But not so fast…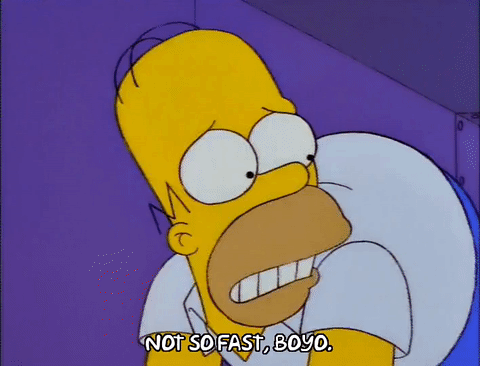 Before that, you have to prep your products and ship them to the Amazon warehouses.
For that, make sure to strictly follow Amazon's packaging and prep requirements.
You will also need to follow the shipping and routing requirements.
For instance, Amazon doesn't accept separate units within a set.
Thus, you have to pack separate units in a way that they're labeled as a set and sealed together.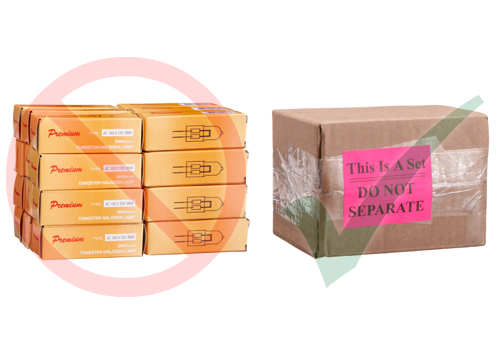 Follow this link for all the essential instructions related to Amazon FBA packaging and prep requirements.
After complying with all the restrictions, ship your inventory to Amazon FBA.
First, you will have to first create a shipping plan and print your shipping labels.
You might also want to use an inventory management software for that; RestockPro is an excellent option.
Finally, send your items to the company's fulfillment centers.
That's the general outline. Now we'll talk about where you actually get the products you're selling.
How to Source Products for Your Amazon FBA Store
Once you have selected your ideal product to sell, it's time to source them from suppliers.
Luckily, there are many suppliers and ways to source products for Amazon FBA – both online and offline.
But for most of the inventory sourcing options, you will need to make an upfront investment in the product.
Here are some of them:
1. Online sourcing
Option 1: Alibaba
Alibaba.com helps you purchase products in bulk at a discounted price from overseas B2B marketplaces.
This Chinese company attends to millions of buyers and suppliers worldwide.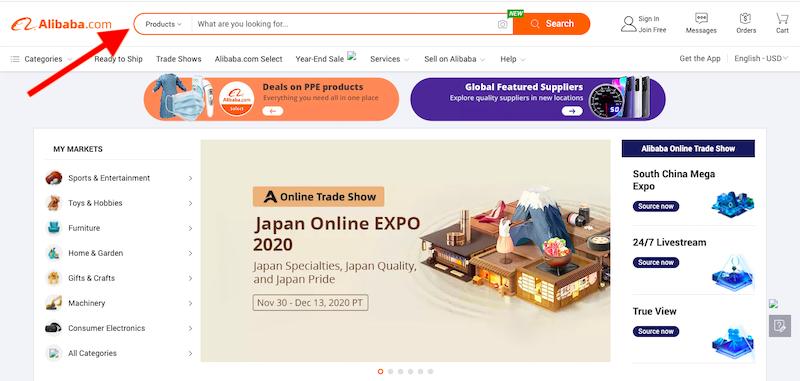 You can leverage its search box to directly search the type of product you're looking for.
Luckily, Alibaba also groups their products in different categories and provides several filters to narrow down your search.
Option 2: Jungle Scout's Supplier Database (Premium)
Jungle Scout's Supplier Database helps you find certified suppliers, match genuine products with your supplier, discover niche suppliers, etc.
Plus, it displays how much business the supplier has done until now, along with their current customers.
Simply enter the product you want, company, or supplier into the "Source Your Product" search bar to get relevant results.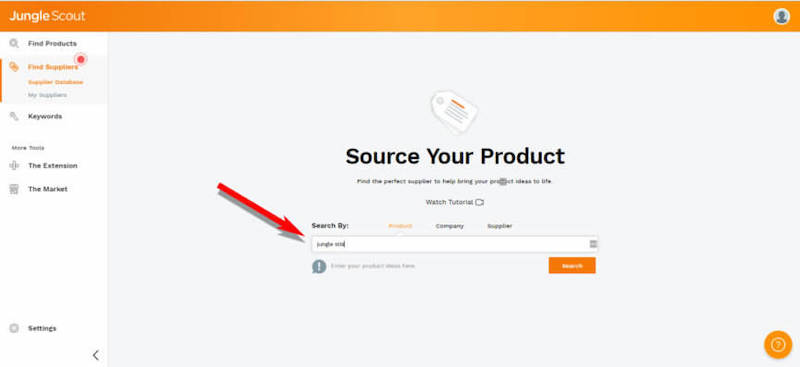 Option 3: Retail Arbitrage.
Retail Arbitrage is simply buying products from one retail market and reselling them on another market (Amazon FBA, in this case) at a higher profit margin.
It will take time to source your inventory via retail arbitrage, but usually, you won't have to make a large upfront investment.
This type of product sourcing is best suited when you're purchasing products in small portions.
2. Save on Clearance Items.
Did you just say CLEARANCE SALE?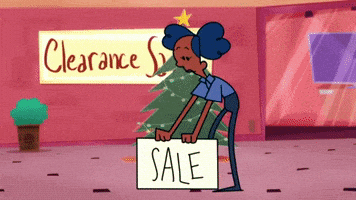 It's somewhat close to reality.
However, all of that stampede and crowd is worth it since you can purchase items at much lower prices during clearance sales and resell them on Amazon – for amazing profit margins.
But note that with some stores, this is a recurring trend as chain stores will have identical items and usually clear them at the same time.
There will be a hassle while getting your desired items, but you can save a lot.
3. Request Product Samples Before Shipping
Before you make the final order, make a smart move, and ask the suppliers and manufacturers for samples to test the products.
It will give you a first-hand experience of the quality of the product.
Moreover, it will help you experience what it is like to work with the dealer.
If you miss this, you might end up with unfamiliar products in the warehouse.
Amazon FBA Fees
There is a specific fee you need to pay if you are selling on Amazon. I mean, how are they going to pull a profit?
Don't worry though, it's not all that bad as long as you know what you're doing.
1. Fees for All Amazon Sellers
Amazon charges a commission for each item sold, depending on the category your item is listed. The cost is taken out post-sale. You can refer to Amazon's list of referral fees for more details.
Amazon also charges for refund fees. You will be paying either 20% of the charge refunded or $5.00, whichever is less.

2. Amazon FBA Seller Fees
Depending on the size and weight of the item that is sold, packed, and shipped, Amazon will charge you your FBA shipping fees. Refer to Amazon's current FBA fees, which are subject to change.
The storage fees are paid monthly. The company also charges long-term fees. Monthly storage fees will also depend on the amount of storage you're occupying, in cubic feet.

In the case of oversize items, the storage fee will be higher.
You will have to pay long-term storage fees if your item is in the warehouse for 180 days or more.
In case it stays longer than a year, you will be paying higher charges.
Remember how you were taught not to procrastinate? Yeah, it's catching up now.
Refer to the list of long term storage fees for more details.
3. Miscellaneous FBA Fees
If you have over 100,000 ASINs, you will be charged a monthly flat fee of $.005 per ASIN.
Closing fees are charged for certain media products like CDs, DVDs, and books.

Pros and Cons of Starting an Amazon FBA Business
There are both pros and cons of joining the Amazon FBA program, but the pros outweigh the cons by a landslide:
Pros:
Buyers trust Amazon: Since Amazon is an established name, your potential buyers already trust the company.
Painless logistics and shipping: Amazon manages fulfillment for you. You don't have to spend time packing and shipping. Thus, you save both time and cost.
Returns management: Amazon will handle everything from customer inquiries to return shipping labels and reverse logistics.
Lower shipping rates: Since the company has contracts with the major shipping carriers, they offer discounts on shipping costs. It is not only the sellers, but buyers also benefit as many orders can be shipped for free. Plus, Prime members are eligible for free two-day shipping on all FBA items.
Excellent customer service: Amazon offers stellar customer service. Your customers will be receiving 24/7 support via email, chat, and phone.
Potentially limitless storage space: You neither have to pay for a warehouse or face apprehensions about the size of the warehouse you require. Plus, if you make fast sales, you will get limitless storage space.
Amazon will fulfill your orders from other channels: By using Amazon's Multi-Channel Fulfillment (MCF) service, you get the opportunity to sell products on other channels, including BigCommerce. And Amazon will fulfill the orders.
Fast delivery: The Company has several fulfillment centers worldwide. Thus, your products can be delivered anywhere within a couple of days.

Cons
The cons of Amazon FBA include:
FBA fees: You will be paying for storage and fulfillment fees (including long term storage fees). You will also be required to pay for removal fees in case of defective items.
Product prep isn't easy: It is a challenge for newbies to follow the strict guidelines on how to prepare and ship your items to Amazon.
Tracking inventory can get complicated: It is difficult to always check what products are available, what products need to be ordered, and what's not selling. It is especially tricky if you are selling on several channels.
Managing the sales tax is not easy: Each state in the US has different sales tax collection rules. And since Amazon has fulfillment centers in all the states, and they keep regularly shuffling inventory between warehouses, things can get complicated.
Commingling merchandise might yield negative results: The default inventory setting commingles the same products from the same company. However, counterfeit versions of your product could be commingled with your products, and it can ruin your reputation.

How to Choose What Products to Sell on Amazon FBA
You probably already have something in mind you want to sell, but actually finalizing which product to sell on Amazon FBA can be challenging.
Don't worry, you're not the only one!
It's only natural that you can't decide what to choose from millions of products already sold on Amazon.
You also have to consider a product that gives maximum return on investment.
First and foremost, remember that customers on Amazon are usually seeking the "best deals," which means they'd want to select the cheapest option possible.
At least in most cases!
1. Small & Lightweight Products.
Since you want to offer the best deals possible, it's a great idea to choose the type of products that would require minimum handling and shipping costs.
This way, you'd be able to tone down the shipping costs and save yourself a bigger margin – meanwhile giving your customers a better deal too.
Remember that most customers expect free shipping even if they don't have Prime membership.
So, the more you can save on shipping and handling of products, the better!
2. Private Label your Products.
Private label products are products created by one company and sold under the brand name of another company.
Usually, products are private labelled at the manufacturing stage and then later sold by another brand.
Or you can buy unbranded products and decide to private label them later on.
Naturally, branded products are going to wow your customers more as compared to unbranded products.
3. Sell Niche Products in Popular Categories.
Selling in popular categories is going to be competitive, but it will bear fruit as long as you follow the correct criteria and strategies.
Here's a list of 2018's top selling product categories at Amazon:
And if you think of it, these product categories can be vast.
For instance, a category like "Toys & Games" can appear to be very common and competitive.
However, if you choose to sell toys for 3-5 year old girls, the same category doesn't appear all that competitive anymore.
Amazon isn't the place where buyers browse around for hours, waiting for something to catch their eyes.
So, the idea is to narrow down to specific products since customers who come to Amazon usually come with the intention to buy an 'intended' product.
So, if you sell niche products from a popular category, then you're good to go.
4. Conduct Proper Research Before Choosing a Product.
Conducting product research will help you pick the best products to sell on Amazon FBA.
It will also give you a perfect idea of what products to sell and identify the trends in your niche.
You can also use different marketing tools to gather data and find low difficulty niches.
Other than this, make sure to read product reviews, including those of your competitors.
You can use all this information to make more informed business decisions.
Types of FBA Business Models
Aside from the type of products you want to sell, make sure to consider your business model as well.
Yes there are different business models when it comes to Amazon FBA sellers.
Just like how B2B and B2C are different, FBA business models differ in quite a few ways too. So feel free to take your pick(s).
It will also help you choose your product since it's a good idea to select a product whose ideal business model you can support.
Here are three primary business models for fulfillment by Amazon:
1. Resellers
As a reseller, you'll be purchasing products in bulk from a wholesaler or even a retailer and sell them directly via Amazon FBA.
Obviously, you'll take a fixed margin for each sale. In this case, you won't have to maintain an inventory either.
Instead, you can get the wholesaler or retailer to get the shipped directly to Amazon's warehouse.
2. Wholesale
You can buy branded items from manufacturers or suppliers and resell them on Amazon.
For that, you will need to reach out to companies and build a relationship.
Trade shows are great for sourcing and also provide a great platform to negotiate the rates and shipping costs.
And most importantly, try to keep your margins in a profitable and sustainable place.
3. Brands
Many established brands are doing well with Amazon.
You can quickly get your brand registered and gain access to branded storefronts, Amazon's sponsored ads, buy box, and more.
Once you register your brand with Amazon's Brand Registry, you will also have more control over your product listings.
What's more, you can also gain access to special features like A+ content and product videos.
The only drawback to this model is that brands tend to boot most FBA sellers out of the competition.
But that doesn't apply to my readers since we have the top Amazon FBA seling strategies coming up next, so you'll be fine.
10 Strategies for Amazon FBA in 2021

1. Competitor Analysis.
By researching Amazon's best sellers and researching your competitors, you will come to know which products get sold fast and are profitable.
Not too hard to find out if your competitors are big names.
You have a better chance of succeeding if you avoid going head-to-head with the highest sellers when you are new.
However, it is good to have an idea of what kinds of products mostly get sold so you can build, scale, then conquer those competitors.
2. Create Bundled Listings.
When everyone is selling the same products, the chances of selling your products and getting them noticed become lower.
This is where bundle listings come into the picture.
Bundle listings consist of products that are complementary and make it convenient for the buyers to buy them all at once.
For example,
"Kodak EasyShare C143 12MP Digital Camera Bundle with Rechargeable Batteries & Carrying Case – Blue"
Here's another example of product bundling on Amazon:
Bundle listings also help you sell more of your products and give you a chance of upselling and cross-selling.
Another benefit of bundled listing is that it helps you create a unique listing that will still show up when people hunt for the main product.
In simple words, if people still search for one of the sub-products, the main product will also show up in the results.
Naturally, this is good for SEO (Search Engine Optimization) purposes as well.
If you also want to create bundle listings for your products, you might want to follow this guide by Amazon: Product Bundling Policy.
3. Be Picky About What You Sell.
Always conduct research on which products sell better.
High ranking products may sell quicker, but you will also face more competition.
This doesn't mean that low ranking products are always a safe bet.
Low ranking products will not sell fast and you will have to pay long term storage fees at that.
That said, since the competition is low, you can easily become the dominant seller for products in your category.
Once you know the sales rank, you'll know who your competition is.
So, avoid making any quick decision and be very picky about what you sell. Again, the best idea is to sell niche products.
Additionally, starting small can also prove to be useful.
Having only a few products will make it easier to create an organized, streamlined process.
Once established, you can scale up and add more products.
4. Branding.
Creating a unique brand allows you to stand out from the competition.
You will also be able to understand your potential buyers better and thus create styled product images, titles, and descriptions consistently.
The best way to go about it is by private labeling your products.
5. Amazon SEO (Search Engine Optimization).
To get discovered more easily, you will need to rank higher on search engines.
Thus, make sure to research which keywords will help you rank higher and what terms your audiences are precisely searching for.
You can use those keywords throughout your product listings to gain maximum traction.
6. Detailed & Optimized Product Descriptions.
It goes without saying that your product descriptions should offer complete instructions and answer all the questions regarding your products.
Moreover, your customers should be able to understand precisely what they're getting and from whom they are getting when they buy your product.
And don't just listen to what I'm saying.
Even statistics suggest that most consumers discontinue a purchase if they find a product description lacking in any way.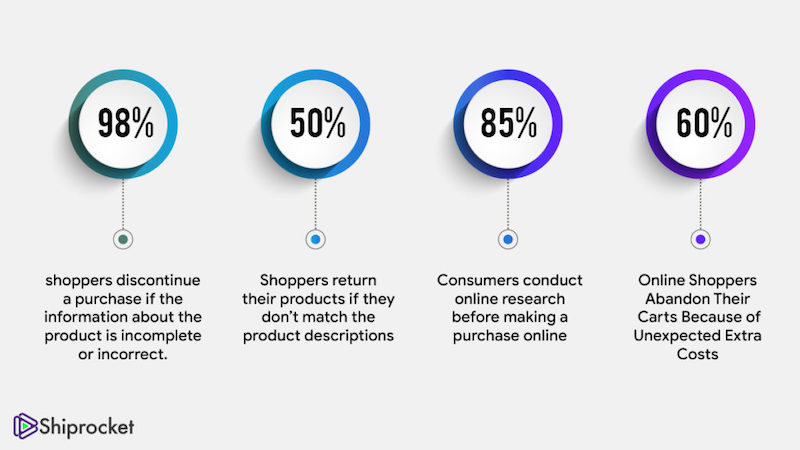 So make sure to include every important detail in your product description, including:
A title
Details about the features
Price
Size specifications
Special instructions
Expiry date if any
Brand information (try to tell your brand story in a compelling way)

And product descriptions aren't nearly enough; you should also add more product photos and videos to grab more eyeballs.
Here are some other things that are an essential part of your Amazon FBA product description:
1. Optimize Your Images.
First impressions do matter!
Just like landing pages for products and sales pages, what a visitor sees is extremely likely to influence their decision to buy or to not buy.
Upload lots of product images and make sure that you are uploading only high-quality images.
And since your photos are going to be the only thing that your customers see, make them as detailed as possible.
Show them from all angles. Creating 360-degree images and videos can also help engage customers.
2. Optimize Product Titles.
Amazon allows up to 250 characters for titles, but it also suppresses product listings with titles that are too lengthy.
Though you want your headings to be descriptive, keep it to the point and insert your main keyword into the title.
Consider starting with a brand name, product name, and key features.
3. Use Bullet Points.
Customers will be looking for bullet points once they click through your product since they are easy to read.
However, make sure that they contain all the details needed by your customers to make a purchase.
You can answer common questions, talk about your product's benefits, and add vital product details.
7. Get Product Reviews.
Having positive reviews can increase the chances of getting your products purchased. But the problem starts at just getting those reviews in the first place.
This is where the real strategies come in. Utilize the follow up feature that Amazon has. More often than not, they'll leave a star rating but that's not enough.
You want a testimonial. In that case, use a tool like Jungle Scout to automate the entire process so you can track your progress.
8. Answer FAQs.
When you join Amazon, you will discover a unique question and answer feature.
Anyone can ask a query about a product, regardless of whether they have bought it or not.
And anyone can answer the question, whether they have already bought the product or not.
You don't have to wait for customers to ask questions.
Try to increase engagement by asking your friends and acquaintances to post a common query about your product.
You can then go ahead and give the answer.
This will definitely make your customers perceive you as an involved and helpful seller.
9. Harness Amazon Marketing Services (AMS).
Once you open any product page and scroll down a bit, you'll immediately come across many sponsored products and brands.
Something like this: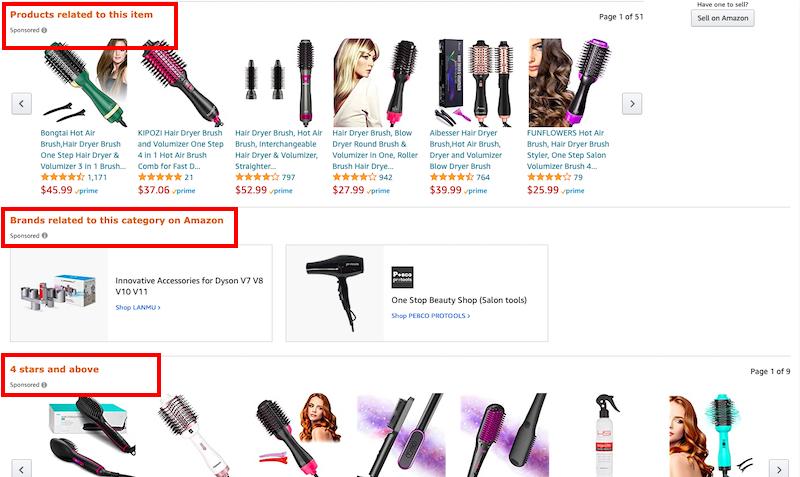 In fact, you'll notice that these sponsored products way before organically listed products.
Naturally, such sponsored products are bound to grab more attention and have an obvious edge over other products.
Those ads are created via Amazon Marketing Services (AMS).
AMS offers three types of advertising solutions:
Sponsored Products
Sponsored Brands
Amazon Stores
Amazon advertising solutions help you create ads for your products pretty easily.
You can then target these ads based on keywords or comparable products.
Moreover, you can also conduct performance analytics to optimize your ads.
10. Implement a return policy.
When potential buyers see that they have the option to return the product if it doesn't turn out to be what they were expecting, then they're more likely to buy your product.
However, your return policy shouldn't end up burning a hole in your pockets either.
Make sure you add an appropriate return policy that not only benefits your customers, but is of benefit to you as well.
Exclusive Benefits for Amazon FBA Sellers
Aside from the most apparent benefits like shipping and handling by Amazon, you get plenty of exclusive benefits.
Perk 1. Amazon's Special Buy Box.
Every Amazon seller covets that special Buy Box on the Amazon product detail page.
However, you must have a Professional Amazon seller account and have to be a seller for at least 2-6 months.
That being said, there have been instances when sellers got the Buy Box instantly after using the Fulfilment by Amazon (FBA) service.
It allows customers to add items for buying to their cart.
But this special buy box is not for all – usually, only the businesses with outstanding seller metrics are able to get it.
Perk 2. Amazon Prime Badge.
Since Amazon itself fulfills your delivery while using the FBA selling account, you get Amazon's promise of fast and feasible delivery.
How? Amazon provides an Amazon Prime Badge to all your Prime-eligible FBA products.
It also provides multiple benefits, including unlimited one-day shipping and exclusive access to lightning deals.

Perk 3. FBA customer support.
When you are an Amazon FBA seller, you get plenty of help and support options, personalized to meet your selling needs.
Starting from registration guide to seller central support and Seller University that provides you self-learning material, FBA has got everything covered for you.
You can even hire a professional support team to sell for you.
Perk 4. FBA Returns.
Customers are allowed to request a refund of an order fulfilled by the FBA.
When that happens, the sellers will be notified by Amazon via email and funds.
Amazon will then inspect the products that are sent back to a fulfillment center to see if the product is sellable or unsellable.
If the returned product is deemed unsellable because of defects, Amazon will decide who is accountable for the damage before reimbursing the customer or the merchant.
6 Best Amazon FBA Courses (2021)
Amazon FBA might get a bit overwhelming for you if you're completely unfamiliar with the platform and its process.
Luckily, the market is inundated with numerous Amazon FBA courses to help you set up your FBA account and start making a profit.
Here are my top picks for Amazon FBA courses:
Best Amazon FBA Course Overall
The Jungle Scout is the one and only option that has essentially everything you need to build a successful Amazon FBA business.
If you don't feel like reading more, just stop here. JungleScout is all you need.
The Learning Academy is only a small portion of a JungleScout subscription and features training led by the JungleScout CEO and founder himself, Greg Mercer.
Why should you trust him? He's an 8-figure Amazon seller and winner of Best Amazon Expert by Seller Awards.
From the product research stage to managing sales, the Learning Academy includes a plethora of over 130 videos to walk you through each and every step of the Amazon FBA business journey.
What's more? Sign up for a subscription and you get the opportunity to join a monthly livestream training to mine all the info you can from the experts.
Jungle Scout Pricing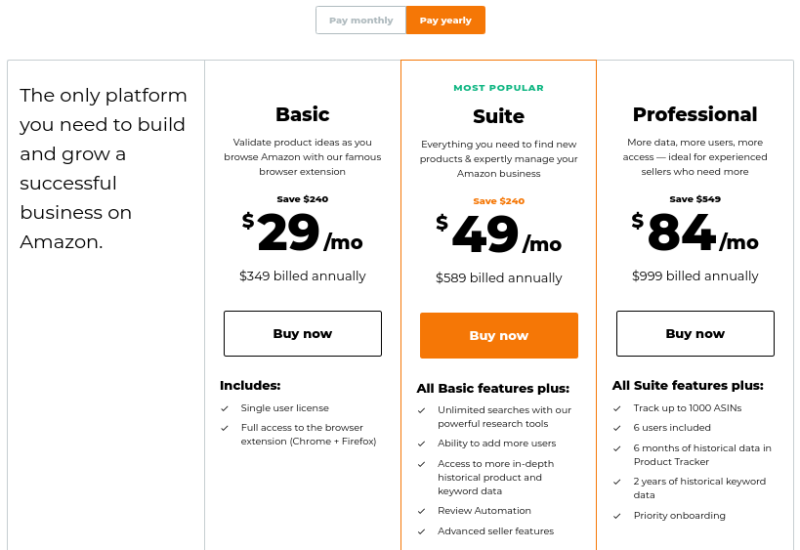 This subscription not only pays for the course, but for everything Jungle Scout has to offer.
I'm going to be honest with you, it's well worth the cost for a Suite option. While Basic may be tempting due to it's lower cost, it is lacking in features and is quite limited.
If you're planning or already have an Amazon selling business, I suggest you try the Professional plan.
It not only allows 6 seats (without extra fees), but has better historical records and data which are super important for Amazon FBA.
Here's more of technical bonus features that come with a subscription (course included).

Ready to get started with scaling your Fulfillment by Amazon business? There's a 14-day money back guarantee with Jungle Scout, so you can use the first week or so to test out all the available features and course.
If you don't like it, there's no risk. What is there to lose?
Best Interactive Amazon FBA Course
The Amazing Selling Machine is one of the most popular Amazon FBA training courses on this list.
It is an 8-week online training course that claims to help you build a 7-figure Amazon business that you can run from any remote location.
Plus, it offers a private mentorship program, an international community of sellers, and a private resource vault that will teach newbie sellers to grow a fruitful Amazon FBA business from the start – without any prior experience.
Despite certainly being the pricier option compared to JungleScout's Academy, ASM offers all of the following and more:
9-Module Online Web Class
ASM Mentor Program
Private ASM Community
Private Resource Vault
Ultimate Software Tool Suite

All of that combined is worth about $13,985. But with ASM12 (their new and improved Amazon selling program), you can grab it all for just $4,997.
You can check out everything else they have to offer here. It's completely risk-free with a guaranteed 30-day refund policy.

3. The Wholesale Formula
The Wholesale Formula was created by Dan and Dylan to help you build a massively successful Amazon business.
They focus on methods used by big brands and help you effortlessly duplicate what's already working well on Amazon.
Plus, the Wholesale formula will show you the easiest methods to build long term sustainable businesses.
Dan and Dylan accept new students once yearly to teach them how to build their own multi-million dollar Amazon business.
4. Freedom Ticket and Helium 10.
A comprehensive Amazon FBA training, Freedom Ticket will give you practical tips on how to sell on Amazon.
The program is candid and straightforward in presenting the realities of how to run an Amazon FBA business.
Here's what you'll get with the entire training set:
What's more, the program has been recently refreshed.
Now, you will find the latest information and best practices to make it big on Amazon FBA.
Starting from how to select a product to automating customer email communication, the program offers software solutions to help you each step of the way throughout the selling process.
5. Amazon Boot Camp V4.0.
Amazon Boot Camp V4.0 is a step-by-step Amazon FBA course designed to assist newbie Amazon sellers.
It helps beginners start their business from the scratch without overpowering the sellers.
By joining the boot camp, you can launch yourself as an Amazon seller and use the Fulfillment by Amazon marketplace to sell your products to millions of Prime Subscribers.
The course will also help you discover the most profitable products that you can sell for higher profit margins.
Plus, you will have deposits dropping into your bank account every two weeks – that can be used for more inventory or to buy things.
6. Marketplace Superheroes 2.0.
Marketplace Superheroes is a comprehensive Amazon FBA course that offers both training and tools you will need to run a lucrative online business.
The program is created by Robert Rickey and Stephen Somers, who are both successful Amazon entrepreneurs.
If you're a budding Amazon FBA entrepreneur, Marketplace Superheroes is definitely the course for you!
Besides, it will teach you how to find low-competition products on Amazon and sell them for a high-profit margin.
The course has helped thousands of successful people worldwide to make money using Amazon FBA.
It is perfect for new and aspiring entrepreneurs looking to make a profitable passive income – without any experience in online marketing.
The Amazon marketplace is getting more competitive year by year, and if you don't have the proper training, you will increase your chances of failing.
Thus, a great Amazon FBA course can aid you to flourish with your Amazon business.
Amazon FBA Business FAQ
What is the Amazon FBA program?
Fulfillment by Amazon (FBA) is an Amazon service that assists sellers in storing, packaging, and shipping products to customers.
The FBA program gives Amazon FBA sellers the ability to ship items to an Amazon fulfillment center (warehouses) to have them stored until they're sold.
How much does Amazon FBA cost?
Other than your own costs for setting up your online ecommerce store, Amazon FBA doesn't charge you for anything except the inventory's monthly storage fee.
Is Amazon FBA worth it in 2021?
Amazon FBA is most definitely worth it this year for serious sellers. While there certainly are other ways to generate online and side income (like blogging), if you start your Amazon FBA business and scale it the right way, it might just be the best fastest way to a 6 or 7-figure online income.
How do I start an Amazon FBA business with no money?
You're going to need money of some sort to start out. Anyone that tells you otherwise is filling you with BS.
But you can mitigate the costs by being smart about the online store platform you choose to actually get your store live. I'd recommend Shopify since it's beginner plan (Shopify Lite) starts at only $9/month.
While it's features are limited, who cares about things you don't need at the moment?
Then, you start following the strategies I've detailed in my guide and you're already a step ahead of your competitors – without burning through your wallet like they did!
Can Amazon FBA make you rich?
It all depends on how good your growth strategies are. Sure, some people take decades to rake in 7-figures, but others, just 12 months.
How do you do the latter? You've got to label out your niche, product roadmap, audience, and selling points to maximize your online store's income.
Do what the experts that have proof of their quick successes did. Don't do what 'everyone else' does. They're not making 7-figures, are they?
What products sell the most on Amazon?
Books are arguably the most popular items sold on Amazon, but if you're not a fan of that, then these items might be the perfect niches to target:
1. Clothing
2. Jewelry
3. Shoes
4. Electronics
5. Toys/Games
6. Home essentials
How much do Amazon sellers make?
It varies. I personally know a few friends that tried Amazon FBA out for a week or two. They lost money.
But I also have a friend that has raked in over 7-figures with just a single Amazon FBA business – in less than 12 months.
It's all about your dedication, grit, and willingness to learn the right Amazon selling strategies and relationship building tactics.
What are Amazon FBA's age requirements?
You just need to be at least 18 years old. The reason for this is the need to enter a legal contract to create your Amazon selling account.
How do you set up & start an Amazon FBA business?
A few simple steps (detailed above in my post):
1. Create an Amazon Seller account (different from customer).
2. Set up your online store (with the best ecommerce platforms).
3. Pick a profitable niche (passion only gets you so far).
4. Pick the products you want to sell (after research).
5. Get those products outsourced from a third party.
6. Create listings.
7. Establish your brand and market those products.
8. Outsource management tasks.
8. Make a lot of side income. Easy (not really).
Executive Summary
Hopefully, this guide will help you to sail smoothly and scale your business if you decide to join this amazing Fulfillment by Amazon program.
Since Amazon is an established company, people trust them.
It will be easier to sell your products on this platform than trying to set up your own store from scratch and start selling.
Plus, Amazon is known for providing stellar customer service. So if any issue arises, you can always resolve it.
And you don't want to miss out on the millions of potential buyers out there on the platform, do you?