The best podcast hosting platform is Buzzsprout. With a user-friendly dashboard, built-in transcription, an embed player, an advanced publishing workflow, and much more, it's a reliable hosting service for just about anyone. Plus, you can get started free for 90 days and get a $20 Amazon gift card upon upgrading. Transistor and Castos are the other podium finishes.
Looking for a place to create, store, and promote your podcast episodes? Podcast hosting services are just what you need.
With over 1,750,000 podcasts and over 43 million episodes as of January 2021, podcasting is becoming increasingly relevant all across the world. (Source)
To start a podcast, a hosting platform is essential since you'll need something reliable to store your .mp3's and a podcast feed. Think of it like choosing a web hosting service for your new blog.
Whether you're new to the scene or just looking for a better platform to migrate to, this guide is just for you.
Here's what we've found after testing out some of the best podcast hosting tools on the market.
What is the Best Podcast Hosting Platform?
Buzzsprout: Reliable Podcast Hosting for Anyone
Transistor: Best Podcast Hosting for Brands & Teams
Castos: Best for WordPress Integration & Podcast Editing

Disclosure: This post has affiliate links that I get a commission for at no extra cost to you, but rest assured that these solutions are simply the best platforms for hosting your podcast show – nothing less.
1. Buzzsprout (from $0 or $12/month)
Best Podcast Hosting Overall (Value, Simplicity & Promotion)
Buzzsprout is arguably the best podcast hosting platform in the world – for many reasons. For a start, you can host your podcast for free.
If you want to commit a little more, Buzzsprout has pretty competitive pricing options with varying amounts of storage and bandwidth.
The free plan only stores your podcast episodes for 90 days, so if you want to get serious about podcasting, one of it's premium plans will look pretty good.
But if you want to try Buzzsprout risk-free, by all means, the free plan is the way to go.
What makes this podcast hosting option stand out from all the other podcast hosting sites is that it looks updated and modern.
Unlike most other platforms, the available fonts, colors, customization options, and aesthetic options on Buzzsprout actually look appealing.
Credit could be given to the fact that Buzzsprout is relatively new compared to the others, so it naturally looks sleeker.
New Buzzsprout Features:
a built-in transcription integration
Magic Mastering to make your episodes sound perfect
an affiliate marketing integration for your Buzzsprout site
a NEW embed player
the publishing workflow
the text editor for show notes

Some of the nice features they've added in 2020 are statistics (analytics), an embed player, and an awesome mobile-friendly podcast site design.
In addition, Buzzsprout has an affiliate marketplace which allows you to make some more money with your podcast show.
Depending on the plan you purchase, you can add administrators or editors to your podcast as well.
Buzzsprout Plans and Pricing
Buzzsprout's pricing structure is simple and easy to understand. They charge by the length of your shows.
$12/month – 3 hours of audio/month
$18/month – 6 hours of audio/month
$24/month – 12 hours of audio/month

So if you have an idea of how long your podcast shows will be, it's a piece of cake to determine how much you'll be paying for podcast hosting.
Buzzsprout Podcast Hosting Upgrades
Here are their upgrade options:
+$6/month – super-high quality audio (192k stereo)
$.10/minute for transcription

Buzzsprout sound good to you? You can get a $20 Amazon gift card if you decide to go with one of their premium plans for just 2 months.
And it's risk-free. You get a 90-day free trial for all paid plans, no commitment or credit card required.

2. Transistor (from $19/month or $190/year)
Best Podcast Hosting for Brands & Teams
Transistor is a newer podcast hosting that focuses on team collaboration and awesome analytics, making it the best podcast hosting platform for brands with multiple sites and shows.
The feature that makes them unique among podcast hosting companies is their allowance of unlimited podcasts on any single plan.
This gives you the ability to host multiple podcasts, customize pretty much all parts of your player, and build a website for your brand.
You won't find that much on other podcast hosting sites. You're even able to add users to your show in case your team grows.
In addition, the features and aesthetic appeal are definitely up to standards and easily provide an excellent user experience.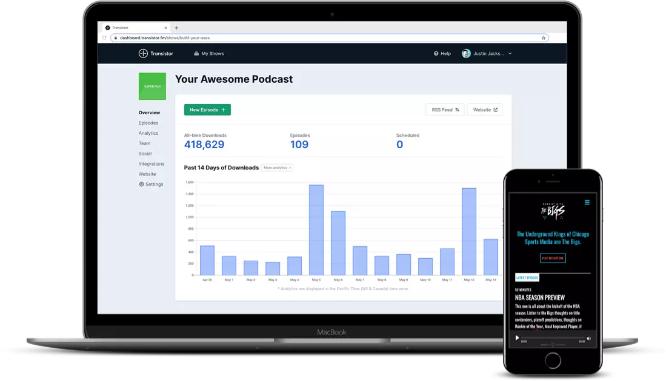 Transistor does an awesome job of hosting your audio files and provides a great suite of analytics to help you gauge the progress and reach of your podcast.
These analytics include statistics of views, downloads, and more as well as the number of subscribers, and the directory.
All in all, Transistor is the perfect podcast hosting tool if you want a super flexible podcast hosting that doesn't have any tricks and lets you do your thing and grow your audience.
If anything comes up, their awesome support team can be reached by their knowledge base, live chat, and email requests or tickets.
What's more is that if you decide that your current podcast hosting platform just isn't right for you, Transistor makes the transfer seamless.
Transistor Plans and Pricing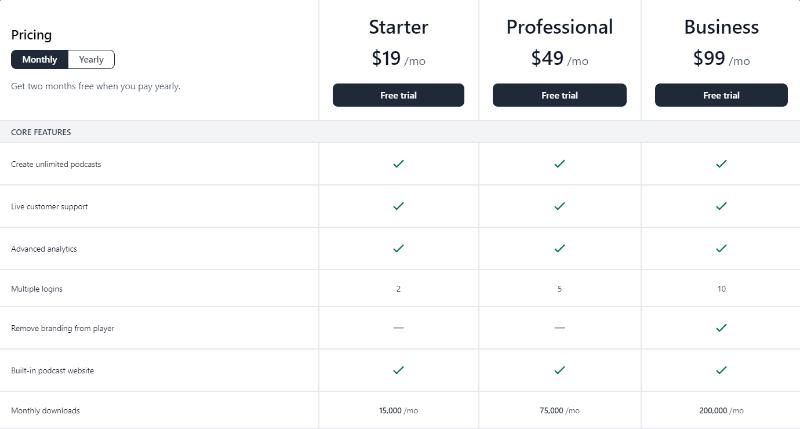 Transistor doesn't have a free plan but you can try any of their plans risk-free for 14 days.
Prices start at $19/month for their Starter plans which include all the core podcasting features you'll ever need as the only limitations are the number of allotted team members (2 for Starter) and show downloads (limited at 15,000 for Starter).
Don't let the download limits stop you, they won't cancel your plan without reaching out to you with their customer service team to chat with you.
But if you aim to scale, the Professional and Business plans are a better fit, at $49/month and $99/month, respectively.
If you're serious about starting a podcast, go with an annual plan and get two months free starting at just $190/year with the Starter Plan to $990/year for the Business Plan.
Here's what you get on all plans:
Host an unlimited number of shows
Add and manage team members (producers, editors, etc.)
Get podcast stats and analytics
Comes with an awesome podcast site
Live customer support

Transistor also has a private podcasting feature that lets you create private and public shows under the same account, saving you the hassle of purchasing another plan.
Get started with Transistor with your 14-day free trial.

Disclosure: This post has affiliate links that I get a commission for at no extra cost to you, but rest assured that I only feature the best resources to help you host your podcast – nothing less.
3. Castos (from $16/month)
Best for WordPress Integration & Podcast Editing
While Castos isn't nearly as well known as the other podcast hosting sites in our review, that's simply because it was launched in 2017.
Their recent growth trajectory has been spiking, perhaps due to the incredibly easy-to-use podcast hosting user interface, powerful features to repurpose your content, and plenty of tools to increase your show's influence.
What makes them stand out even more is the ability to simply add a podcast to your WordPress site. Then, just start uploading your new episodes and they show right in your Castos dashboard and podcast page on your site.

Alternatively, you could install Castos' WordPress plugin: Seriously Simple Podcasting, if you'd rather have an external tool manage the uploading.
Some features include advanced analytics that allow you to see the demographic details of your listeners (location, gender, age, etc.).
What's more, is that you have integration options to import your existing podcast episodes to your website and YouTube (audio files to video files) with just a single click. There is also the option to have each podcast episode automatically transcribed to make it more user-friendly and help with your SEO strategy.
If you're looking to monetizing your podcast with something more than just advertisements, Castos offers a Private Podcasting feature for you to share exclusive content.
Castos Plans & Pricing
Castos has three pricing plans for Starters, Growth, and Pro ($19/49/99 per month, respectively).

If you're looking to invest (and save), I'd go with an annual plan. Those start at $190/year for the Starter plan (less than $16/month), giving you a whole two months of free podcasting.
While the starting prices are higher than average, they come with an allowance of unlimited storage, bandwidth, and episodes. One upgrade, and you'll also be able to access YouTube republishing and video podcasting features.
You can get started with Castos with their 14-day free trial and see whether it's worth the extra $30/year.

Disclosure: This post has affiliate links that I get a commission for at no extra cost to you, but rest assured that I only feature the best podcast hosting platforms to help you create and promote your podcast without any unnecessary hassle.
FAQ
What is podcast hosting?
A podcast host is a center for storing and distributing your podcast's audio files. A good hosting platform provides an organized RSS feed to streamline distribution to different podcast directories.
In addition, podcast hosting sites allow you to capture your audience's demographics and offer advanced analytics, automation tools, social sharing features, integrations with your favorite platforms (like WordPress and YouTube), modern design capabilities, and customization features.
In essence, podcast hosting lets you create your content and promote it without any hassle.
Where can I start a podcast for free?
You can start with Buzzsprout on its 90-day free trial. In addition to the free trial, Buzzsprout has a free forever plan that's certainly reliable but may be lacking in features.
If you find that Buzzsprout isn't fit for your needs, Transistor and Castos offer 14-day free trials as well. So try those out and see which one works best for you.
How can I make money with a podcast?
You can profit from your podcast shows by embedding advertisements into your episodes. However, that may affect some of your listeners' user experiences.
Luckily, some options like affiliate marketing, sponsored episodes, offering subscriptions, crowdfunding, selling online courses, and private shows (Castos) are available to help you make the most of your podcast channel.
Executive Summary
If you're looking to grow your online community and influence, starting a podcast might just be your yellow-brick road.
Buzzsprout is, hands down, the #1 podcast hosting platform. But if you're looking for an alternative for branding and team collaboration, Transistor performs on par with Buzzsprout. If you're a fan of WordPress (like me!) and want easy integrations with that and YouTube, Castos is your best bet.
Start promoting your podcast free for 90 days with Buzzsprout (and get a $20 Amazon gift card when you upgrade) or start for 14-days free with Transistor or Castos.