This means optimizing this experience to each customer's respective behavior and the customer's stage in your sales cycle.
Meticulously managing all these relationships on spreadsheets may not be much of a pain if you are a budding business. But you stand to lose significant efficiency and productivity anyway.
Things start to get messy when your company grows, and you have tens and hundreds of customer relationships to manage – each unique to each customer. That's why your business is eventually going to need some sort of Customer Relationship Management system to scale that process.
Here's an infographic by Mastrodigital that highlights the usefulness of CRM systems and software.
You would be spending loads of time needlessly rummaging through your data entry when such time should be better spent acquiring new customers and retaining them.
Instead of having a bulky encyclopedia for customer management spreadsheets that takes all day to sift through, it makes more sense to adopt customer relationship management (CRM) software.
The best CRM software efficiently automates your customer management. This not only gives you an enhanced understanding of your customers, it also makes you more responsive, nurturing more long-lasting relationships.
Tell you what, businesses are head over heels in love with CRM software. Come on, why wouldn't they when they get an average of $8.71 for every $1 they invest in CRM? That is a whopping 750% ROI!
Compared to 2008, when just 12% of businesses were using CRM software, 87% of them now use CRM. With such massive adoption of CRM technologies, it is unsurprising that the CRM industry is anticipated to shoot to $80 billion by 2025.
How about that?
In this guide, we will explore the best CRM software for small businesses all the way up to large multinational corporations. But before we do that, let's dig into these questions:
What is CRM? What's the hype (if there is one)?
What is CRM software? How does it help?

Afterwards, you'll be able to choose the best crm software solution that fits right in with your business' needs.

What is CRM?
The short (and lazy) answer: CRM stands for Customer Relationship Management.
A CRM system allows businesses to manage data and relevant information related to business relationships.
This means that since customer interactions across a multitude of channels are all combined into one place, providing an efficient way to improve UX and ultimtely, customer retention.
While CRM systems are usually geared toward sales and marketing, they now have evolved to do much more. These additional perks include managing relationships between business partners and team members.

What is CRM software?
In simple words, CRM software help your business better manage customer relationships through multiple channels. This allows several departments – including your marketing, customer service, and sales – to cohesively manage the customer or prospect.
This allows everybody to be on the same page, adopting a more uniform posture for each customer, better organization of customer-oriented activities, ultimately guiding the customer from one stage of the sales funnel to the next.

Instead of an isolated, disjointed, or haphazard customer management system, the best CRM solution allows just any designated user in your company to evaluate real-time data they need to enhance their rapport with each customer.
Such an organization becomes highly beneficial in giving each customer a tailored customer experience.
No doubt, this makes life much easier for your personnel, considering the infamous migraine of managing hordes of customer data with legacy and analog systems of the past.
With the adoption of the top CRM software solutions, you can be assured of a leap not only in your lead acquisition, but also in your sales revenue accrual and customer retention.
The truth is, CRM software have come a long way. In the late 1980s, down to the early 1990s, instead of today's jolly CRMs, businesses had to put up with boring Contact Management Systems (CMS).
This would eventually morph into Sales Force Automation (SFA) technology. Consequent advancements and expansion in these technologies bore the best CRM software we have today.
What is the best CRM system?
In this section, we will be diving deeper into the top crm software picks for the best CRM platforms you can get as a business.
Best CRM Software Overall
Hubspot CRM stands out as one of the best CRM software optimized for marketing teams. Hubspot is rich in features, making it less challenging to acquire and nurture your prospects all within a database.
Hubspot CRM is even more attractive given that you get a 100% free version of Hubspot's software. However, to access the complete stack of marketing tools, you need to upgrade from your free version.
Hubspot CRM Key Features
Hubspot CRM has spectacular email and lead nurturing. With this CRM, you can send bespoke emails, well customized to your audience, for free.
More than the sending, the CRM has its inbuilt analytic reports to help you monitor your campaigns' success.
Contact management is way more organized with Hubspot as you can sync your contacts on an integrated platform, thanks to connecting Hubspot's CRM to your email inboxes.
On Hubspot CRM, you get more than 300 integrations. This allows you to readily integrate the suite of technologies you have been using previously.
The Sales Pipeline Data on Hubspot CRM allows superiors in your sales department to analyze the complete sales pipelines, extract crucial insights into each team member's performance, and overall sales activity within a specific time.
Why should you consider getting Hubspot CRM?
First, Hubspot CRM comes with a free CRM software plan that is upgradeable whenever you want. Its massive space for integration means you don't need a significant overhaul of your extant tech stack (including your marketing and sales suites) when using Hubspot CRM.
Another thing that earns Hubspot CRM a placement on our best CRM software is its list segmentation and email marketing – all of which are free.
What more, Hubspot CRM has an impressive form builder that is pretty efficient in capturing data from your leads.
Hubspot CRM Pricing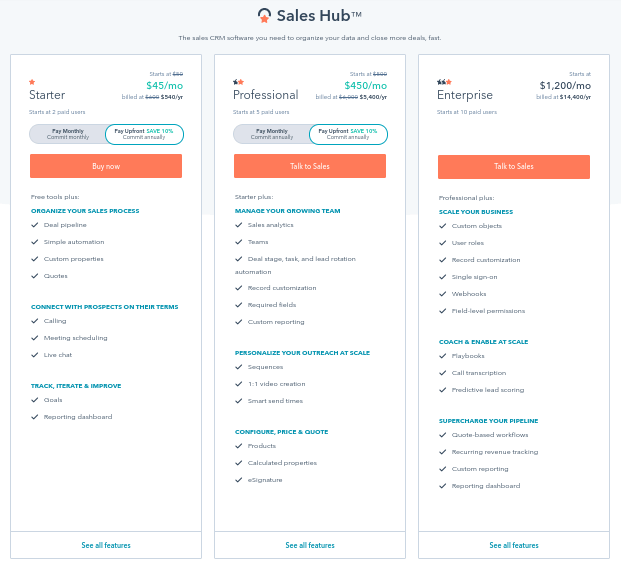 Aside from Hubspot's free CRM software, there is there are three paid plans you can upgrade to. These are the Starter, Professional, and the Enterprise.
The Starter plan goes at $40 per month. Upon the features you get from the free plan, the starter plan gives you extra features like $1,000 in ad management, 50 email list segmentations, 10 reporting dashboards, and some conversational bots.
The Professional plan is a step up from the Starter plan. This goes for $800 per month. Being an upgrade, it gives you the features of the Free and the Starter plan – and then more.
These extra features include over 2,000 email list segmentations, full chatbot features, 25 reporting dashboards, and $10k in ad management. You also get a blog, SSL certificate, and phone support.
The Enterprise package goes for $3200 per month. In addition to what you get from the Professional plan, you get features like predictive lead scoring, multi-touch revenue attribution, event-based segmentation, API calls, and webhooks.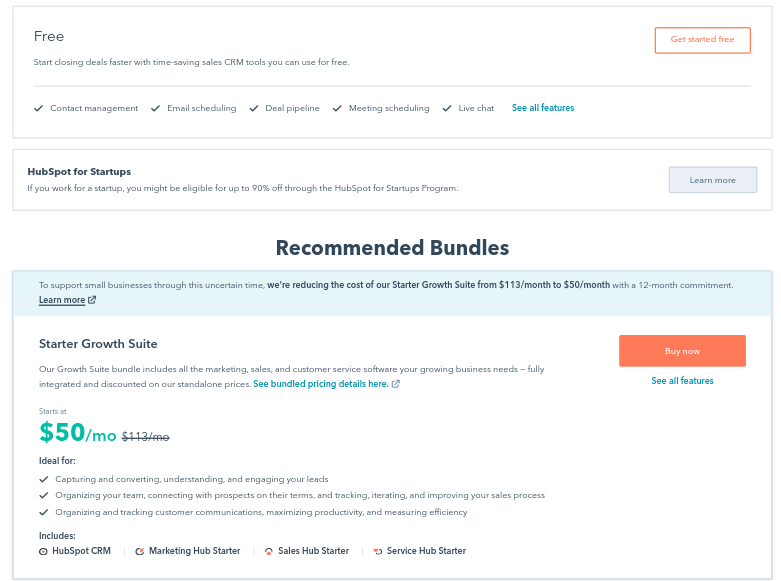 In addition to the free and premium packages, HubSpot offers bundles which are essentially discounted "all-in-one" packages.
Starting at just $50 per month, their Starter Growth Suite bundle safely stands as the best crm software for small businesses and agencies looking to not only purchase crm software but other tools as well, including marketing analytics and sales tools.

Disclosure: This post has affiliate links that I get a commission for at no extra cost to you, but rest assured that I only feature the best resources to help grow your business – nothing less.
Best CRM System for Easy Use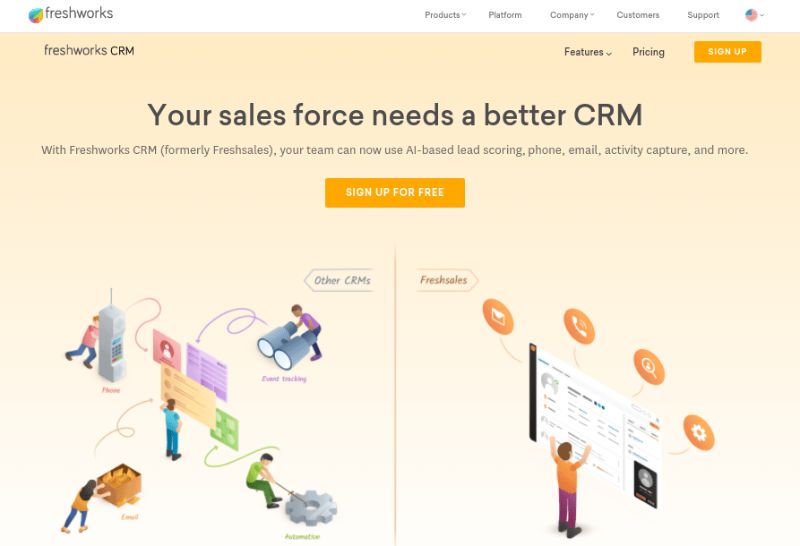 Freshworks CRM stakes its claim for a place on the best CRM system list with its trailblazing AI technology and 360-degree view of your company. Freshworks efficiently takes care of customer management functionalities like email capture and lead scoring.
Freshsales CRM Key Features
Freshworks CRM has an efficient deal management system that allows you to get the best of your funnel with more in-depth monitoring of prospect activity across every stage of the funnel.
Thanks to its AI technology, Freshworks excels at tracking leads and scoring them based on the most probable to buy.
Freshworks' smart forms enable you to automatically add a prospect to your database once they submit a web form (with their inputted data) on your site.
Why should you consider getting Freshworks CRM?
There is no way we are not gushing over Freshworks' intelligent workflows and broad spectrum of integrations. Freshworks CRM's behavior-optimized lead segmentation makes it one of the best CRM platforms.
What more, Freshworks' RESTful APIs are highly beneficial in modifying, deleting, or inputting data from the helpdesk. Courtesy of its advanced AI technologies, very few CRMs do leads scoring as efficiently as Freshworks.
Freshworks CRM Pricing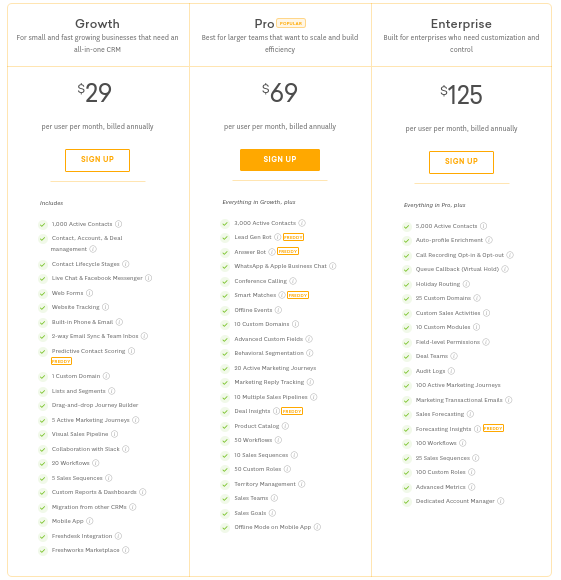 This CRM gives you a trial period of 3 weeks, within which you can use it for free. After this period, you could go with any of Freshworks' four pricing models, ranging from the least at $29/month to the $125/month package.

3. Zoho CRM (From $12/month)
Best CRM Software For Small Business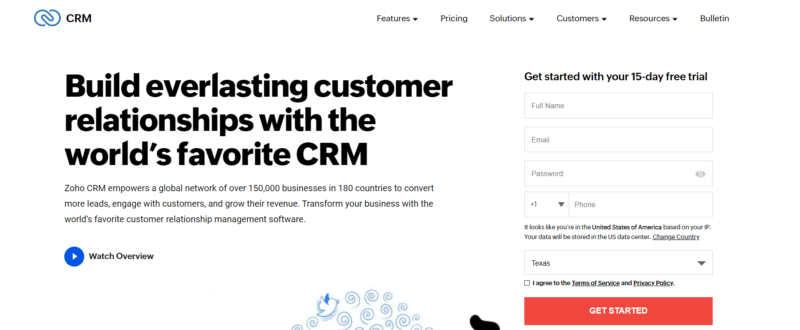 You thought we'd omit Zoho from our list of the best CRM tools? You're wrong. For good reason too.
With a customer base of 150,000 businesses, Zoho stands out for its capacity to track essential sales and analyze the viability of marketing possibilities with the ultimate aim of amplifying conversion rates.
Zoho CRM Key Features
Zoho boasts an AI-Powered Sales Assistant that aids your sales department make more informed decisions, leverage customer data, and identify activities that conflict with their established behavioral profile.
As one of the best CRM software for small business, Zoho's performance management is exemplary. Such functionality spans sales forecasting, gamification, and territory control, aiming to generate maximal returns for your investments as a small to medium business.
Why should you consider getting Zoho CRM?
Zoho's level of scalability, customization, and automation are top of the class. Zoho has over a hundred 3rd party integrations, including favorites like Zapier, Outlook, Google, and LinkedIn.
Zoho also gives you a predictive sales functionality that helps you with enough data to manage email sentiment, anticipating customer activity more accurately.
Zoho also offers you integrated calendar management, with a freemium plan for three users.
Zoho CRM Pricing
Zoho offers users a 15-day free trial period. Upon expiry, there are three paid packages.
These are the Standard (going for $12/month), Professional ($20/month), and Enterprise ($35/month). These significantly low pricing models cements Zoho's place as one of the best CRM for small business.
Don't leave your customers hanging. There's a 15-day free trial waiting for you to pick up.

Disclosure: This post has affiliate links that I get a commission for at no extra cost to you, but rest assured that I only feature the best resources to help grow your business – nothing less.

Best CRM system | Wrap up
There is no definitive or overall best CRM as each software comes with its respective selling point and deficiencies. It basically depends on what you want from your CRM.
While Freshsales comes out as the top CRM software for user-friendliness, Zoho may come first for project management, while Hubspot may win it for scalability and diversity.
Aside from the functionality, pricing, and user-friendliness, it would help consider other factors like cloud vs. on-premise deployment and spectrum of 3rd party integrations.
How CRM Software helps businesses
1. A boost for customer service
2. Higher customer retention
3. More sales and conversions
4. Efficiency & analytical reports
5. Reduce collaborative miscommunication
6. Trustworthiness and integrity
To be continued…