Email marketing platforms are a crucial part of your entire marketing and sales strategy.
All email marketing services share the same main functions.
Email automation.
Customizable email templates.
Analytic reporting.
App and website integration.

It's important to note that these are just the basics.
Each email marketing software option includes specific features that target different business goals, sizes, and preferences.
Pricing for different software varies greatly, too.
With dozens of email marketing services available, you may not know where to start looking.
My email marketing software guide makes it easy for you.
Read on to discover which one meets your own unique business needs.

1. Sender (From $0/month)
Best Email Marketing Service Overall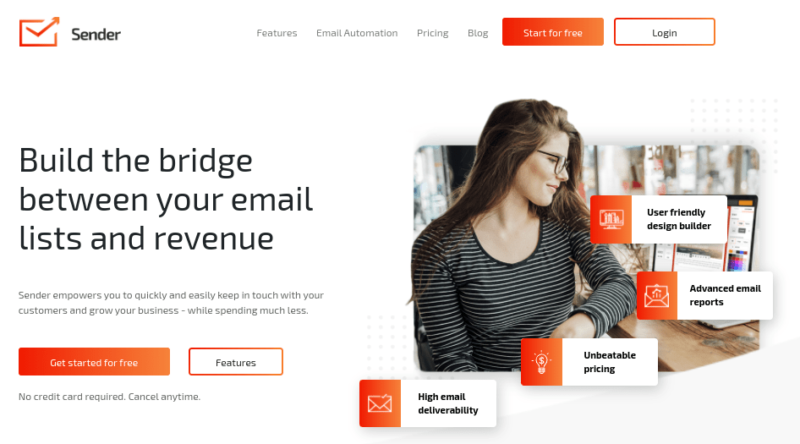 Sender.net is an easy to use, affordable and powerful email marketing service that provides all essential features for successful email campaigns for a fraction of the price of other email providers.
With 1-click you can integrate Sender with WordPress and Woocommerce, Prestashop, Magneto and much more.
Also, with Sender's email marketing sotftware, you can design highly converting newsletters for growing your business.

Sender Key Features
Easy to use drag & drop design builder (with free image and email template library access).
Email automation – create a sophisticated automated sequence for all occasions (including abandoned cart emails, welcome emails, birthday greetings, and more).
High email deliverability.
Beautiful Popups and embedded forms with multiple templates and design options.
Advanced subscribers and campaign management.
Detailed reporting.

Sender Pricing and Plans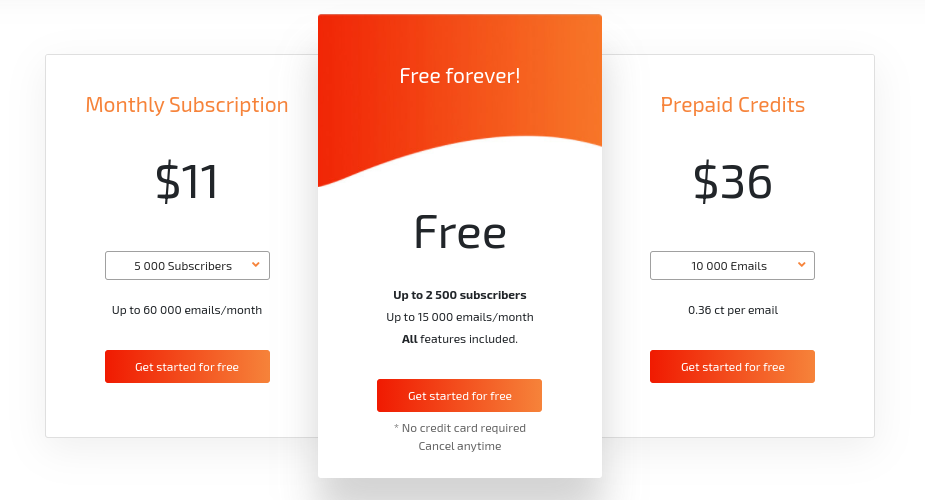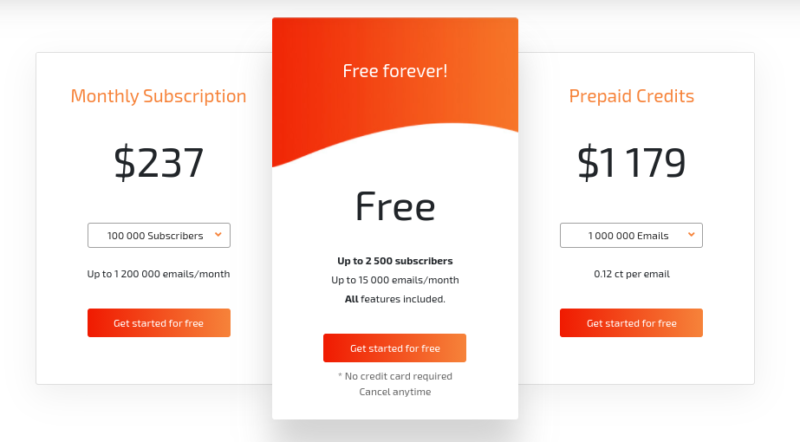 Sender's email marketing service has an extremely straight forward pricing. You can choose the free option which allows up to 2,500 subscribers and 15,000 emails per month which should be plenty for new bloggers and starting small businesses.
Or you could choose a premium option that's based on how many subscribers you have and how many emails you want to spend per month. For this paid monthly subscription option, you choose a plan for up to 100,000 subscribers and 1,200,000 emails per month. Should you need more, Sender has a custom option as well.
BUT that's not even all! Sender has a "prepaid credits" feature that makes it stand out when compared to other email marketing platforms and services. Starting at $36 for 10,000 emails ($.0036 per email), you can purchase these credits so you don't need to worry about overspending or monthly costs. If you want to get the most out of the prepaid option, just opt for the highest tier at $1,179 for 1,000,000 emails which translates to less than $.0012 per email. Talk about saving. 🙂
Best Email Marketing Service (Runner Up)
In 1995, Constant Contact was launched as an online marketing company.
Today it's one of the most popular email marketing services, and it's easy to see why.
It provides users an array of tools that are simple, user-friendly, and effective.
Constant Contact Features
Constant Contact provides you with dozens of tools for email development and marketing.
There are two plans available, and the basic plan includes these features:
Unlimited email sending.
Free image library access.
A/B testing for email subject lines.
200+ industry-specific templates.
Real-time email tracking.
400+ integrations and apps.
Email list segmentation.
Basic e-commerce marketing and integrations.

If you want more advanced features, the second plan has you covered. In addition to the features above, you'll also get:
Customizable pop-up forms.
Customer surveys, polls, and coupons.
Advanced e-commerce marketing.
Multi-user functionality for up to 10 users.
Automated email behavioral series.
New customer consultation.

Who Should Use Constant Contact?
Constant Contact is my top pick for email marketing services because it's great for any small to medium-sized business.
The niche email templates and other facets are easy to customize.
This software caters to all niches, so they're a suitable fit for most needs.
With a 60-day free trial, you can easily figure out if Constant Contact is the best email marketing service for your business.
Constant Contact Pricing And Plans
Constant Contact gives users a 60-day free trial, and no credit card information is required.
They have the two plans seen above, Email and Email Plus.
Pricing for each plan is based on the size of your email subscriber list. Here are some examples based on the Email plan.
0 to 500 subscribers – $20 per month
501 to 2,500 subscribers – $45 per month
2,501 to 5,000 subscribers – $65 per month
5,001 to 10,000 subscribers – $95 per month

If you have over 10,000 subscribers, you'll need to use the Email Plus plan.
Pricing begins at $195 per month for up to 15,000 subscribers.
The Email Plus plan maxes out at 50,000 subscribers for $335 per month.
Constant Contact provides a 15% discount if you prepay for 12 months. The Constant Contact's email marketing services also grants a 30-day money-back guarantee.
Can you possibly say no to a 60-day free trial? Get Constant Contact now.
Best Affordable Solution for WordPress Users
SendInBlue is one of, if not, the most budget-friendly email marketing services. With over 90,000 users in 160+ countries, they're a popular pick for all types of businesses.
The tools and benefits are comprehensive yet very user-friendly.
SendInBlue Features
Below you'll find popular features included with SendInBlue's free plan.
For no cost at all, your business gets the following:
300 emails sent per day.
65 customizable email templates.
SMS marketing.
Advanced segmentation.
Page tracking.
Marketing automation workflows for up to 2,000 contacts.

With multiple paid plan options, additional tools and available email marketing services vary greatly.
The list below includes a mix of features from each plan.
Unlimited daily sending.
A/B subject line testing.
Send time optimization.
Geography and device reporting.
Advanced open and click statistics.
Heat map reporting.

Who Should Use SendInBlue?
SendInBlue's free plan is best for entrepreneurs, bloggers, and other individuals.
The features are limited but still an excellent deal at no cost.
This email marketing service is also ideal for small to medium-sized businesses that need low-cost email marketing platforms.
With so many versatile plans at economical price points, there's something for everyone.
SendInBlue Pricing And Plans
SendInBlue has four paid plans; each one has a monthly email limit. The Premium plan allows you to choose one of the following:
120,000 emails per month for $66
350,000 emails per month for $173

Compared to other email marketing services, these rates are very competitive and flexible.
You even receive a 10% discount with annual payments.
Best Versatile Email Marketing Service For Businesses
GetResponse is a multi-service marketing software company with over 350,000 users.
It includes both basic and advanced features, but even the most advanced ones are user-friendly.
The robust email marketing service options cater to many businesses.
GetResponse Features
GetResponse has four plans at different price points.
The features below are from the Basic plan; this is the lowest priced choice available.
WordPress integration.
Shutterstock integration.
220 email templates.
180 landing page templates.
700 funnel templates.
5,000 free iStock photos.
Unlimited lead funnels.
Drip campaigns.
Click and open follow-ups.

The three remaining plans include many different comprehensive features that email marketing services provide. The list below is a mix of examples from all three plans.
Unlimited sales funnels.
Webinar options.
Unlimited custom workflows.
Automation builders.
Contact scoring.
Automation segmentation.
Site and event tracking.

Who Should Use GetResponse?
GetResponse is a good pick for businesses who need a broad selection of email marketing mechanisms.
Even the most advanced tools are easy to implement.
GetResponse is most suitable for small to medium-sized businesses.
With pricing based on list size, this email marketing software is pricey for larger businesses.
GetResponse Pricing And Plans
GetResponse has four plans, and the pricing for each one is based on your number of email subscribers.
Here's an example based on Plus plan pricing:
0 to 1,000 subscribers – $45 per month
1,001 to 2,500 subscribers – $59 per month
2,501 to 5,000 subscribers – $79 per month
5,001 to 10,000 subscribers – $95 per month
10,001 to 25,000 subscribers – $179 per month
25,001 to 50,000 subscribers – $299 per month
50,001 to 100,000 subscribers – $499 per month

Compared to other email marketing services, GetResponse's pricing is somewhat high.
You get an 18% discount by paying for 12 months upfront and a 30% discount for 24 months.
A 30-day free trial is available for any plan.
Best Email Marketing Software For Bloggers And Entrepreneurs
Founded in 2001, MailChimp is one of the most well-known email marketing services.
The software is easy to use, and new features are constantly added.
MailChimp provides a 100% free plan that's popular among small businesses and bloggers.
MailChimp Features
MailChimp's free plan is packed with useful and convenient features. Some examples include:
One-click automation.
7 marketing channels.
200+ app integrations.
Free MailChimp domain.
100+ email templates.
Customizable pop-up forms.
Real-time analytics.
Behavioral targeting.

The paid plans include several enhanced benefits. The list below has different features that vary based on the plan you pick.
50,000+ email contacts
Time-zone specific delivery.
All pre-built templates.
Predicted demographics.
Behavior-based automation series.
A/B testing.

Who Should Use MailChimp?
MailChimp is possibly the most ideal pick out of all these email marketing platforms for bloggers, entrepreneurs, and small businesses.
The free plan includes every feature necessary for someone just getting started.
The Essentials plan is also an excellent pick with several advanced yet user-friendly tools.
MailChimp Pricing And Plans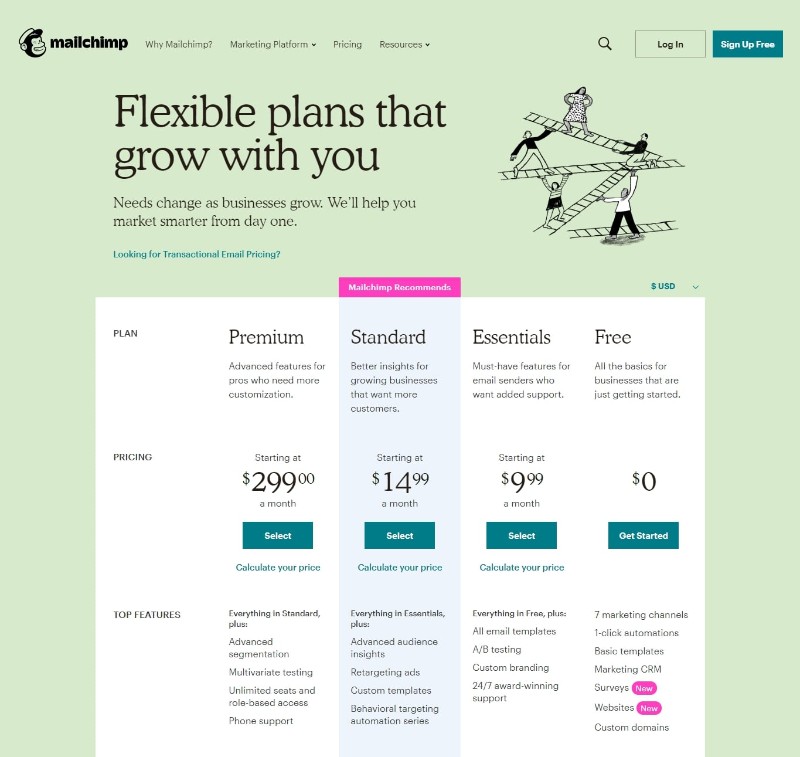 MailChimp offers three paid plans in addition to the free plan.
The free plan permits up to 2,000 email contacts, and you can send up to 10,000 emails per month.
Pricing for other plans varies based on the number of email contacts you have.
Here's a breakdown of pricing based on the Standard plan:
500 to 2,500 contacts – $14.99 per month
2,501 to 5,000 contacts – $49.99 per month
5,001 to 10,000 contacts – $74.99 per month
10,001 to 20,00 contacts – $99.00 per month
20,001 to 25,000 contacts – $189.00 per month

The prices continue to up to 75,000 contacts. The Premium plan is required if you have more than 75,000 contacts.
A calculator to determine your exact monthly fee can be found on MailChimp's pricing page.
MailChimp also has transactional email pricing. You purchase a certain number of blocks based on the number of emails you want to send.
One block is equal to 25,000 email credits.
A pricing calculator is available for transactional emails, too.
Best Simple Email Marketing Service
Campaign Monitor gives users effective yet simple email marketing services and tools.
Personalizing an email campaign is easy using the software's customizable templates.
Campaign Monitor's email marketing software includes useful analytics and user-friendly email automation.
Campaign Monitor Features
Campaign Monitor prides itself on offering straightforward, no-fuss operations.
With the lowest-tier plan, businesses get the features below.
60 diverse templates.
Drag-and-drop email builder.
Multiple analytic insights.
Integration with WordPress.
Flexible data segmentation.
Basic marketing automation.
Core email marketing tools.

There are two higher-tier plans, and they include more advanced features. Examples from both plans include:
Unlimited emails sent per month.
Advanced marketing automation.
Time zone specific delivery.
Unlimited spam testing for your email campaigns.
Advanced link tracking.
Unlimited inbox previews.

Who Should Use Campaign Monitor?
Campaign Monitor is the best email marketing service for small businesses and businesses in the development stages.
It's uncomplicated email automation and campaign tools are convenient, customizable, and effective.
The analytic and reporting functionalities are basic, so this email marketing software isn't ideal for larger businesses.
Additionally, these businesses may not find Campaign Monitor cost-effective – this is reflected in the section below.
Campaign Monitor Pricing And Plans
Campaign Monitor's email marketing software has three plans: Basic, Unlimited, and Premier. Compared to other options, these plans are somewhat expensive.
How much you pay per month is based on the volume of emails you send. Here is a cost breakdown for the Basic plan:
Up to 500 contacts – $9 per month
501 to 2,500 contacts – $29 per month
2,501 to 5,000 contacts – $49 per month
5,001 to 10,000 contacts – $89 per month
10,001 to 25,000 contacts – $199 per month
25,001 to 50,000 contacts – $299 per month

If you have over 50,000 contacts, you must contact Campaign Monitor for its high-volume pricing options.
Lastly, you have the choice to pay per campaign. The cost is $5 per campaign and $0.01 per email.
This is a good solution for transactional email needs.
Best Email Marketing Software For Small Businesses
AWeber was founded in 1998 and, being the oldest of all the major email marketing services, is widely considered the original email automation service.
With over 100,000 small business clients, AWeber's email markeitng software is still very popular.
AWeber is known for its simple and effective email marketing solutions.
AWeber Features
AWeber's free plan includes an impressive number of features.
This plan allows for 500 subscribers and 3,000 email sends per month.
700+ email templates.
600+ free stock images.
WordPress plugin.
Basic email segmentation.
Subscriber and message analytics.
Unlimited account users.
E-commerce integration.
Drag and drop email builder.

The paid AWeber plan includes even more professional tools and benefits. In addition to the features above, you get:
Unlimited subscribers.
Unlimited email sends.
A/B email split testing.
Behavioral automation.
Advanced segmentation.
Advanced analytics and tracking.

Who Is AWeber Best For?
AWeber is specifically geared toward small businesses. This email marketing service makes it easy to streamline email newsletters, updates, and marketing.
AWeber is best for any business with up to 25,000 email subscribers.
If you have a larger subscription list, AWeber may not be a great fit for your needs.
AWeber Pricing and Plans
AWeber offers its free plan along with a paid Pro Plan. Pricing for the Pro Plan varies based on the number of subscribers you have.
0 to 500 subscribers – $16.15 per month
501 to 2,500 subscribers – $26.15 per month
2,001 to 5,000 subscribers – $46.15 per month
5,001 to 10,000 subscribers – $66.15 per month
10,001 to 25,000 subscribers – $146.15 per month

It's very crucial to note that these rates are based on annual billing. You'll pay about 15% more for monthly or quarterly billing.
Best Email Marketing Services | Choose The Right One
It's important to pick email marketing software that suits you. My top six choices each have unique aspects to consider.
If you want comprehensive tools and user-friendliness, Constant Contact is a great fit.
If you prefer free email marketing platforms, consider MailChimp, AWeber, or SendInBlue.
Use the information in the reviews above before you decide.
If you use or can vouch for another email marketing software that I haven't included in this post, feel free to leave it down in the comments below! I'll look into it for sure (and you'll get a shoutout).

Disclosure: This post has affiliate links that I get a commission for at no extra cost to you, but rest assured that I only feature the best resources to help grow your business – nothing less.