Don't have time to read? My top pick for the all-around best ecommerce software platform is Wix. It's extremely versatile, simple, and features a modern UI and drag-and-drop builder.
Shopify and Bigcommerce are the top runner ups.
Already know the basics about ecommerce platforms? Skip right to the review

Disclosure: This post has affiliate links that I get a commission for at no extra cost to you, but rest assured that I only feature the best resources to help grow your business – nothing less.

With all that's going on in the world, having your business set up to sell online has never been more important. The good news is that selling online doesn't have to be hard.
With the right eCommerce platform, you can handle inventory, orders, and shipping — all in the same place.
The world and internet are evolving. Getting your business online is more important than ever.
What else? It's easier than ever as well. Here's my straight-forward guide and review of the top ecommerce software to help you choose the best ecommerce platform for your business's needs.
Some quick links to help you navigate the post:

3 Best Ecommerce Platforms & Software for 2021
Wix — Best option for building a whole website
Shopify — Best all-in-one ecommerce platform (versatility)
BigCommerce — For high-volume stores & companies

1. Wix (from $23/month)
Best Ecommerce Platform Overall (Creating a business site & store)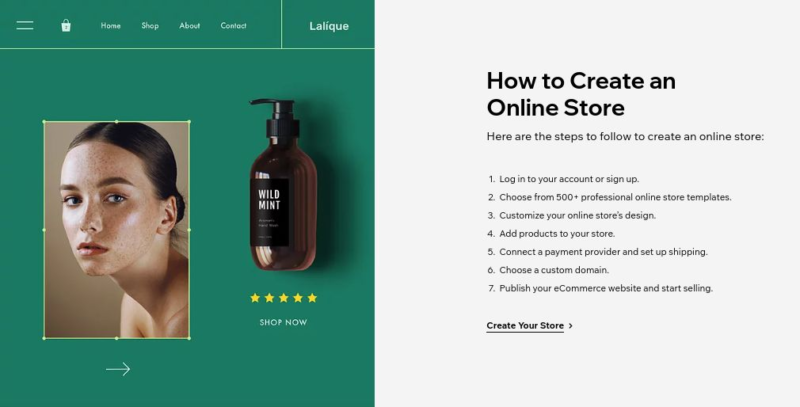 There are countless ecommerce platforms that allow you to add about, contact, and blog pages to your website, but those are usually addons and 'extra' features.
The thing about Wix is, if you want to build a whole site with an online store, but don't want to purchase a full-priced 'all-in' plan, it's the way to go.
Although it seems like you'll miss out on some stuff, it's not true. You'll get all the basics in addition to advanced sales tracking, sales tax, analytics, cart recovery, and more.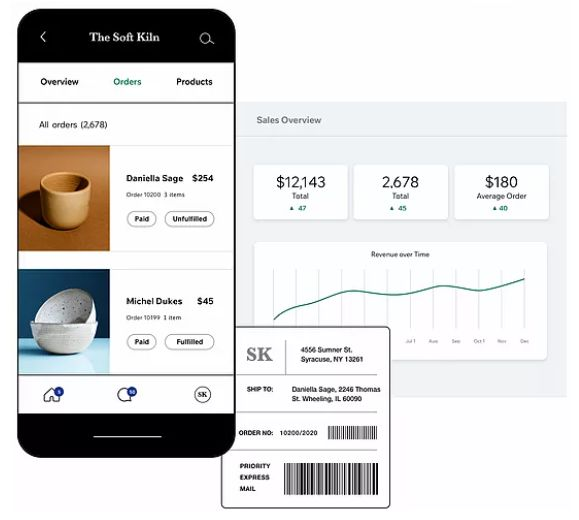 Wix provides a questionnaire to first time users to gauge your goals and find the 'best' fit for you to help automate the setup process.
At the end of the questionnaire, there are hundreds (500+) of template options to choose from to make your website and online store.
Alternatively, if you really love surveys for some odd reason, you can answer a couple more questions to get their ADI (Artificial Design Intelligence) to do the choosing and customization for you.
How does the ADI option work?
Go ahead and click 'Start Now' and answer the questions e.g. what are you going to sell, what design caters to your tastes, what features, pages, etc.
After that, you'll have a professionally designed ecommerce website right at your fingertips. In addition, you have the capability to import content from existing sites or a Google Places listing.
If you don't like the look 100%, feel free to customize things with your own design skills.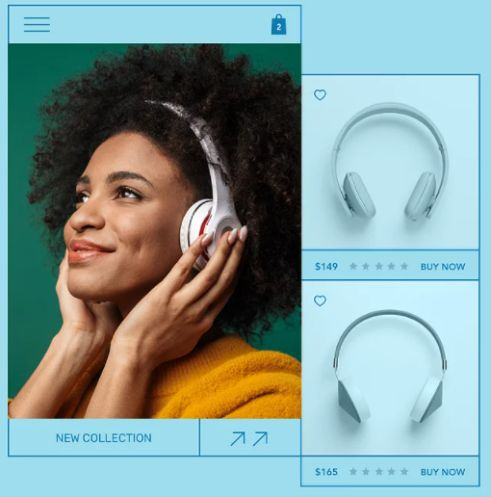 Wix's user onboarding process may take a while but it'll save your ecommerce business a ton of time in the near future.
They'll guide you step-by-step through the following processes:
setting up professional email addresses
setting up email newletters and lists
Google and Facebook advertising
payment gateways
and a whole lot more.

Yes, it may seem Wix is suggesting you're starting off with zero knowledge about ecommerce platforms and online stores, but 'better safe than sorry.'
Along with being one of the most well know and popular website builders and ecommerce hosting platforms, Wix has a number of app/software integrations you can add to enhance your ecommerce site's potential.
Wix pricing and plans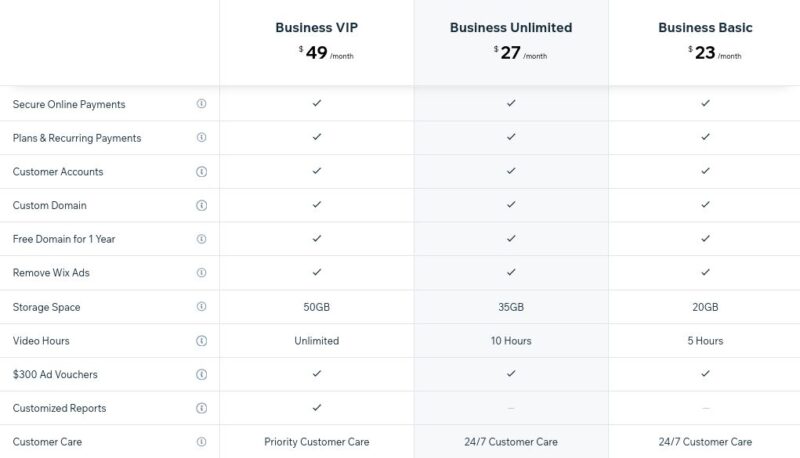 Wix's ecommerce platform site builder is free for your first 14 days. Then it starts from $23/month for the Business Basic Plan which has everything you need to scale and grow your online store.
Their most popular plan, the Business Unlimited goes for just $27/month and offers additional storage space.
As for transaction fees, Wix Payments charges 2.9% + $0.30, though it may depend on your chosen payment gateway.
Get a free 14-day trial with Wix
2. Shopify (from $9/month)
Best All-in-one Ecommerce Platform & Software

With nearly 15 years of experience in the ecommerce world, Shopify is a reigning champion in the online store division even though many Shopify alternatives have come and gone.
It's pretty difficult to find an ecommerce platform that matches Shopify's caliber when looking at small business setup, management, and performance.
Within minutes after signing up for a free 14-day trial (no credit card needed!), your online store is set up, designed, and ready to go.
Similar to Wix's ecommerce platform, Shopify has an extensive onboarding process, but the latter's software is much more straight-forward and actionable since it's specifically meant for building ecommerce stores.
You'll zip through adding products to your inventory, customizing your store's design, linking the store to your domain or site, and setting up a payment gateway to start raking in profits.
Even if this is your first time using any type of ecommerce software platform, Shopify's UI isn't going to get you lost.
Tip: Everything is right there in plain sight. For instance, if you want to add products, the 'Add Products' button is visible, not some random 'Add.'
Speaking of adding products to your ecommerce inventory, all you have to do is input basic info such as:
product name
pricing
quantity in stock
important details
switch status to 'Active'
and you're all set to sell!

Shopify clearly has what it takes to be the best ecommerce platform but there's still more that shoots it way up to the top of the list.
It's got a clear and extensive store within itself that includes 50+ paid themes (from $140) you can choose if you've got the budget.
If that price is too high for an already-designed theme template, simple leverage Shopify's popularity and head to a theme directory like ThemeForest or hire a professional designer who can help you out with setting up a theme on Shopify's ecommerce platform.
What's more, regarding the need for extensions, plugins, and addons for businesses that want to scale, Shopify has an app store within it's own platform like we mentioned before: apps.shopify.com.
Just head to the store, get the application you need, and manage them from your Shopify dashboard. Zero hassle.
To sum Shopify's ecommerce store builder up, it's got over 70 professionally designed themes, 4000+ apps in it's store, and the capability to let you create a full-fledged ecommerce store without any code.
In addition, with customer support active 24/7, you'll never have the need to scratch your head wondering what happened.
Shopify pricing and plans
Shopify has 5 different plans, each fit for different types of online sellers:
Shopify Lite — $9/month — Test out the platform
Basic Shopify —$29/month — Getting started with your store
Shopify — $79/month — Serious selling/Small businesses
Advanced Shopify — $299/month — Large businesses/Corporations
Shopify Plus — Custom pricing — Enterprise solution

While Shopify Lite doesn't include a full-fledged website builder like Wix does, it's got everything you need to simply add products and shopping cart related stuff to your existing website.
Shopify has it's own payment processor that charges between 2.4-2.9% + $0.30 which is dependent on the pricing option you decide to go with.
If you don't want to use their gateway, you're free to use PayPal or Square but you'll need to pay an additional 0.5-2% fee which can add up pretty quickly.
Get started with Shopify free for 14-days.
3. Bicommerce (from $29.95/month)
Best Ecommerce Platform for Large Volume Sellers & Businesses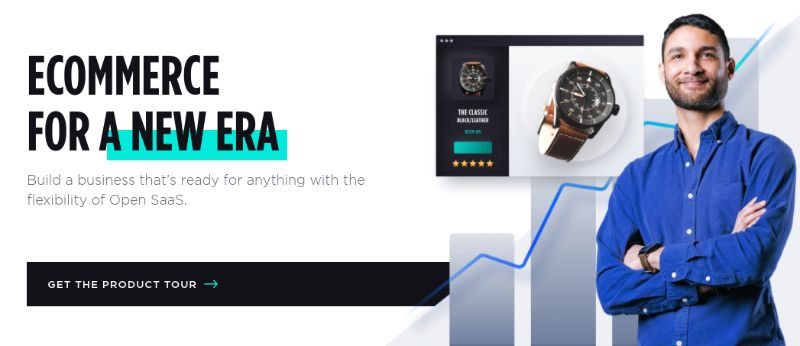 BigCommerce is an all-in-one ecommerce website builder specifically for large online stores. It includes more advanced ecommerce features suitable for managing high volumes and a large number of products.
True to it's name, BigCommerce is a complete website building ecomemrce platform that caters to large corporations and multinational companies.
It's suite of advanced features is specifically for helping customers manage a large number of products and inventory.
Serving about 100,000 online stores, they're not nearly as popular as the rest like Wix and Shopify, but that's simply due to the intended audience.
Trust me, BigCommerce's ecommerce software is top-notch.
BigCommerce offers 12 mobile-friendly and responsive designs for your online store theme, but if you want to have something unique, they've got you covered with paid templates.
Here are some of the other key features they provide:
Mobile-friendly checkout
Abandoned cart recovery
Coupons/discounts
Advanced inventory management
60+ payment gateways with no extra fees
Shipping management
Ulnlimited products
Unlimited file storage
Unlimited bandwidth
Unlimited staff accounts
and a whole lot more.
BigCommerce pricing and plans
All their plans have a free 15-day trial (that's a laughable difference from the 14-day trials that other ecommerce platforms offer, but a free day is a free day).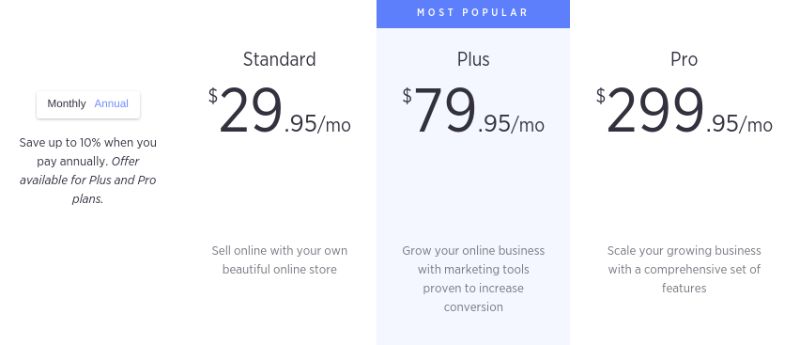 Standard — $29.95/month — Limit $50,000 sales/year
Plus — $79.95/month — Limit $180,000 sales/year
Pro — $299.95/month — Limit $400,000 sales/year
Enterprise — Custom pricing — Custom sales limits

To sum it up, BigCommerce is definitely the #1 ecommerce platform for large/established companies selling online, no doubt about that.
But if you're a kid on the block, just ignore this entire section, you'll just burn away your budget on stuff you don't need.
Get started with BigCommerce free for 15 days.
What Exactly is an Ecommerce Software Solution?
In short, ecommerce platforms are software tools that give you the capability to get products online to sell to the customers without a hassle.
While there are hundreds, maybe even thousands, of different ecommerce website builders and solutions, there are a select few that have the features and pricing suitable for most businesses.
Pro tip #1
An example of a consideration would be the number of products you plan to sell.
A business that wants to sell an entire warehouse of products would need a high volume ecommerce platform.
While a small store with just a shelf of products wouldn't need something too advanced.
Pro tip #2
Another thing to consider is how you plan to ship products.
If your products are your own, you'll need a different ecommerce solution than those selling through dropshipping or Amazon FBA (which handles shipping).
All in all, the perfect ecommerce software for your online store should give you the ability to manage inventory, create promotional assets, and get products processed quickly.
After all, that's what these ecommerce tools and platforms are for — helping you build and scale your online business.
Let's dive into what makes up an awesome ecommerce platform.
Considerations for choosing the best ecommerce platform
Here are the essentials that businesses that are getting started with selling online need.
The best commerce platform option for your business is dependant on a number of factors including, but not limited to:
your experience with ecommerce websites
customization requirements
types of products you're selling.
your budget
your growth map

But choosing the right platform can feel overwhelming because there are countless options to choose from.
Like I mentioned earlier, there are countless ecommerce platforms out there, but choosing the right one is pretty important.
So here are some factors you should consider when choosing an ecommerce platform for your busienss.
Fun fact: All of my picks for the top ecommerce solutions have all these features.
#1 — Setup & ease of use
One of the first things you should consider is simply getting your online business up and running.
If you're having a hard time getting started due to the complexity of your chosen ecommerce platform or lack of 'tech savvyness,' that's not good.
So what's the fix? Use an ecommerce platform that takes your needs and skills into consideration.
Whether that includes building the store, setting up a shopping cart, payment gateways, or managing inventory, the ideal platform will let you take care of that on a single dashboard with an excellent (and modern looking) UI.
#2 — Physical or digital products?
It's no secret that digital services and products like software are growing more popular than ever.
The thing is, different ecommerce platforms cater to different types of products: physical vs digital.
The difference? An online download or program vs getting something delivered to someone's door.
So the online selling platform you choose should let you sell what, when, and where you want.
Some ecommerce software solutions don't even have the tools to sell digital products. But don't worry, all of my picks let you do both.
In addition, you should have a way to take care of domestic and international sales and fees.
Tip: Especially for small businesses: if you have a physical location and plan to sell around the globe, make sure you double check the taxing info.
#3 — Store management
Some of the most important aspects of ecommerce businesses are the management of:
products
inventory
orders
tracking
and navigation.

That said, you should choose a platform that gives you a simple interface to use.
Doing daily tasks like checking inventory or updating the store shouldn't be difficult.
While it seems counteractive, you should find a platform that really doesn't have more than you need.
Sure, an ecommerce solution that has a ton of fancy gimmicks and tools looks nice, but do you have any particular use for them?
If not, you're simply wasting money.
So try to simplify the process and roadmap.
Choose a platform that has just what you need for the coming months or year and build up from there i.e. pick an ecommerce hosting platform that has excellent growth potential.
#4 — Design / Customization
A great ecommerce platform should give you the capability to build an awesome and modern looking store that's responsive on mobile, tablet, and desktop.
In addition, customization options should be a top priority if you want to make sure your brand image is conveyed through the website design.
While most ecommerce platforms required knowledge of code and technical whatnot in the past, the digital world is evolving.
What do I mean by that? Plenty of platforms don't require advanced technical knowledge on your end.
Enter, drag and drop editors.
Aside from that, there are also (more often than not) plenty of theme templates to choose from, but in the next section, you'll see why editing your own website is usually the better option for small businesses.
#5 — The cost
This seems to be the most important factor when it comes to solo-sellers, but small businesses are also affected.
How much you pay for your ecommerce solution really depends on the features the plan offers.
There are a few 'free' options but they are almost always extremely limited, with very few exceptions.
It's almost always the better idea to go with paid ecommerce platforms since you'll need to upgrade from free plans real quickly if you aim to scale.
Additionally, some ecommerce platforms and software charge you based on how much YOU make (your sales).
So be sure to double check the pricing before you choose an ecommerce site to take on.
Tip: Choose a platform with a free trial or an attractive refund policy. That way, you're able to test the the platform with your store and see the best fit between features + pricing.
All in all, the features you look at should have reasonable prices.
Keep in mind that fully customized website designs are awesome but are bound to cost hundreds, even thousands per month which is just crazy if you're a small business going into ecommerce.
I personally wouldn't think about those options if I was just starting my online store.
#6 — Ecommerce features for scaling
Aside from the basic considerations, if you're planning to or in the process of scaling your ecommerce business, it's time to think about potential:
payment processing addons
email marketing integrations
promotional tools and campaigns
membership or subscription models
categories for products
advanced analytics and tracking
personalized customer profiles
abandoned cart reminders
or other software integrations.

About integrations, a platform that offers tunnels for integrating other marketplaces, applications, and software through plugin/extensions features is a step ahead of the rest.
Even this simple site requires a ton of plugins to keep it running at top notch speed and quality, aside from the base CMS platform and web hosting.
Businesses almost always require multiple addons to deal with specific aspects of sales and management e.g. popups as a last resort to convert prospects or adding someone to your email newsletter.
Sooner or later, you'll need the ability to manage a few or more of the features I've listed above.
So be sure to have your business roadmap planned out to cater to your audience and business's needs.
Better to get set up sooner than later so you don't have to deal with the hassle of switching ecommerce platforms and providers.
Ecommerce platform pricing & fees
The most common form of ecommerce software pricing is monthly fees.
From $0 to hundreds per month depending on the features and plans, they average out at about $30 for a basic business plan.
You can also choose yearly plans. Those require some commitment on your end but if you want to play the long game, it's a win since you usually get 20-35% off your order.
Next up, we have payment gateway fees. While some platforms offer their own tunnels (like Shopify and Wix), others will need something like Stripe or PayPal.
The fees are usually under 3% of your credit card payments but the more you pay, the lower the fees go.
So that's just something to be on the look out for.
Last, but not least, there are transaction fees. These tend to be the most annoying, but it is what it is.
Some services charge up to 2% while some charge 0% (none at all).
Tip: If you use one of the ecommerce hosting platform's main gateways, you'll likely have less or no fees to cover.
Oh and you won't have to worry about high fees when looking at the ecommerce platforms we've recommended.
They're the top services in the world in all aspects of ecommerce hosting companies.