94% of first impressions are based on your website's design. Website builders are the ideal solution for building a flawless business website. They eliminate the need to hire a developer or learn to code.
Choosing the best website builder can be tricky. A few different factors help you determine which website builder is best for you.
Price – Many of the best website builders offer free personal plans. For business needs, plan pricing ranges from $10 to $75+ per month. The size of your business largely determines what plan is most suitable for you. Remember that 73% of companies invest in website design to stand out from competitors, so the cost is worthwhile.
Templates/Designs – Any good website builders offer templates and designs that are industry-specific and easily customizable. Website users say that 75% of website credibility stems from design. Responsive templates make website design a simple process. Drag-and-drop features are particularly useful, too.
Features – You'll find dozens of unique features provided by the top website builders. Examples include SEO options, app integrations, image/font galleries, e-commerce solutions, website analytics, and more.
Mobile-responsive – Mobile-responsive websites and templates are a must-have. Up to 70 percent of web traffic comes from mobile devices. Fortunately, all of the top website builders include mobile-responsive templates and design options.
Support – Customer support is an important factor if you need guidance in building your website. Website builders often provide free 24/7 email support, and some provide flexible chat/phone support hours.
Domain Hosting – Most popular website builders include domains on paid/business plans. If you already have your domain, make sure the builder you choose allows domain transfers. 40% of consumers will close a web page if it takes longer than three seconds to load, so choosing a quality host is crucial.
Before browsing the top website builders, create a list of goals and features that are important to you for making your website. Are you planning to host an online store? Are pop-up forms and widgets a must-have? These details will help you make a well-informed decision.
Below you'll find the top website builders for businesses. Read on to learn about unique features, compare prices, and more.
The 3 best website builders
Best Website Builder Software Overall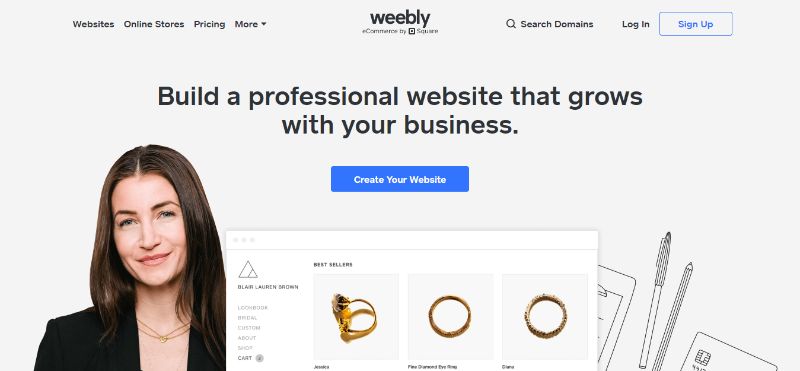 Weebly is an extremely popular website builder with over 50 million users. It has a positive reputation for user-friendliness; no design or technical experience is required to create stunning websites.
Customization is key with Weebly's 40+ responsive templates that ensure your website looks good on desktop, mobile, and tablet devices. You choose fonts, headers, color schemes, and other design aspects using an incredibly simple user interface.
Weebly is part of Square's e-commerce offerings, so you get access to advanced e-commerce solutions like inventory management, fully integrated shopping cart system, secure checkout, and more. You can import your online story from Etsy or Shopify for a simple and rapid setup.
App and tool integrations for email marketing, social media, and other marketing must-haves are included with Weebly's paid plans. These plans also include robust SEO and analytic tools for maximizing your website's performance.
Weebly is an ideal match for all e-commerce needs, but the variety of features and options cater to all business types. No matter what your goals are, you can meet them using this top website builder.
Weebly Key Features
40+ industry-specific templates that are fully customizable.
Advanced e-commerce solutions through Square partnership.
A full array of SEO tools for real-time analytics.
Apps/integrations for social media, communication, marketing, and more.
Custom domains and simple domain transfers.
Customized forms for customer surveys, contact, and more.
The features above are included with all Weebly paid plans.
Weebly Plans And Pricing
Weebly's plans are competitively priced and suit everyone from entrepreneurs to full-fledged businesses. The prices above reflect their annual building, and monthly billing is $3 to $4 more per plan.
Best Website Builder Software For Easy-Use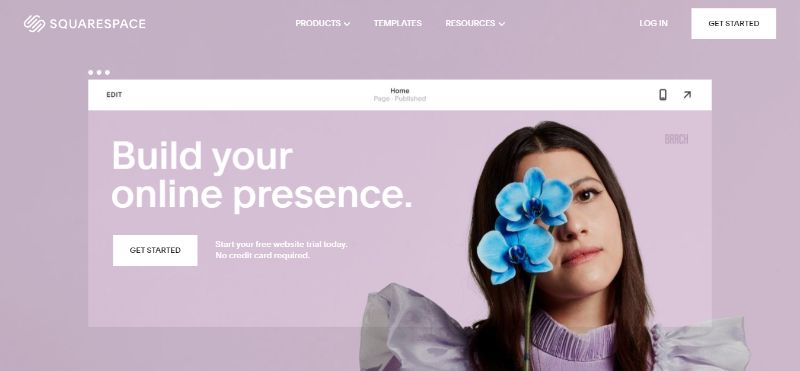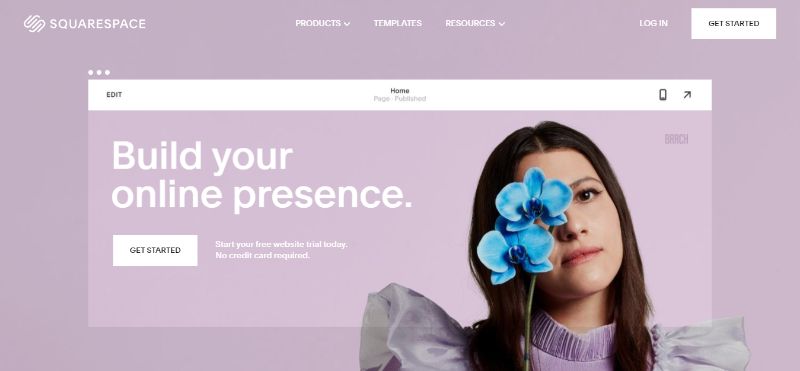 Squarespace is an excellent website builder for small to medium-sized businesses that want stunning, professional web pages that generate traffic. This popular website builder has a great user-interface that makes it easy for anyone to use.
The platform offers more than 100 web design templates, and they are all mobile-optimized to ensure quality viewing on any device. Templates are sorted by use case for blogging, e-commerce, photography, portfolios, and more.
Drag-and-drop functionality helps you add images, headings, and text and position it precisely where you want. Image management and customizable fonts and color palettes make for unique web pages every time.
Search engine optimization is made simple with Squarespace. They include all of the best practices including automatic Google Sitemaps and automatic image tagging. No additional plugins are required.
Integrated analytics help you track user behavior to help refine your strategies and cater to your target audience. All of this is available directly through Squarespace – no additional tools or coding required.
Squarespace Key Features
100+ web page templates organized by use case – blogging, e-commerce, and more.
Built-in SEO tools and user data collection for real-time analytics.
Apps/integrations for social media, e-commerce, digital media, and marketing.
In-depth e-commerce tools and support for online stores.
Customizable fonts and color palettes for easy branding.
Squarespace Plans And Pricing

Squarespace offers competitive pricing for all of its plans. The personal plan does not include the robust e-commerce tools mentioned above.
If you make annual payments, you'll save 13% to 30% depending on the plan you choose. You can also change your plan anytime to suit your business needs.
Best Multi-Function Website Builder Software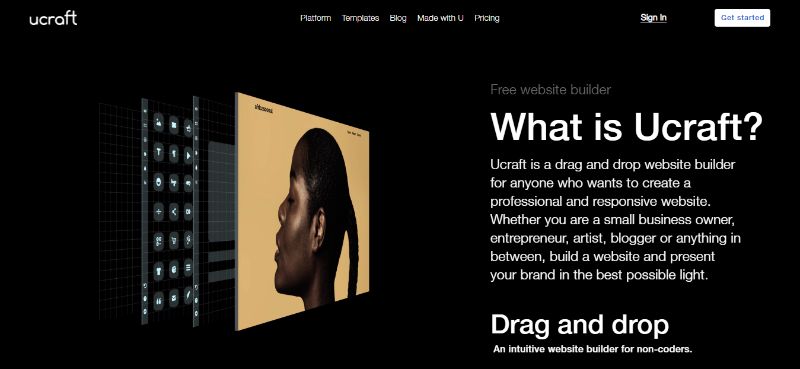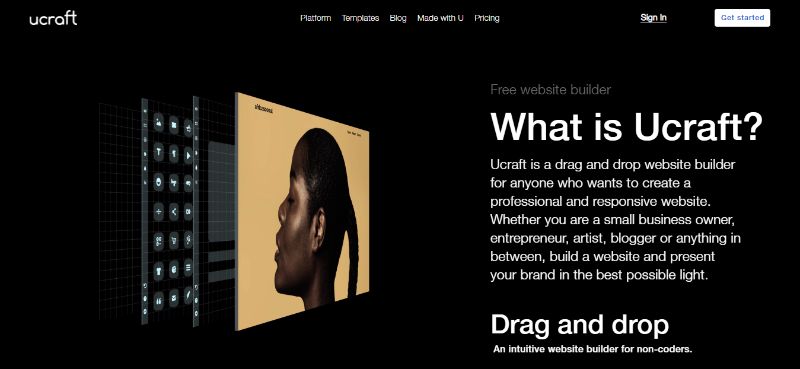 Ucraft is a popular website builder with drag-and-drop functionalities, and it's ideal for creating professional and responsive web pages. The tools and options available cater to entrepreneurs, bloggers, businesses, and everyone in between.
Multiple e-commerce solutions are included with Ucraft. You can manage your online store with 70+ popular payment/shipping options. Plans that allow multiple team members make it easy to operate your business's storefront.
A built-in SEO application is included along with various analytic and marketing features. Use them to refine your strategies and cater to your customers. You can easily make the most of your website with these convenient, effective tools.
With 24/7 user support and a 14-day free trial available, Ucraft is easy to try without risk.
Ucraft Key Features
80+ pre-designed templates and 100+ pre-designed layouts.
A wide array of SEO, analytics, and marketing features.
Call-to-action buttons and forms for easy user engagement.
Customized logo creation within minutes.
Apps/integrations for marketing, e-commerce, and all of your business needs.
1+ million royalty-free images.
2+ million free vector icons.
Ucraft Plans And Pricing
Ucraft offers a free plan that has somewhat limited features; it's best for personal websites and small blogs. Monthly plans payments are available for a 15% increase. You can upgrade to a higher-tier plan at any time.
4. Tribe by Yo!Kart
Best Website Builder Software For Ecommerce
Tribe is an agile eCommerce platform with a powerful drag and drop store website builder to craft impressive eCommerce websites that are mobile-ready and fully responsive. The platform is an excellent choice for a website builder for small businesses as well as medium sized businesses (SMBs) to launch their online store swiftly and in a streamlined manner at Zero cost.
Tribe is an open-source eCommerce platform built using the secure Laravel framework. The platform allows complete freedom and flexibility to modify existing source code to fit exact business requirements.
With Tribe, no coding or extensive designing experience is required to customize the storefront. The platform comes pre-integrated with MSN language API, tax module system, extensive fulfillment & shipping solutions, and many more.
Plus, it has all the essential set of features for product management, promotions as well as search engine optimization.
Tribe Key Features
14+ resourceful third-party APIs are pre-integrated for seamless eCommerce operations

Efficient tax module system for single and combined tax structures

4 popular payment gateways Stripe, Paypal, Authorize.net, and Cashfree are pre-integrated

Fully customizable storefront with intuitive Drag and Drop CMS editor

Extensive SEO tools

to optimize the eCommerce store and grow organically

Hyper-scalable eCommerce solution allowing valuable integrations through customizations
Tribe Plans And Pricing
Tribe is a completely free eCommerce platform with no set-up fee or transaction charges applicable. The only cost associated is for customizations or add-ons.
So if you're looking for the best website builder for small businesses that sell online products, Tribe might be your best bet!
Final Thoughts On The Best Website Builder
The best website builders provide many of the same essential tools and features.
However, you can see that each top website builder has unique, high-quality features.
Explore my recommendations and find the option that suits your needs and goals perfectly.