A Complete Guide — The Top Web Hosting Options
There certainly are many aspects of your business where you can put up with mediocrity, but when choosing your hosting server, try to put that thought to the side.
Your web host's quality critically affects your website, and consequently, the entire essence of your branding and marketing infrastructure.
Take a gamble with one that doesn't cater to your needs enough, and you'll get a website that keeps you wondering when it'll crash.
Get a web hosting company or type that you don't need, and you'll just be running down your wallet.
We're going to take a look at some server hosting companies that include managed WordPress, shared, VPS, and a multitude of other web hosting types.
Nearly all of them include monthly, yearly, and some, even quadrennial plans (best bang for your buck).
The top 10 web hosting platforms for your website:

What should the ideal web hosting service have?

Checkpoint #1 — Hosting uptime
The best hosting companies stand out for their reliability. This is measured by the uptime, commonly measured in percentages.
The uptime here is the amount of time when the web host is available. In contrast, downtime is the period where the web host is unavailable.
This outage typically occurs when the host's servers crash or there is a scheduled maintenance exercise.
Most of the web hosting services have their uptime in the 99 percentile.
These show that when system failures occur, the provider is promptly resolving them.
Consequently, your website wouldn't be out of reach for long.
You don't want a web host with frequent downtimes as such outages will shrink your reliability in that potential visitors can't access your website when they desire.
Also, frequent outages reduce your search engine rankings.
Some of the web hosting services we will examine in this guide boast uptimes upwards of 99.99%.
Impressive, isn't it?
Checkpoint #2 — Server speed
Fast cars, fast food…fast websites, we cherish speed in the twenty-first century.
Consequently, loading speed is a major determinant of the success of your website.
Few things can crash your business as quickly as a slow loading website.
Still in doubt?
Statistics show that a 100-millisecond delay in your website load time can trigger a 7% drop in conversion rates.
To put it in perspective, if you had an ecommerce site that gives you a cool $100k daily, a second delay in your loading speed will cause you to lose $2.5 million in sales annually.
Are your eyes popping out already?
With the best hosting services, you get optimal website loading speed.
This means less bounce rates and enhanced SEO rankings. Understandably, servers with high page load speeds cost more.
Checkpoint #3 — Customer service & support
Few things hurt as much as that web host that takes ages to respond.
When choosing a web host, prioritize its customer support efficiency.
It is almost inevitable that things will go wrong – either you making mistakes or the server malfunctioning – causing your website to crash.
How readily available is your web host's support team? How interactive are they, and what platforms are they most active on?
More than email support, I would recommend a web host with live chat, or better still, one that you can readily pick up your phone and call up.
Checkpoint #4 — Traffic capacity
When choosing a web host, you must consider your anticipated traffic.
It only makes sense to go for a befitting provider who can give you the requisite bandwidth and storage your website would need in terms of user interaction or traffic.
Typically, hosting companies bill you based on the bandwidth and storage your website demands.
Less traffic means lesser bandwidth, resulting in lesser cost.
Indeed, an inexpensive shared server can get the job done for you.
Conversely, if you are hitting for higher traffic, as typical of websites running SEO (aiming for higher ranking in search results), you are best served with a cloud-based server or a dedicated server.
Checkpoint #5 — Pricing
Can money ever leave the discussion? Conventionally, different hosting plans come at different prices.
The majority of these hosting packages are split across hosting shared, dedicated, VPS, WordPress, or cloud hosting.
Pricing also varies with the billing cycle – whether monthly, annually, or even biannually.
The longer the period, the cheaper it tends to be.
For the first term, most web hosting services offer promotional prices for the first billing cycle duration, after which the rates push up.
Some providers even go as far as providing you free domain registration for the first term.
The bulk of web hosts we will explore in this guide offer you a free trial period to test their service.
This averagely spans 30 days but could be way longer, as in the case of Dreamhost who offers you a 97-day trial period.
Within this trial period, if you are dissatisfied with their service, you are free to cancel your subscription, upon which you get a refund.
In some cases, you may not get refunds for add-on features you procured within the trial period.
Others may not refund the fee you paid to register your domain name.
Having looked through the factors in picking a provider, how about we look at the various types of hosting services you can get?

Common types of web hosting services:

Type #1 — Shared hosting
As can be inferred from the name, you are not the only tenant here.
Think of it much like you sharing a condo with other tenants.
You don't exclusively own the server in shared hosting as other websites are stored on that server simultaneously.
Given that the server cost is sort of "crowdfunded", each website owner pays far less.
Most shared hosting plans cost less than $10 monthly.
This low cost make shared hosting an attractive hosting option for small (or medium) businesses just starting operations on a shoestring.
Of course, you can't eat your cake and have it back. Beings shared, malfunctions (say virus attacks) are easily shared across the websites sharing a server.
This means more frequent disruptions and downtime.
More also, when a site sharing a server with you experiences a significant spike in traffic, you can expect your site to go down.
The loading speed is rarely anything special with shared hosting.
So choosing a shared hosting service as a long term solution when you aim to scale really isn't a good idea.
Type #2 — VPS hosting
In VPS hosting, the web host slices the server into virtual services.
The implication is that your website – just like every other website on the server – appears to have a dedicated server.
Compared to shared hosting, the frequency of downtime is lesser in VPS hosting. VPS hosting tends to average a monthly charge of $20.
While VPS hosting is not a long-term solution, it is a better option than shared hosting if you aim to scale faster.
Type #3 — Managed hosting
With managed hosting, you are typically outsourcing the day-to-day administration of the server to the web host.
This is suitable for individuals and businesses who either don't have the technical experience or time to set up and actively manage a server.
In this plan, you are basically leasing hardware from a managed web hosting service.
Aside from servers, this package can include networking hardware and storage hardware.
Depending on the managed web host, you can get services like patching, network infrastructure management, OS updates, hardware management, round-the-clock support, and typical security services like spam and virus protection.
Overall, the managed web host averts anything (on your behalf) that would otherwise hurt the server's performance.
The type of solution your managed web host offers you largely depends on the Service Level Agreement stating.
This also spells the compensation you get if the provider defaults on his part and your server goes down.
Type #4 — Dedicated server hosting
In dedicated server hosting, you where you exclusively own a server.
Unlike the shared plan, the dedicated server has only your website(s) being stored on the server.
This gives you sole ownership and control over the server, optimizing it for your most peculiar business needs.
This way, the security and the performance of your server is extensively customized to your website.
With such exclusive control comes increased flexibility. You (or your IT staff) are at liberty to alter the server configurations.
You can also manipulate the resources and integrate new software as you deem fit. In short, you're the boss.
Being that the server is specially streamlined for you, you can further adapt the server to align with your compliance and security needs.
With dedicated server hosting, you also get improved performance with a dedicated host as you can optimize your website to accommodate your bulkiest applications.
Type #5 — Cloud hosting
In cloud hosting, the server leverages software in dividing one server into several virtual servers.
This is different from traditional hosting, where you get a defined volume of space from a server.
These split servers are commonly called virtual machines.
A cloud host exploits these virtual machines in amplifying the uptime while balancing the load.
Therefore, your website leverages accumulated resources from these clusters of servers, ensuring optimal performance.
Do bear in mind that in the generality of cloud hosting, when a server crashes, everything goes down with it.
This deficiency can be remedied with a distributed cloud hosting model where every website is spread across several servers in a data center.
Such distribution can be seen as a hedge such that when a server in that cluster malfunctions, your website will not experience downtime.

Best web hosting services for businesses this year

#1 — Dreamhost — Best web hosting service overall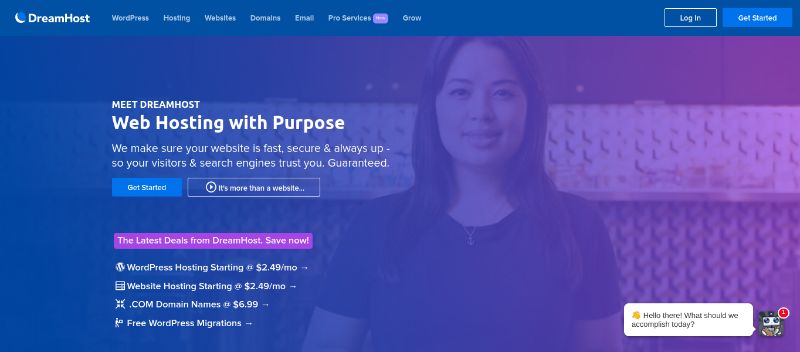 DreamHost overview
Having been on the web hosting scene for 18+ years, DreamHost knows how to manage websites for accelerated growth and scaling. Powering over 600,000 WordPress sites and blogs with a streamlined process covering WordPress installation/updates, unlimited space/bandwidth, and free SSDs, DreamHost is quite the meaning of "a dream come true."

DreamHost offers:

Additional notable features:

DreamHost's web hosting server is one of the elder statesmen of the web hosting industry.
This web hosting company was founded in 1996, but don't mistake their old age for obsoleteness.
Having maintained their relevance even to this day, DreamHost hosts more than 1.5 million websites.
DreamHost operates on its own cPanel which means that everything is easily accessible and easy to understand.
Their average uptime is upwards of 99.96%, with an average load time of 648ms and impressive customer support (with live chat available).
If you are a blogger running WordPress sites or websites that need a good range of upgrade options, DreamHost is definitely the ideal web hosting service for you.
DreamHost gives you unlimited data storage, unlimited MYSQL databases, one-click software installation, unlimited bandwidth, and a free domain with Whois privacy.
In addition, they offer a free SSL certificate so your site is secure for everyone to access.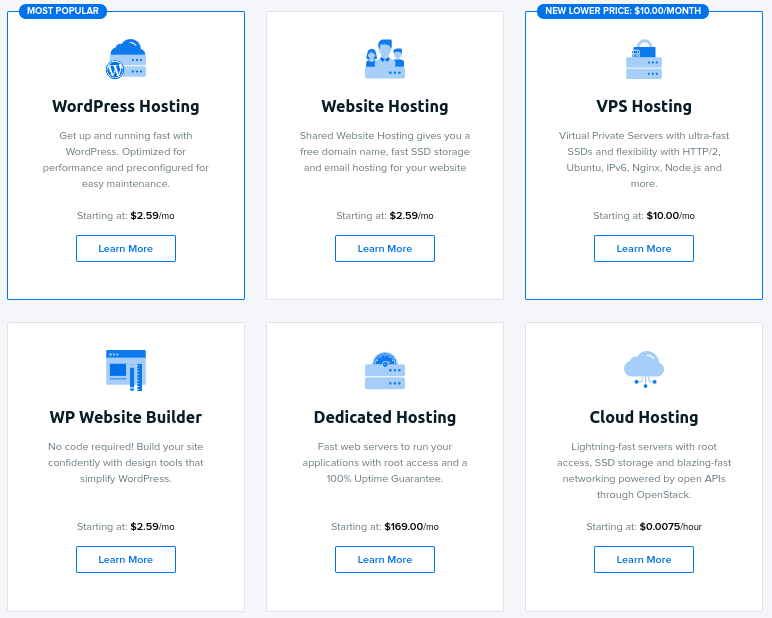 Still not convinced DreamHost is the best web hosting option overall?
Here are some more facts that may change your mind:
The pricing is what it is. No additional fees. Period.
97-day refund — Guaranteed. No questions asked.

#2 — HostGator — Best shared web hosting

HostGator offers:

Hostgator counts among the oldest guys in the web hosting industry.
Just like Dreamhost, Hostgator has sustained its place as one of the top web hosting companies for its penchant for improving upon it's already robust set of options and features.
With an average uptime of 99.98% and a spectacularly intuitive interface, it is a no-brainer why hordes of website owners are in love with Hostgator.

Hostgator's shared hosting plan offers you unlimited bandwidth, storage, a free SSL certificate, and a free domain for the first 12 months.
The hosting plans are pretty flexible as you can buy packages of one month, running through 12-month packages as far as 36-month packages.
Hostgator's customer service is interactive with the live chat agents, particularly dishing answers to your queries within seconds.
I also admire the plurality of programming languages Hostgator supports.
This ranges from PHP, Perl, Ruby On Rails to Python.

#3 — Bluehost — Web hosting for beginners and bloggers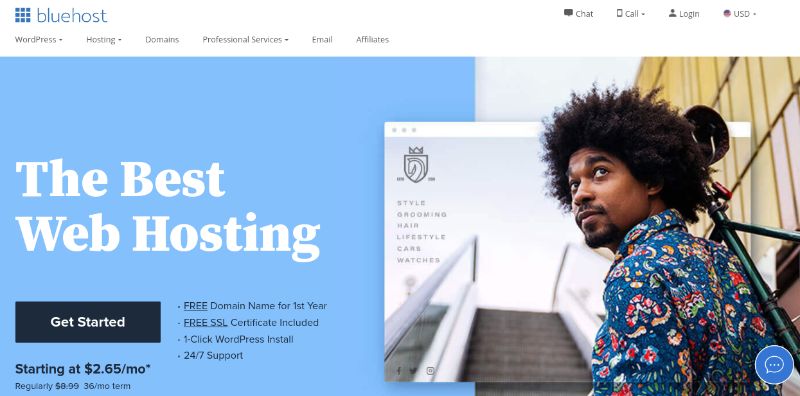 Bluehost entered the industry in 2003 and has not looked back since then.
Founded by an enterprising Matt Heaton, Bluehost boasts about 2 million websites in their websites.
They also seems to be the most well know hosting company despite Bluehost alternatives coming on to take over the web hosting scene.
For all these, isn't it interesting that Bluehost has only one data center?
Bluehost so significantly raised the bars of excellence in the web hosting space that the eminent Endurance International Group acquired it within 7 years of operation.
To beam more light on the excellence of Bluehost, just three websites are recommended by WordPress itself.
These are Bluehost, Dreamhost, and Siteground.
Bluehost stands for many features, including uncommon user-friendliness, impressive uptimes, and easy WordPress integration.
Bluehost boasts a 99.89% uptime, WordPress-dedicated dashboards, free domain name, and one-click installation.
What more, Bluehost offers you unmetered bandwidth and impressive security like CodeGuard Basic (daily backup service) and SiteLock.
On the downside, while Bluehost's first billing cycle appears cheap, subsequent renewals can be expensive.
Also, the storage on the Basic plan can be inadequate.
On a more personal level, I am not a fan of how your cart gets loaded with optional add-ons at checkout.
This doesn't make life any easier as you would have to manually uncheck such items before proceeding to buy.

#4 — WP Engine — Best managed WordPress hosting service
WP Engine is one of the "late comers" web hosts.
Founded in 2010, WP Engine has smashed the odds, fast accumulating a sizable user base of 500,000 websites spread across 12 countries.
As can be inferred from the name, WP Engine is a dedicated host for WordPress websites, specializing in managed hosting services.
Aside from premium managed WordPress hosting, WP Engine is suitable for websites running custom enterprise WordPress applications.
WP Engine boasts some of the finest WordPress support staff, with excellent response times.
Thanks to WP Engine's Evercache technology, you can expect your site to load fast.
On top of the automatic installation of WordPress updates, you get zero-cost data backup and restoration.
WP Engine gives you a standalone staging area where you can test your themes and plugins, with free access to StudioPress Genesis themes.
How about the scars?
WP Engine hosting services don't come cheap.
Also, being dedicated to WordPress, WP Engine doesn't work for non-WordPress platforms.

#5 — Scala Hosting — Web hosting for bloggers (alternative to Bluehost)
Founded some 13 years back, Scala counts more than 50,000 clients scattered across the globe.
If you are on a low budget (and you are anticipating significant hikes in traffic soonest), you may consider going for Scala's shared hosting plan.
With an average uptime of 99.72%, I admit Scala surely doesn't boast the highest uptimes, but it is not a bad deal for its affordability and wealth of features.
Scala gives you a customized CPanel control panel for free, effective VPS Machines, SShield Protection (with 99.98% efficacy in blocking intrusive cyber attacks), and free domain.
On the downsides, Scala lacks a dedicated IP address add-on with limited server locations.
Also, Scala only offers solid-state drive (SSD) on VPS plans.

#6 — Flywheel — Best hosting for designers and agencies (managed WordPress)
Flywheel is another WordPress host worth considering. Flywheel was the brainchild of three smart chaps (in the persons of Tony Noecker, Rick Knudston, and Dusty Davidson) pooled brains together in 2012.
If you run a creative agency or a web designer who wouldn't mind paying for a high-end WordPress host, I would recommend Flywheel.
True to its name, Flywheel websites fly, with incredible loading speed.
Flywheel's dashboard is intuitive, user friendly, and unified, making website creation ridiculously easy.
Flywheel's managed hosting is equally exquisite, with automatic website updates, malware protection, daily backups, and caching.
The performance of Flyhweel's cloud-based facilities is worth applauding.
On the less green side of the fence, Flywheel is a high-end solution.
This is way higher than your regular $5/monthly website host.
Flywheel's managed security prevents you from accessing your Secure Shell (SSH). On Flywheel, you can't build in deployment.
Lastly, Flywheel only offers WordPress host plans.

#7 — LiquidWeb — Ideal web hosting option for growth
LiquidWeb originated around the early 2000s. With over 1.5 million websites, LiquidWeb counts more than 45,000 customers in its user base.
While being based in the United States, Liquid Web has ten global data centers.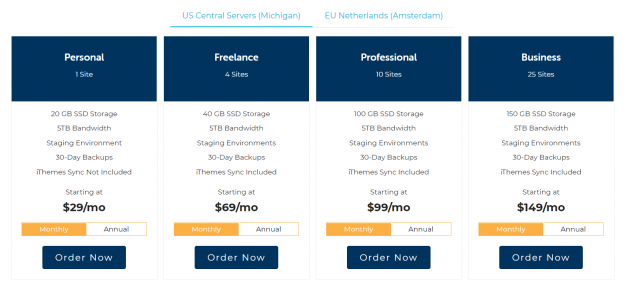 LiquidWeb's offerings are more streamlined to professional users or corporate firms.
This explains the relative steepness in their prices.
If you are keen on performance and premium service delivery and can afford a high-end solution, you could be aiming for Liquid Web.
Liquid offers you extensively configurable cloud hosting service, advanced dedicated server features, and managed applications.
Here is something worth gushing about: Liquid Web stands out for its 100% uptime guarantee; otherwise, you get compensated.
On Liquid Web, you enjoy free CDL, SSL, DDoS protection, with comprehensive site migrations fully handled for you.
There is also a massive buffet of premium tools on Liquid Web to tap into like iThemes Sync Pro, Jilt, BeaverBuilder, and All IconicWP.
Is Liquid Web looking unblemished?
Liquid Web is relatively expensive, with no option of a free trial. Also, email hosting doesn't come free.

#8 — Hostinger — Best cheap web hosting provider
If you are appalled by the costliness of Liquid Web, you may want to resort to a much cheaper option like Hostinger.
Fun fact: this is the hosting service I'm using right now.
Back in 2007, this web host started out as 000webhost.com. The latter was free web hosting.
It was only till 2007 that it morphed into Hostinger.
As of January 2017, Hostinger's user base had already swollen to 29 million users.
There are good reasons for this hike.
Specifically, Hostinger has an impressive load time of 350ms and a fair uptime of 99.95%.
Hostinger is a more globalized hosting service provider with eight data centers scattered across Europe, U.S, and Asia.
Hostinger comes with a free website builder and with the domain name coming at no cost.
I was really impressed with this web web host's interface, which was so unified and simplified.
All you need is neatly housed in one location.
Admittedly, Hostinger's control panel differs from your regular cPanel, but this shouldn't be much of a problem since the icons are enlarged.
With Hostinger, you get enough space for scalability, WordPress acceleration, broad stretch of payment options – with lots of features all coming for a low signup fee.
All this come together to make Hostinger the best web hosting for small business.
On the downside, you don't get assistance when migrating your site.
Also, prices tend to hike when you renew your subscription.
#9 — Siteground — Top web hosting provider (customer support)
SiteGround has been around since 2004, with headquarters in Sofia, Bulgaria.
SiteGround deserves its place on our list of the best web hosting services, being an official WordPress.org partner.
SiteGround has a broad spectrum of services, including WordPress, cloud, VPS, shared, reseller, and enterprise hosting.
It is interesting to note that all of SiteGround's plans have the option of fully managed hosting.
SiteGround servers are driven by Ultrafast PHP, Google Cloud, PHP7, NGINX + caching, and HTTP/2.
The HTTP/2 technology — the most secure network protocol available — is a decisive distinguishing factor between SiteGround and other web hosting services.
All shared plans on SiteGround come with free SSD.
Still on the list of freebies on SiteGround, customers are lavished with free CloudFlare CDN and SSL certificate.
For enhanced uptime on its shared hosting, SiteGround offers site isolation.
This is such that if one of the sites sharing a server is hacked, the impact will not spill to your website.
Of course, SiteGround has its handicaps.
First, SiteGround's resources are limited.
Such limitations are seen, for example, in the shared hosting where users must upgrade to the higher tier when they want more resources.
SiteGround's renewal fees are relatively high compared to the first billing cycle.
New users could enjoy as much as a 53% discount on their first billing cycle, after which the cost pushes as far as $39.99 per month for renewal.
SiteGround's prices went steeper after it made the infamous move to Google Cloud Platform.

#10 — Inmotion
Found in 2001, Inmotion is one of the oldest web hosts around, with two data centers accommodating more than 300,000 domains.
These data centers are located in Virginia Beach and Los Angeles.
Inmotion has an average uptime of 99. 95%.
For security, Inmotion comes with the premium Sucuri Plugin for WordPress users.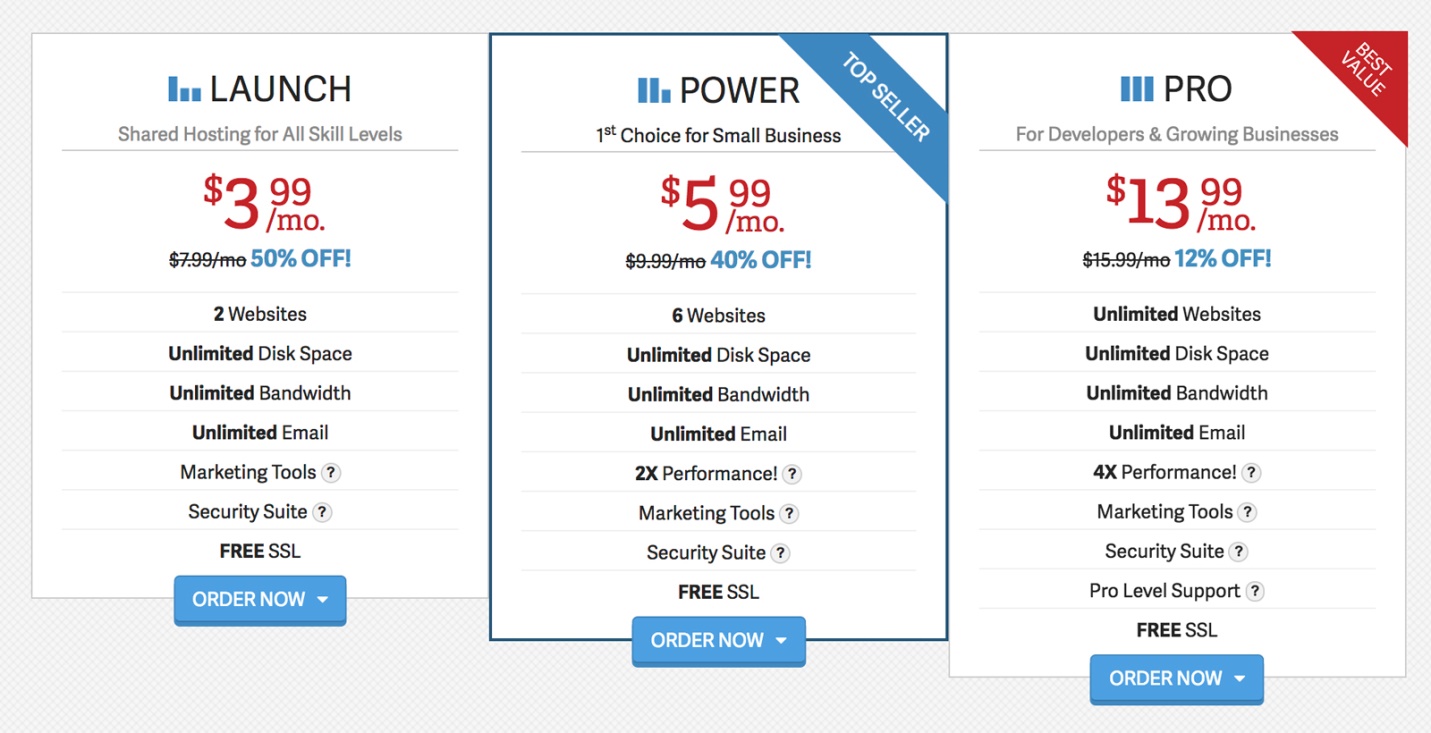 Furthermore on security, Inmotion leverages the Super Secure Smartwall Threat Defense System (TDS), which has remarkable effectiveness in protecting your website from Dos, brute force, and DDoS attacks.
There are several plans on Inmotion, depending on your budget and hosting objectives.
From dedicated plans, reseller, VPS, and WordPress, Inmotion has it all.
Of course, Inmotion has some unique defects. Principal among them is the absence of Windows servers.
Also, the verification process for Inmotion can be hectic, particularly for users outside the United States.

Best web hosting services — Summary
While no web host is definitively the best, several of these web hosting services have their unique strengths depending on your situations and your ambitions for your business.
To be more specific, while Bluehost may be the top web hosting for beginners, Dreamhost may be the top web hosting cost-wise if you are planning to upgrade to cloud hosting or VPS.
Similarly, while WP Engine makes a claim for the best managed WordPress hosting, Hostinger may be the best web hosting for small businesses or bloggers that lack a decent budget.