6 Best Webinar Software For Every Business In 2020
Millions of webinars are hosting every single day on a variety of the best webinar platforms, and they're notably popular for marketing and sales.
Statistics report that 73% of sales and B2B marketing leaders find high-quality leads through webinars.
Much like email marketing software, there is no 'one size fits all' webinar software.
Factors to consider when choosing from the best webinar platforms include:
What your webinars are for.
How many attendees you expect.
App or website integrations that you'll find useful.
Software features that suit your criteria.
Fortunately, there are a lot of popular webinar platforms that cater to specific customers.
I've reviewed my top six picks below, highlighted features for each one, and more.
Read on to discover the best webinar software for your needs.
#1 Of All The Best Webinar Platforms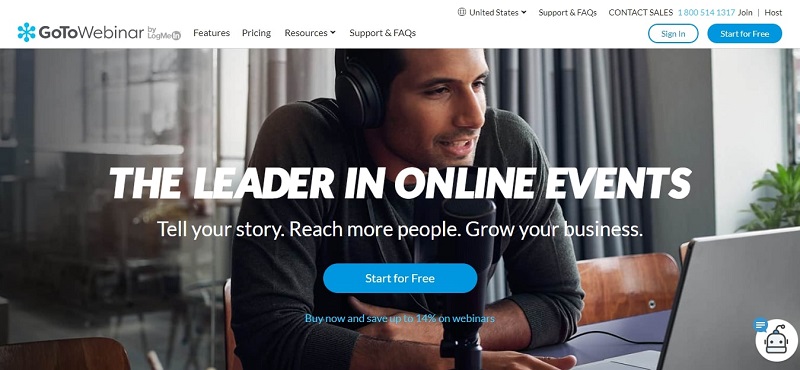 GoToWebinar is one of the most widely-used webinar platforms and hosts 2.7 million webinars every year.
This webinar software is used by 50,000 customers, and its diverse features suit all types.
GoToWebinar's resource center and blog are full of helpful guides and tips to help its users.
GoToWebinar Plans And Features
GoToWebinar has four different plans you can choose from. Below are popular features from each option.
Lite Plan
100 participants.
Record and save sessions.
Web (VoIP) audio participation.
Mobile-friendly webinars.
Screen sharing.
Unlimited cloud storage.
On-screen drawing for live demos.
CRM integrations.
Automated email invitations.
24/7 phone support.
Standard:
Everything included in the Lite plan.
250 participants.
Video embedding.
Video sharing.
1 customized channel page.
Pro:
Everything included in the Standard plan.
500 participants.
Webinar transcripts.
Video editing.
3 customized channel pages.
Source tracking/monitoring.
Custom channel URLs.
Enterprise:
Everything included in the Pro plan.
Up to 3,000 participants.
5 customized channel pages.
Who Is GoToWebinar Best For?
GoToWebinar is a solid webinar software for any individuals or business who use webinar platforms.
The plans available cater to all types of criteria. This webinar platform provides robust resources and guides for users.
This makes GoToWebinar easy for anyone to use.
GoToWebinar Pricing

Pricing for all plans is based on the number of webinar participants.
It's important to note that monthly pricing and annual pricing differ. Annual pricing is 20% cheaper on average.
GoToWebinar offers a free seven-day trial; it's risk-free and doesn't require a credit card.
Consider the trial if you're interested in what GoToWebinar has to offer.
Best Webinar Software For Training And Events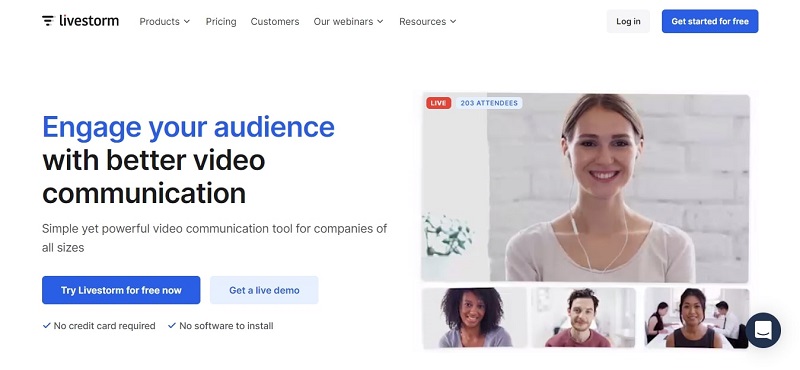 Livestorm launched in 2016 and steadily became one of the most well-known webinar platforms.
Over 3,000 companies use Livestorm, and this particular webinar software is available in 25 different languages.
The interface is modern and easy to navigate for positive user experience.
Livestorm Plans And Features
Livestorm provides three plans, and the 'Basic' plan is free.
Popular features from every plan are highlighted below.
Basic
Unlimited HD webinars.
Unlimited moderators.
Up to 20 minutes per webinar.
Up to 10 attendees per webinar.
Screensharing.
On-demand webinars.
Browser-based webinars.
Dial-in webinar option.
Automatic webinar recording and replay.
Automatic email reminders.
One-click invitations.
Upload and share presentation slides.
Team account access.
Premium
All Basic features.
Up to 4 hours per webinar.
Up to 100 attendees per webinar.
1,000+ app integrations.
Pre-recorded video sharing.
Paid webinars (only paying attendees allowed).
Automated personalized emails.
Automated webinar options.
Powerful analytic tools.
Enterprise
All Premium features.
Additional customized plan features and services.
Livestorm expert training.
Priority customer support.
A dedicated customer service manager (CSM).
Service level agreement (SLA).
Who Is Livestorm Best For?
Livestorm webinar software is designed with efficiency in mind, and you can choose from automated, live, and even on-demand webinars.
These options are excellent for product demonstrations, sales presentations, and training sessions.
Businesses and individuals who host long webinar sessions may not find Livestorm cost-effective.
Fortunately, many webinar events can be completed within the four-hour time limit that the Premium plan includes.
Livestorm Pricing
Livestorm provides pricing for their Premium plan only.
You can pay monthly or annually and annual plans are discounted by 10 percent.
The Premium plan also gives you the ability to pay extra for additional webinar attendees. The available options are:
Additional $99 per month – 250 attendees
Additional $209 per month – 1,000 attendees
Pricing for the Enterprise plan is available by contacting Livestorm's sales team.
Best Webinar Software For Business Use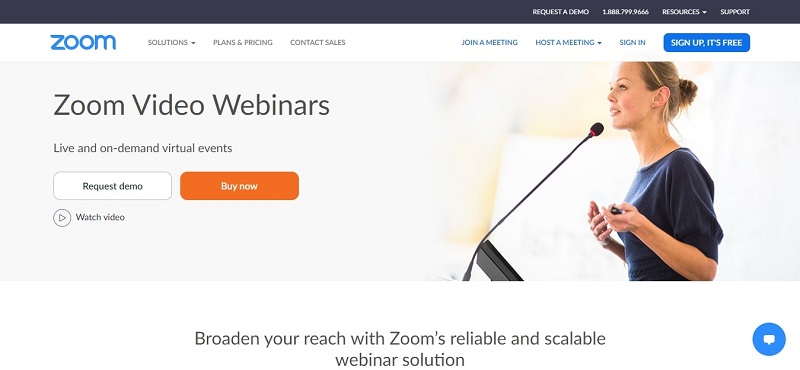 Zoom launched its webinar software in 2013, and it became incredibly popular during the 2020 COVID pandemic.
It boasts over 12 million users leaving other webinar platforms in the dust, and is available in 11 languages.
Zoom is used by businesses, educators, healthcare practitioners, and government agencies.
Zoom Plans And Features
Zoom has four plans you can choose from.
There are multiple add-ons available for paid plans, and I'll discuss those in the pricing section below.
Here are the primary features of each plan:
Basic
Up to 100 participants.
40-minute meeting duration limit.
Unlimited number of meetings.
HD video.
Up to 25 video feeds per screen.
Simultaneous screen sharing.
Personalized room and meeting IDs.
Chrome and Outlook extensions/plugins.
Whiteboarding.
Pro
All Basic features.
Large Meeting add-on for more participants.
24-hour meeting duration limit.
Custom personalized meeting IDs.
1GB of MP4/MPA cloud recording.
Usage reports.
Admin feature controls.
Business
All Pro features.
Up to 300 participants.
Dedicated phone support.
Customized URLs.
Custom email invites.
Learning management system integration.
Auto-generated cloud transcripts.
Company branding for meetings.
Enterprise
All Business features.
Up to 500 participants (1,000 with Enterprise Plus).
Unlimited cloud storage.
Assigned customer service manager.
Detailed analysis and ROI tracking.
Who Is Zoom Best For?
Zoom is the best of webinar platforms for businesses overall.
The Basic plan allows you to host 100 attendees at no cost, so it's ideal for the average business meetings.
Zoom's tools are designed with web conferencing in mind.
If you need webinar platforms for sales, you may want to consider an alternative.
Zoom Pricing

Each paid plan charges per month and host.
Zoom is currently offering a 20% discount on the Pro plan for customers who make annual payments.
The base rates above are pretty competitive though the cost of extra features adds up.
Some of the paid add-on options include:
Additional Cloud Recording Storage – $40/GB per month.
Audio Plan (call-in options) – $100 per month starting price.
Interactive Video Panelist Webinars – $40 per month starting price.
A full selection of add-on options and fees are available on the Zoom pricing page.
You can also read about related Zoom solutions for telecommunication.
Best Webinar Software For Ease Of Use
ClickMeeting is a webinar software that focuses on user-friendliness.
Customers get step-by-step instructions and a user interface that's easy to navigate.
ClickMeeting has over 100,000 customers in over 160 countries worldwide.
ClickMeeting Plans And Features
ClickMeeting offers potential customers a 30-day free trial and three paid plans.
The trial has its specific assets. Popular features from all plans are included below.
Free Trial
Up to 25 attendees.
Unlimited number of meetings and webinars.
4 cameras per webinar.
5 cameras per meeting.
1 host.
1 presenter.
HD video quality.
30 minutes of recording cloud storage.
500MB of file cloud storage.
Screen control (allow attendees to access your screen).
Real-time chat translation.
Several app/software integrations.
Event statistics.
Basic and advanced reporting.
Live
All features/integrations from the free trial.
25 cameras per meeting.
Up to 3 account users.
6 hours of recording storage.
1GB file storage.
Paid webinar events.
Toll-free dial-in numbers.
PayPal integration.
Automated
All features/integrations from the Live plan.
10 hours of recording storage.
2GB of file storage.
Unlimited automated recurring webinars.
On-demand webinars.
Auto-streaming through Facebook and/or YouTube.
Auto-publishing on multiple platforms.
Email automation (invitations, follow-ups, etc.).
Enterprise
All features/integrations from the Automated plan.
Up to 4 presenters.
Up to 5 account users.
Scalable webinars for larger audiences.
Access to extra attendee add-on feature.
Assigned webinar account manager.
Personal training/onboarding.
Custom branding tools.
White label marketing options.
Who Is ClickMeeting Best For?
Out of all the other popular webinar platforms, ClickMeeting is the most ideal webinar software for entrepreneurs and small to medium-sized businesses.
The diverse features and user-friendly design suit all types of niches.
Since ClickMeeting plans allow up to 1,000 attendees, it's not a prime pick for larger businesses.
ClickMeeting Pricing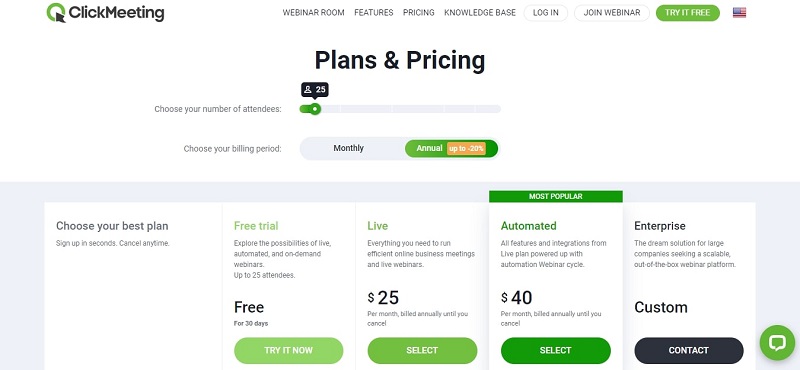 Pricing for paid plans is based on the number of webinar attendees.
Here is a price layout based on the Automated plan with annual payment:
1 to 25 attendees – $40 per month
26 to 50 attendees – $45 per month
51 to 100 attendees – $75 per month
101 to 200 attendees – $145 per month
201 to 500 attendees – $179 per month
501 to 1,000 attendees – $279 per month
There's a discount of up to 20 percent for making annual payments, and you can see the savings in the images above.
Best Simple Webinar Software
Zoho Meeting is arguably one of the most straightforward online meeting and webinar platforms.
It provides users with secure and simple tools for efficient online communication.
The plans offered are budget-friendly and flexible for different sized webinars and meetings.
Zoho Meeting Plans And Features
Zoho Meeting plans are a bit confusing at first.
There is a free option for both meetings and webinars. Meetings have their own plan with unique features.
There are four webinar software plans listed on the site, but they all share the same features.
The only difference is a) pricing and b) the number of webinar attendees allowed.
Explore the main features for meetings, the free plan, and webinars below.
Meeting
Up to 100 attendees.
Keyboard and mouse sharing.
Instant chat.
Meeting recording.
Online storage for up to 10 meetings.
Integration with Zoho CRM and Zoho Projects.
Access to paid add-on features.
Free
2 attendees for meetings.
10 attendees for webinars.
Screen and application sharing.
Webcam sharing.
Browser-based software.
Scheduling and reminder tools.
Customized registration forms.
Create polls and Q&As.
In-depth analytic reports.
Report exporting.
Automated email settings.
5 apps and extensions (mobile, desktop, etc.)
Webinar
All free plan features.
Up to 250 attendees (varies with each plan).
Online storage for 25 webinars.
Integration with Zoho Calendar, Campaigns, and CRM.
Webinar recording software.
Who Is Zoho Meeting Best For?
Zoho Meeting is a strong pick for small businesses who need essential webinar software operations.
This webinar software isn't lacking by any means; it includes several must-have tools.
Zoho Meeting isn't the strongest match for a) larger businesses and b) sales and marketing-related use.
Fortunately, several alternatives on my list cater to these needs.
Zoho Meeting Pricing
With Zoho Meeting, you can either pay for meetings or webinars.
Meetings are designed for small discussions with teammates and clients.
All rates listed are per host, per month.
Zoho Meeting offers a free plan that's displayed on their features comparison page.
You can also find it by scrolling down on their pricing page.

If you select annual payments, you'll save an average of 20 percent.
The difference in monthly and annual pricing is reflected above.
Zoho Meeting offers a 14-day free trial for their paid plans.
Best Webinar Software For Marketers
Demio is a simple but effective marketing webinar software with competitive pricing and solid features.
The tools for this webinar platforms are geared toward efficient marketing.
Demio boasts multiple app and software integrations, and it has a sleek design.
Demio Plans And Features
Demio has three plans to choose from, and the features for each one are robust.
The main differences in plans are room size and session limits.
Popular features you should know about are listed below.
Starter
50-attendee room.
3-hour session limit.
1 host.
Unlimited sessions.
Unlimited registrations.
Unlimited cloud storage.
10+ marketing app integrations.
Advanced event setup.
Upload and share media/presentation slides.
Customizable registration tools.
Live events.
Standard support.
Room engagement tools.
Detailed analytics.
Compatible with numerous browsers and devices.
Customized automatic email notifications.
Growth
All Starter features.
150-attendee room.
5-hour session limit.
Room and email branding.
Automated events.
Customizable form fields.
Business
All Growth features.
500-attendee room.
8-hour session limit.
Priority support.
Marketo integration.
Dedicated account representative.
4 hosts.
Who Is Demio Best For?
Demio is great for marketers who host small to medium-sized webinars.
This webinar software offers convenient marketing tools that benefit hosts and attendees alike.
If your webinars consist of a larger audience, Demio may not be the right choice for you. Might want to go take a look at other webinar platforms like Livestorm and GoToWebinar.
Demio Pricing
Demio plan pricing is very straightforward.
The rates above show the annual and monthly fees for all three plans.
If you need a bigger room size, you can contact Demio to see what your options are.
Demio offers a 14-day free trial that includes the Growth plan features.
However, it is limited to 20-attendee room size, and sessions are limited to one hour.
This trial is a great way to test out Demio to see if it fits your requirements.
Wrapping up the Best Webinar Platforms
As you can see, all the best webinar platforms are very diverse.
They offer the same basic functions, but each one has truly unique benefits to consider.
GoToWebinar is an excellent overall pick for webinar software, and Zoom is another top contender for businesses.
If you've got another webinar software your business uses, feel free to ping me in the comments! I'd love to hear about them. 🙂