Blogging in 2021 is different from how it was 10 years ago. With increased competition, you need smarter strategies to grow your blogging business from $5 to $10,000 MRR (Monthly Recurring Revenue). Here's a guide highlighting the first step: choosing the type of blog you plan to create and your blog niche – does it have revenue potential?
With over 600 million active blogs, there are hundreds of different niches. But just a few of those niches have real revenue potential.
I'll cover everything about the types of blogs that'll get you a healthy passive income stream and the strategies I used to grow my own blog to thousands of monthly readers and $3,250 in monthly revenue with $7.28 in my bank account – in just 3 months.
So what types of blogs make the most money?

But how will you know which niche is best for you? Blogging revenue varies greatly based on many factors. The eight types of blogs featured in my post are well-known for their income potential.
There's no specific salary for the average blogger. However, some affiliate marketing statistics and factors are important to keep in mind.
As expected, various blogging types and content formats are more successful than others.
First, take a look at these stats to help boost your blog traffic and revenue.
Business niche bloggers say listicles are the most successful format for their blog posts.
Headlines with a hyphen or colon increase click-through rates by 9%.
Question headlines (titles that end in a "?") get 23.3% more social shares than other types of headlines.
There's been a 93% increase in blogs using promotional methods (paid advertising, etc.) to boost blog traffic.
71% of bloggers use visual content as part of their marketing strategy.
73% of people skim blog posts; only 27% read them thoroughly. This means it is crucial to get your point across quickly and concisely.

So, keep that in mind when you start writing content for your blog and promoting it. We'll cover that more deeply in the future.
Disclosure: This post includes affiliate links that I get a commission for at no extra cost to you. However, I only feature the best resources for you to start a successful blog – nothing less.
Already looking to start your blogging business? Get started with Bluehost for just $3.95/month (that's 70% off your hosting plan) with my link below.

1. Business and Marketing Blogs
This is the niche that my blog, RickyWang.com, is in. Why'd I choose it? It's hands-down the most lucrative sector on the internet.
The business and marketing niche covers a lot of ground. These types of blogs help individuals and businesses improve their marketing and sales strategies to meet their goals.
Common topics covered include:
Business management
Business strategies
Digital marketing
Search engine optimization
Social media marketing
B2B strategies

As you can see, this type of blog is both broad and in-demand. Reputable business and marketing blogs are go-to resources that provide invaluable insight.
But which ones actually make money blogging?
1. Hubspot
Hubspot's blog ranks in the top percentile of sites in terms of traffic and revenue.
With approximately $883 million in annual revenue, you're bound to wonder how Hubspot does it. Look no further!
Hubspot has an entire suite of tools for business owners and marketers including landing pages, CRM software, chatbots, and much more.
About their user demographics: 1/3 of visitors seek out 'entrepreneurship' posts, and another 1/3 seek out 'business' posts.
2. Moz
The Moz Blog, founded by Rand Fishkin (he's a great guy) is one of the biggest blogs out there in the marketing and SEO (Search Engine Optimization) niches.
They raked in nearly $45 million in 2020, using their blog to promote brand awareness and leads to their SEO products.
Pro tip: When you start your blog, tools like Moz will be extremely helpful with helping you perform keyword research, site analysis, competitor analysis, and more.
3. SmartBlogger
Founded by John Marrow, SmartBlogger makes over $1 million every year from affiliate marketing and a few premium products for writers and freelancers.
While it's not directly in the marketing niche, it's very closely related – even to the point that SmartBlogger is a source for quotes and content for the top marketing sites.
4. Smart Passive Income
While Patt Flynn stopped publishing income reports on his SPI blog, his last reported income reports came in at more than $213,000 – in one month.
While he certainly does make a ton of cash from his blog and affiliate links there, he's also known for his podcast, courses, apps, and books.
Disclosure: This post includes affiliate links that I get a commission for at no extra cost to you. However, I only feature the best resources for you to start a high-ticket podcast and online course.
Want to be like Patt and start a money-making podcast? Try Buzzsprout for free and get a $20 Amazon gift card when you sign up for a $12/month paid plan (guaranteed).
Or do you consider yourself an expert who wants to build a personal brand? Create an online course with Thinkific (from $0 to $49/month) or LearnWorlds for $24/month (exclusive 60% off for my readers).
Tips For High-Converting Business & Marketing Content
The business and marketing niche is highly competitive. You've got to work hard and be strategic to stand out.
Make your titles stand out: Eye-catching titles, meta titles, and subheadings draw your reader's attention. Why should a marketer read your content over someone else's?
Back up your statements: Include case studies, infographics (Visme can help with that – it's free), and authoritative sources to help prove your points.
Make the content easy to skim: Use bullet lists and short, concise paragraphs. Business owners hustle and don't have time to read every single word.
Get repeat readers through a mailing list: Make your 'opt-in' button visible and easily accessible, and readers are more likely to subscribe for future post notifications.

I also recommend implementing social media marketing strategies to reach a wider audience and becoming an influencer in this lucrative space.
Ready to scale your marketing blog to $10,000 in monthly revenue in the next 6 months? Get started for just $3.95/month (70% off your hosting plan & a free domain name) with my link below.

2. Personal Finance Blogs
Personal finance is, without a doubt, one of the the highest revenue grossing niches in the world.
These types of bloggers usually have a great (and relatable!) story to back up their sites.
Like marketing blogs, finance bloggers usually rely on affiliate, online course, and podcast revenue. BUT, sponsorships and display/banner ads are a lot more prevalent on personal finance blogs.
Let's get into some of the top blogs about money management.
1. Making Sense of Cents
Perhaps one of the most well-known in the finance niche, Michelle Schroeder-Gardner's blog is a unique site that focuses on helping people save their wallets.
Grossing over $100,000 in monthly revenue, Making Sense of Cents credits affiliate partnerships for the majority of income with online courses coming in at a close finish.
Michelle also proves that you don't need to have some fancy marketing skills or degree to create a 7-figure blog. You've just got to know how to get readers and keep them.
2. Good Financial Cents
Good Financial Cents is a blog founded by Jeff Rose.
At over $138,000 a month from his blog, he makes the majority of his income from a financial planning practice he owns and affiliate products.
Though the niche is fairly competitive, Jeff found his path to blogging success largely because of his expertise in the financial sector.
So if you have something you'd consider yourself good at, use it to your advantage!
But you don't need to be an expert. I'm living proof of that. What's a high school senior like me going to know about marketing and entrepreneurship?
Disclosure: This post includes affiliate links that I get a commission for at no extra cost to you. However, I only feature the best resources for you to start a real blog and make real money without a strong background.
If you've never run a business before, you can get started for $3.95/month (that's 70% off your hosting plan for 3 years) with my link below.

3. Afford Anything
Afford Anything was founded by Paula Pant in her journey to find financial freedom.
She's been through it all, going from a little $20,000/year job to bringing in over $130,000 in monthly recurring passive revenue from affiliate partnerships, podcast sponsorships, and online courses sales.
From real estate investing to retirement to productivity, it's all there. This shows that just because you choose a niche to go with, doesn't mean you need to corner yourself in one specific section.
There's literally a whole world on the internet.
My blog, though heavy on digital marketing and entrepreneurship, includes a ton of content about technology, software, design, finance… and restaurants.
Yes, restaurants. Think "restaurant POS" and "restaurant design." Seriously, don't trap yourself in a corner that doesn't exist.
Want to show others how you can make money from all different types of niches? Start a blog with Bluehost for just $3.95/month with my link below.

While I'm sure there are a ton of other personal finance blogs out there, I've chosen to feature these three because of their stories and their relatability.
You could count stuff like Nerdwallet, Mint, and The Balance, but they're more 'company' than 'blogger' and trying to model them wouldn't be a good idea for starters.
If you think you've got hustle, feel free to check those blogs out and usurp their traffic and revenue.
3. Ecommerce Stores + Blogs
Ecommerce blogs tend to come with an online store. While a blog certainly isn't required to have a high income generating store (and vice versa), there seems to be a positive correlation between content and store sales.
This is due to some of these factors that come with a blog:
Store promotion through blog posts
Sharing your content more = more awareness
Stronger branding
Lead generation and subscribers
Customer retention

Store + blog = Big Bucks
Let's explain this.
Say, you have a blog where you talk about printables, DIY journals, and calendars. These are things that are hard to generate affiliate revenue from.
But it's the total opposite when you're selling that stuff directly – from your own online store.
When your blog starts getting traffic, instead of relying on some 3rd party company, all you need to do is get the reader to your store and it snowballs from there.
Yes, it's that simple. Is it easy? Depends on how hard you're willing to hustle to get your blog and store up and running.
Ready to rake in $12,850 in 90 days from your online store? Get started with Wix for $13.50/month (that's a 50% discount with my link).
Disclosure: This post includes affiliate links that I get a commission for at no extra cost to you. However, I only feature the best resources for you to create a profitable online store and blog.
If you've decided to invest 100% into growing your online business, get started with Bluehost for $3.95/month to host your store and blog (and get a free domain name) – all in one place.

Lifestyle
A lifestyle blog is a very personalized blog that's usually run by a single person.
The content revolves around the blogger's interests and experiences.
Many different types of blogs fall into the 'lifestyle' category. Specific topics and trends of lifestyle blogs include:
The author's daily activities (shopping, dining, etc.).
The author's hobbies and passions (crafts, bullet journaling, gardening, etc.).
Product reviews or 'unboxing' posts.

In most cases, lifestyle bloggers have a signature content style.
Readers are familiar with the blogger's image and often find them relatable or inspiring.
Popular Lifestyle Blogs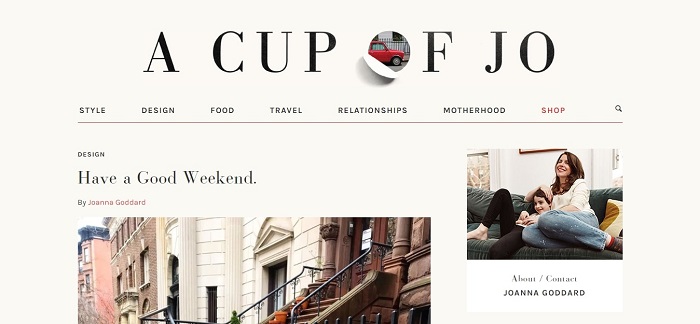 A Cup of Jo ranks 39,792 in global engagement – again, this is out of nearly two billion websites total.
Readers who visit the blog look for these top industry keywords: 'books', 'love life', and 'family'.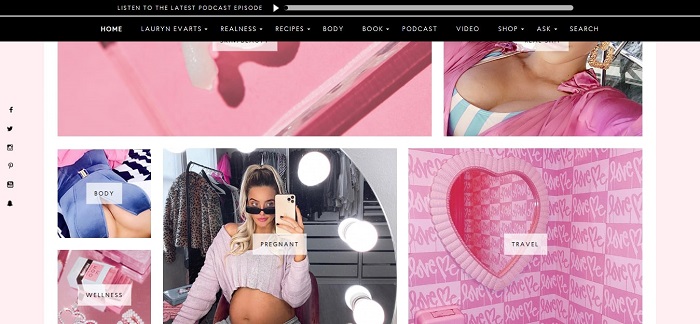 The Skinny Confidential's Alexa ranking is 175,503 in worldwide engagement.
The blog's top industry topics based on social engagement are 'family', 'cooking', and 'butter'.
Tips For A Successful Lifestyle Blog
Lifestyle blogs are extremely well-liked, and they cover a huge array of topics.
Consider the tips below to make your blog shine.
Write about what you truly love. Creating content based on your passions gives your blog authenticity.
Take and post unique photos. If you don't have a camera, a high-quality smartphone camera works fine. Original photos are part of any leading lifestyle blog.
Avoid publicly discussing drama. Lifestyle blogs are personal, so you may often refer to others in your day-to-day life. Drama and conflict should never be discussed on your blog.

3. Food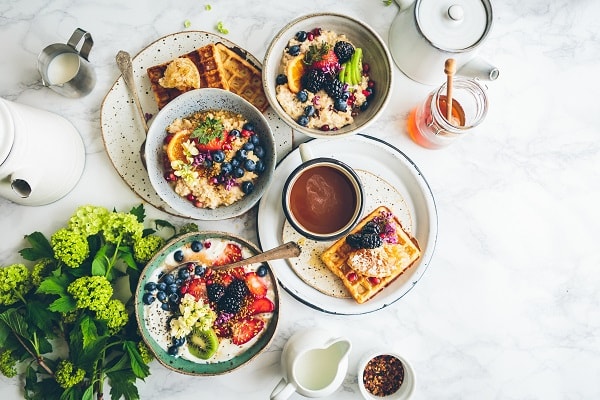 Food blogs revolve around cooking and 'foodies', or people with interest in gourmet dining.
Some food bloggers have prior culinary experience or work in the industry.
Content featured on these blogs includes:
Step-by-step recipes.
Photo and video tutorials.
Restaurant reviews.
Food-related lists (i.e. foods for detox, foods with iron, etc.).
Food-related advice (i.e. food substitutions, pairings, etc.)

This niche is pretty diverse, and their favorability has increased thanks to social media platforms.
Popular Food Blogs
Serious Eats is a major player at 6,129th place for international engagement.
The three hottest blog keywords based on social engagement are 'oil', 'butter', and 'cooking'.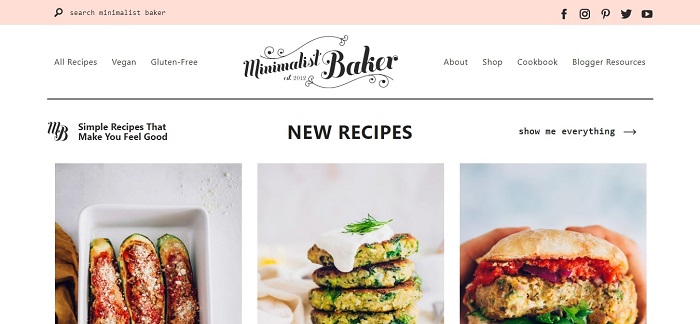 Minimalist Baker ranks 10,146 based on Alexa search queries.
The three main blog topics are the same as Serious Eats – 'cooking', 'oil', and 'butter.
Tips For A Successful Food Blog
Food blogs are frequently considered go-to resources for recipes.
It can be difficult to beat the competition, but a few simple strategies will help.
Stay consistent with wording and structure. For example, don't' use 'instructions' in one post and 'directions in another post. The same applies to the layout of each post. Readers appreciate reliability, and consistency helps with search engine rankings.
Use an image of the final food product as the main post image. A photo of an appetizing, finished dish is more eye-catching than a photo of individual ingredients.
Avoid copying recipes from other food blogs or sites. If you enjoy a recipe, put your unique spin on it and give credit to the original recipe poster.

4. Travel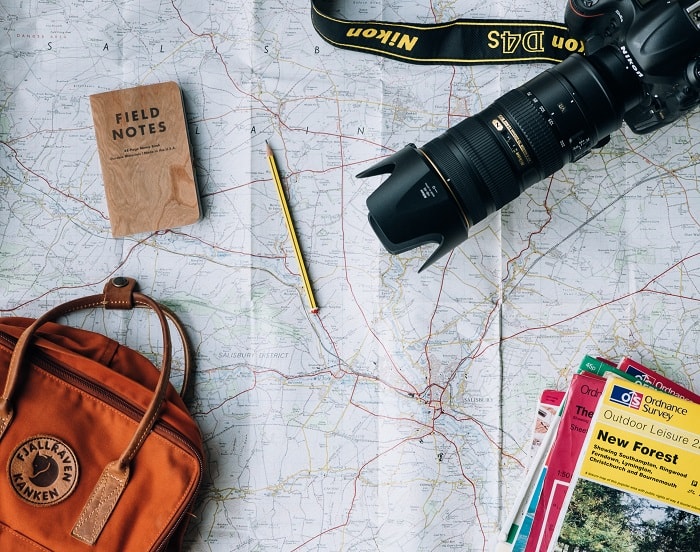 There are two main types of travel blogs, and the first type is similar to a lifestyle blog.
Bloggers document their journeys and experiences and discuss aspects of adventuring that they enjoy.
Topics included in these types of blogs may include:
Reflections about countries or cities they've visited.
Reviews of accommodations and restaurants they enjoyed.
Opinions about their journeys in general.
Other blogs in this niche are more advice-driven and designed for practicality.
They give readers helpful information about traveling, and they often give insight into specific destinations.
Examples include:
Tips for traveling internationally.
Pros and cons of traveling to a given destination.
Recommendations for lodging, transportation, and attractions.
How-to style posts about traveling.

Popular Travel Blogs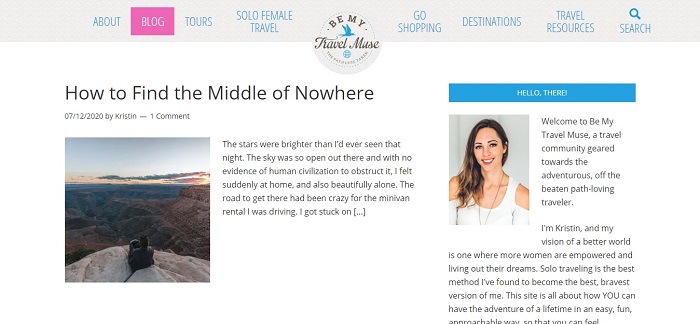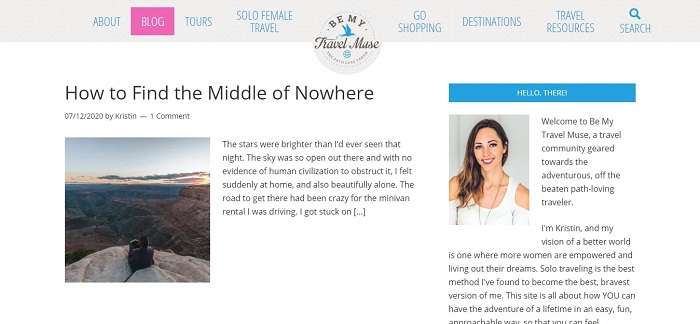 Be My Travel Muse is at 126,118 for global engagement.
The three most searched for trends on this blog are 'travel', 'tours', and 'beaches'.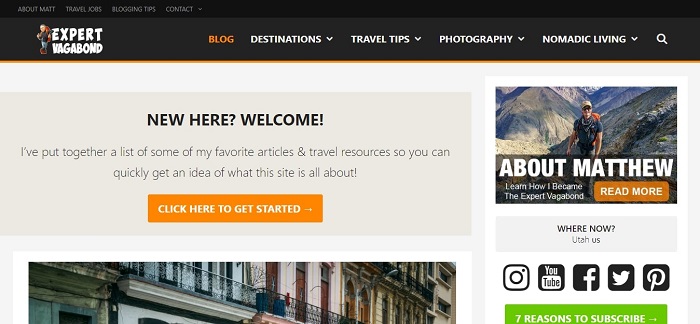 Expert Vagabond is a leading blog in this niche, ranking 67,089 in global engagement.
This blog's three trending topics based on social engagement are 'world cups', 'travel', and 'tours'.
Tips For A Successful Travel Blog
A solid approach can make or break your blog's success.
Follow these two tips to create the type of blog that makes money:
Build your area of expertise first. This may be a specific place you've been to, or it may be how to effectively travel on a budget. Travel first, develop experience and knowledge, then create content.
Write as if you're offering a service. Even if your blog is fairly personal, your audience needs to gain something from it. For example, make note of cultural differences in each location you post about.

5. Health and Fitness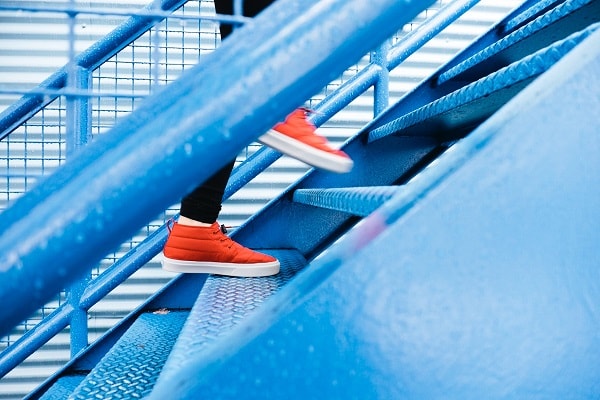 Health and fitness blogs are very popular, and people often seek them out for advice.
These blogs are run by professionals – nutritionists, personal trainers, etc. – and niche enthusiasts.
Topics on these types of blogs include:
Exercise regimens and tutorials.
Dieting to meet health/fitness goals (weight loss, muscle gain, etc.).
Posts about specific issues (obesity, fatigue, etc.)
Reviews of supplements, exercise gear, and similar products.
Opinions about current health and fitness trends.

Overall, the health and fitness niche is fairly broad.
Sub-niches like medical blogs or weight loss blogs are common.
Popular Health and Fitness Blogs
Nerd Fitness is a high-ranking pick at 27,715th place for worldwide Internet engagement.
The top industry trends by social engagement are 'arms', 'muscles', and 'diets'.
Powercakes ranks 986,378 in global engagement.
The three main blog topics based on social engagement are 'diseases', 'diets', and 'pain'.
Tips For A Successful Health and Fitness Blog
There are millions of blogs in this niche, but only some are highly successful.
Here's what you can do to get on the path to success:
Choose a specialty or niche. A general fitness blog isn't going to stand out; you need a consistent area of expertise.
Use plain language. Health and fitness topics involve technical jargon that isn't common knowledge. Make sure to explain these terms in a way that's easy for anyone to understand.
Let your genuine personality show. Share true stories about your successes, failures, and adventures in the health/fitness niche. This makes your content relatable and your blog authentic.

6. Gaming and Tech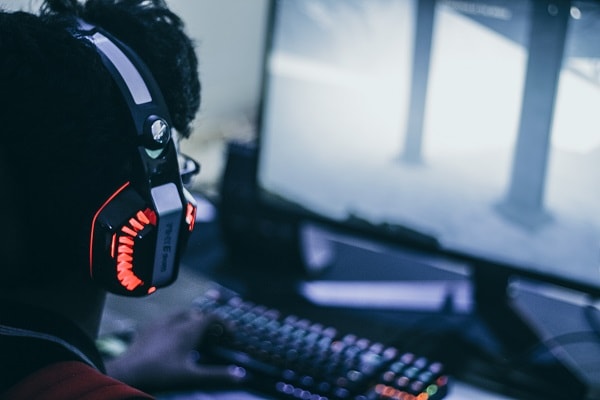 Tech and gaming blogs are used for both educational and entertainment purposes.
Blogs in this niche tend to review related products and tools.
Tech blogs often post about news and trends in technology throughout the world.
Here are some topics you'd find on gaming and tech blogs.
Reviews of games for specific game consoles.
Pros and cons of a new game, console, or electronic device.
Tutorials for using various software and devices.
Product comparisons (consoles, computers, phones, etc.).
Troubleshooting and problem-solving tips for tech products.
Trends and changes among leading tech companies.

Gaming blogs are often media-heavy and include videos of bloggers playing games.
Tech blogs may also include videos and photos to help inform/educate readers.
Popular Gaming and Tech Blogs
TechCrunch is the second-highest-ranking blog on my list at 1,885 based on Alexa data.
The current trending keywords based on social engagement are 'politics of China', 'United States Government', and 'technology companies'.
Destructoid ranks 24,151 in global engagement.
The top industry topics by social engagement are 'Nintendo', 'game', and 'games'.
Tips For A Successful Gaming and Tech Blog
Tech and gaming blogs are pretty similar overall, so standing out can be tricky.
Consider these ideas to make your blogging journey successful:
Use video as much as possible. This tip is particularly important for gaming bloggers. Gaming is a completely visual experience, so videos attract an audience.
Follow tech-related news across the board. Even if you have a niche, staying up-to-date on all technology trends is crucial. You can tie in current events and products with your existing content.
Create something useful for readers. For example, offer insight and tips in a video game review. Entertaining your readers is good, but informing them is the key to success.

7. Fashion and Beauty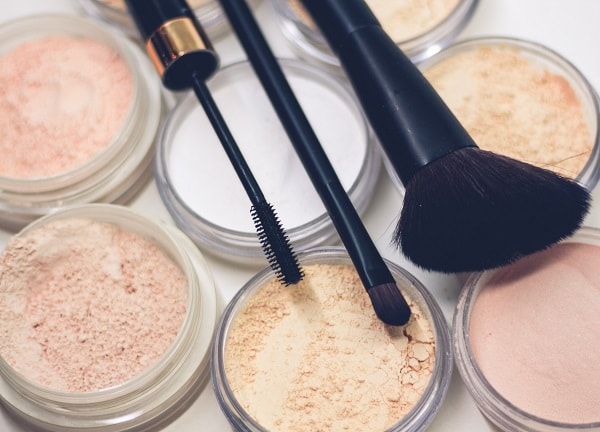 Fashion and beauty blogs are beloved resources for keeping up with related trends.
Bloggers in this niche may simply feel passionate about fashion and beauty.
Others – makeup artists, designers, etc. – have experience in the industry. Topics covered by these types of blogs include:
Comparisons of different beauty brands.
Detailed, image-heavy reviews.
Tutorials for using various beauty products (cosmetics, facial cleansers, etc.)
Coverage of fashion/beauty related events.

This niche is similar to the health and fitness niche; there are many sub-niches within it.
For example, one blog may focus solely on makeup and another on high-end fashion.
Popular Fashion and Beauty Blogs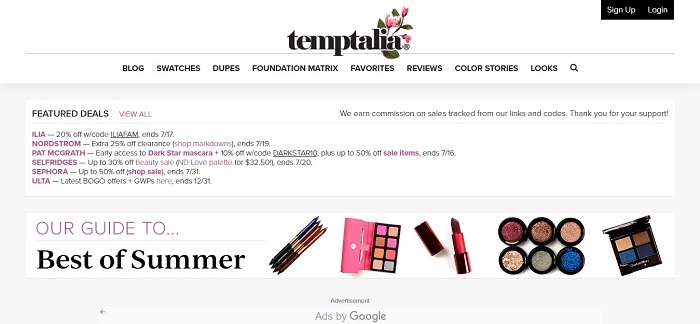 Temptalia placed 57,265th based on Alexa's global engagement statistics.
Based on social engagement, the top three keywords for this blog are 'light and color', 'products', and 'skin'.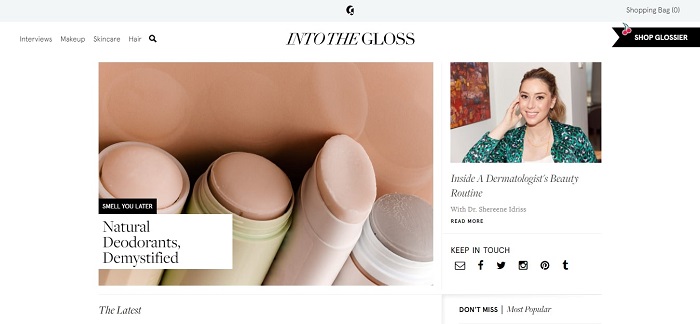 Into The Gloss ranks 68,133 for international engagement.
The top three trending topics for this blog are 'faces', 'hair', and 'skin'.
Tips For A Successful Fashion and Beauty Blog
Beauty blogs come and go constantly; it'll take hard work and dedication to make yours sought-after.
There are two pre-blogging tips you can use to gain a competitive edge.
Build your presence on relevant platforms. For example, Reddit's 'MakeupAddiction' has over two million subscribers and MakeupAlley has a large member base. Join conversations, leave reviews, and contribute tips to help build your blog's audience.
Subscribe to other beauty blogs. Subscribing and commenting on popular beauty blogs is beneficial in many ways. You'll learn a lot about the niche, and you'll help establish your name among fellow readers.

8. Parenting and Family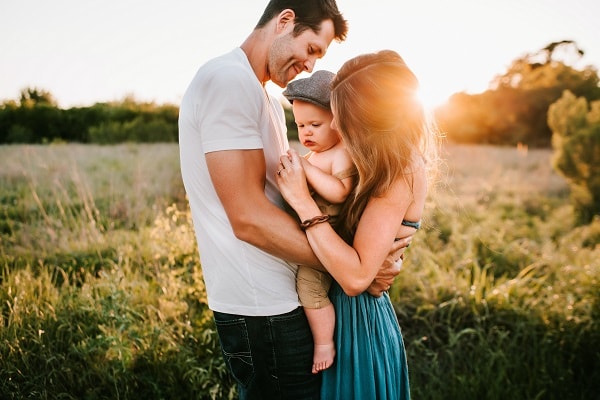 Family and parenting blogs are very well-liked and widely considered authoritative sources.
Most bloggers in this niche have real-life experience parenting, raising families, and so on.
Others may have professional experience as childcare providers or doulas. Common topics include:
Advice for new and expecting mothers.
How-to guides for all things family-related (baby proofing, designing a toddler's room, etc.)
Reviews of relevant products (i.e. baby toys, educational tools, etc.)
Firsthand accounts of personal family experiences.

In some cases, family and parenting blogs overlap with health blogs. For example, a parenting blog may focus on nutrition for infants, toddlers, and children.
Popular Parenting and Family Blogs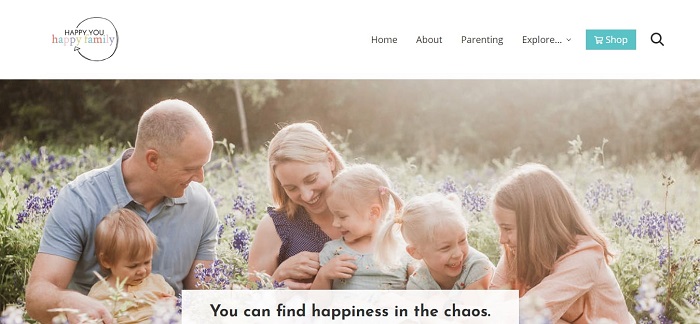 Happy You, Happy Family is at 312,781 for global engagement.
Top keywords for this family blog are 'words', 'children', and 'kids'.

Scary Mommy ranks 21,450 in global engagement, making it one of the most well-known parenting blogs.
The trending topics based on social engagement include 'kids' and 'mental health'.
Tips For A Successful Parenting and Family Blog
There's plenty of competition in the parenting and family blog niche.
If you'd like to gain a competitive edge, consider these tips:
Choose an area of expertise. This is another niche where you'll need to choose a sub-niche to shine. For example, focus on newborn/infant care or homeschooling.
Practice your storytelling skills. Even if your blog is an informative resource, a personal touch is important for your audience. Work on writing compelling stories about your experiences, challenges, and growth as a parent.
Network with other sub-niche blogs. If you're running a blog for new moms, connect with similar blogs through their comment feeds and social media. You'll learn what makes these blogs shine while also building your potential audience base.

Choose Your Type of Blog
The types of blogs that you can start to make money are diverse.
Finding a niche you're passionate about is easy, but blogging success requires hard work and dedication.
From this post, you've learned that you need to:
Choose an in-demand niche (i.e. the different types of blogs linked above).
Stick with quality content creation strategies; use the best blogging tools to help you get ahead.
Do your research and develop a true area of expertise.

Lastly, it's important to be patient and consistent. I'm confident that blogging success is 100 percent possible.
Stick with it and reference this post to meet your blogging goals.
Do you have a different blog type that made you money and credibility?