The best social media management software is SocialPilot. With an allowance of 25+ social media accounts, data analytics and visualization tools, bulk automation, and a Social Inbox feature, among others, SocialPilot is a viable platform for just about anyone. eClincher and AgoraPulse are the other podium finishes.
Do you have a fantastic service or product, but just aren't getting enough brand awareness and social engagement? You need a dedicated social media management tool.
That's because nearly 3.6 billion people across the world have used social media in 2020. That market is only ever-increasing at an exponential rate.
Businesses that have added social media management tools to their workflow have already been able to save hundreds of hours in content creation, freeing up time to make pivotal data-driven decisions.
Without further ado, let's look at the 3 best social media management tools to harness the power of community engagement and boost your business's exposure through the roof.
What are the Best Social Media Management Tools?
SocialPilot: Best Social Media Management & Marketing Platform Overall
eClincher: Best Tool for Growth (Solopreneurs, SMBs & Enterprise)
Agorapulse: Best for SMBs & Agencies

Disclosure: This post has affiliate links that I get a commission for at no extra cost to you, but rest assured that I only feature the best tools that streamline your social media content creation and management processes – nothing less.
1. SocialPilot (from $25.50/month)
Best Social Media Management & Marketing Platform (Overall)

SocialPilot is your most well-rounded social media management platform. This fully integrated tool allows you and your team to collaborate when creating content for the most popular social media platforms.
In addition to a combined inbox that allows you to directly engage with your customers in one centralized hub, SocialPilot also quickly generates custom reports for any clients that you work with.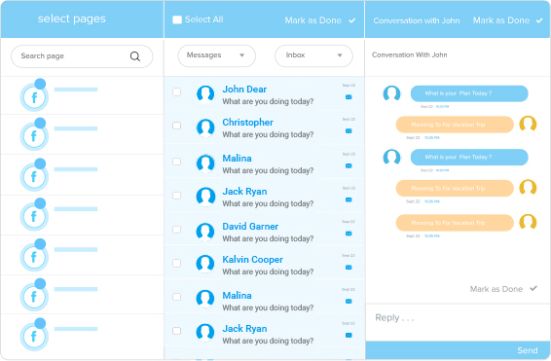 The hardest parts about social media management, like the tedious hours spent sticking to an upload schedule, instantly get cut down. SocialPilot lets you automate your social strategy with bulk scheduling, such as Facebook, Instagram, Twitter, and LinkedIn Automation.
With over 115,000+ businesses that operate with SocialPilot, your business is guaranteed to succeed with this cost-effective but powerful user-friendly tool.
SocialPilot Key Features
Here's a list of features SocialPilot's social media management tool offers:
Starts with an allowance of 25+ accounts into one streamlined platform and cross-schedule your posts.
Analyze all your social media analytics in a conveniently generated PDF report and discover trending content ideas and keywords.
Social Inbox lets you reply and interact with all customer comments and messages on every Facebook page you run.
Team management and approval system to delegate social media tasks.
Calendar tool for social media visualization.
Schedule up to 500 bulk posts at a time.
Reach millions of Facebook users with SocialPilot's ability to directly boost your Facebook posts through ad management.
Client Management System for easy client collaboration.
iOS and Android mobile app
White Label Setup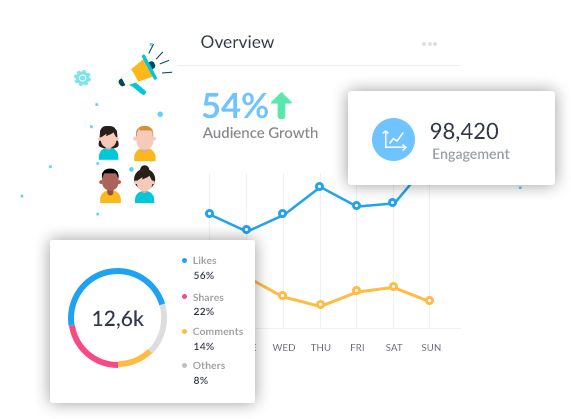 SocialPilot is your best tool for an all across the board time saver, analytics tracker, and engagement booster.
SocialPilot Plans and Pricing
SocialPilot offers four feature-packed plans. It begins with the Professional plan and works its way up from Small Team, Agency, and lastly, Enterprise.
The Professional plan comes in at $30/month, Small Team at $50/month, and Agency at $100/month, while Enterprise is quote-based. All these prices are discounted by 15% if you purchase an annual plan (starting at $25.50/month on the Professional plan).
However, the Small Team plan is the most popular plan out of the bunch. Additionally, you can get a 14-day free trial of any plan you'd like for a taste of the social media management power you can expect.
None of the plans have any contracts or commitments and SocialPilot provides customer support for every step of the way. You're free to cancel at any time.
Take advantage of SocialPilot's 14-day free trial today (no credit card required).

Disclosure: This post has affiliate links that I get a commission for at no extra cost to you, but rest assured that these are merely the tools I highly recommend for increasing brand awareness on social media – nothing less.
2. eClincher (from $59/month)
Best Tool for Growth (Solopreneurs, SMBs, & Enterprise)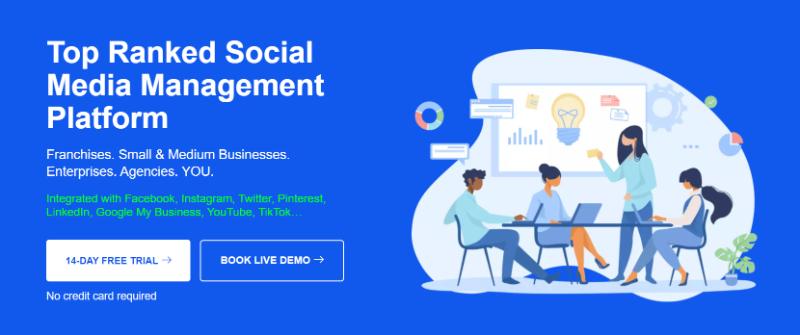 eClincher is an all-in-one platform that makes it best suited for those who are solopreneurs, small businesses, or even enterprises.
In fact, it's arguably one of the most innovative social media management tools out there. For one, you're almost guaranteed a heavy ROI. With over 20,000 monthly users, over 300,000 posts being uploaded daily, and a 99% satisfaction rate, you'd be hard pressed to find a feature you don't like.

eClincher is also a platform that is quick to modernize, adding in the newest social media platforms like TikTok.
From a comprehensive set of features including bulk scheduling, visual calendars, robust analytics and competitor analysis, smart inboxes, integrations with dozens of companies, and more, eClincher has everything you need to scale from a solopreneur to top-functioning enterprise.
Additionally, you're not alone. One of eClincher's standout features are their stellar customer service members who work around the clock to help your business in whatever way possible.
Because eClincher rolls out new features as fast-paced as the Internet is, you'll never have to worry about your social media strategy falling behind.
eClincher Key Features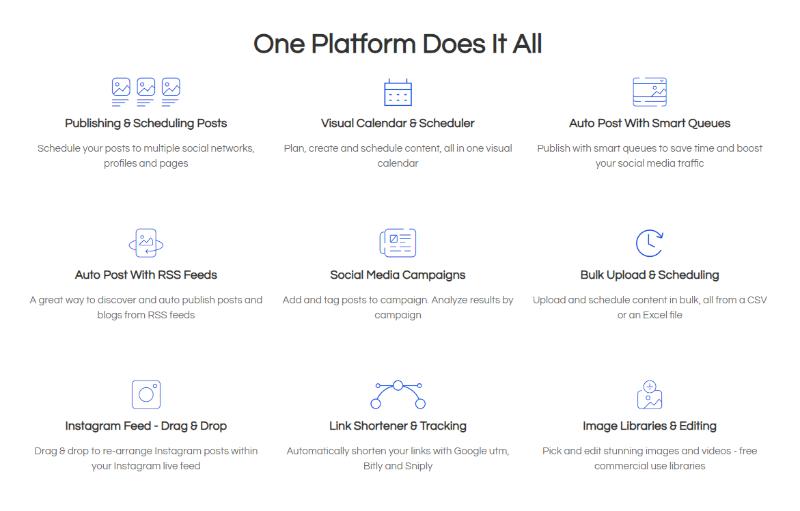 Here's a list of features eClincher's social media management tool offers:
Publish and schedule all your posts for multiple social media platforms.
Visual calendar lets you schedule and organizes content with ease.
Auto Post with Smart Queues saves you valuable time.
Auto Post with RSS Feeds
Create robust Social Media Campaigns
Bulk Upload and Scheduling straight from any Excel or CSV file.
Drag and Drop your Instagram feed for ultimate customization.
Shorten your links with Google UTM, Bitly, and Sniply.
Take advantage of free commercial use libraries to edit images and videos.
All-in-one engaging Social Inbox
Live feeds for up-to-date social media engagement.
Monitors the latest keywords, hashtags, and trends.
Ultimate team and agency collaboration system.
Powerful analytics for key insights, including those of your competitor.
Chrome extension and mobile app
Media Library and Cloud Storage integrated with Google Drive and Dropbox

eClincher is nothing short of a powerful social media management tool that optimizes your business to maximize ROI potential.
eClincher Plans and Pricing
eClincher offers 3 solid plans that can accommodate whatever stage your business is at. It begins with the Basic plan and works its way up from Premier to Agency.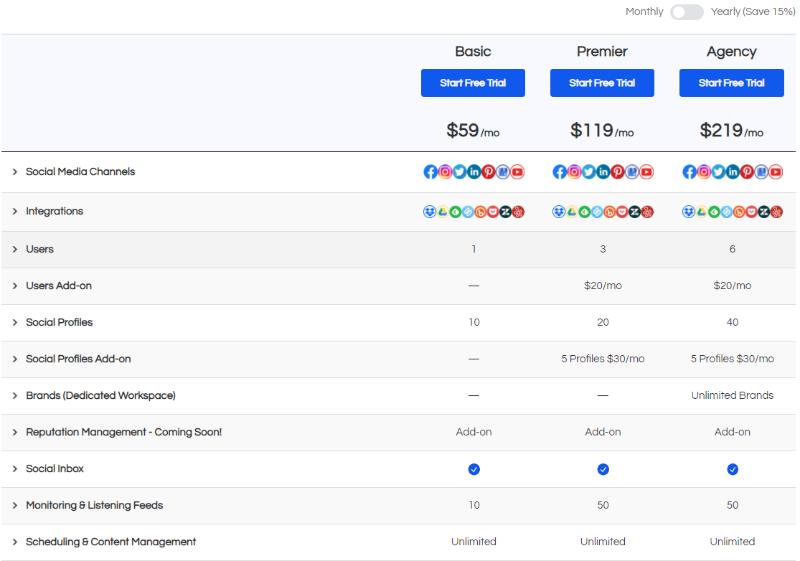 The Basic plan comes in at $59/month for 1 user, the Premier at $119/month for 3 users, and Agency at $219/month for up to 6 users. All these prices are discounted at 15%; you get around 2 months free if you purchase an annual plan (starting at $602/year).
Premier and Agency also offer user add-on options for an additional $20/month per user to scale with you as your team grows.
As soon as you sign up for an account, you immediately get access to a free 14-day-trial to all the plans before you make your decision. If time is a big factor, eClincher offers the opportunity to book Group and Private demos.
Get started with eClincher free for 14 days. Customer service is available 24/7 to guide you through the onboarding process – plus you're free to cancel at any time.

3. Agorapulse (from $99/month)
Best for SMBs & Agencies
With over 31,000 social media managers who use the platform every day, Agorapulse has built a big clientele and for good reason.
Its pricing structure is optimized for business growth, which means that you won't have to worry about dramatic price increases with every new user or feature you add.
The highly rated customer support also ties in to make Agorapulse the perfect tool for small business and agencies, with a record-breaking 30-minute response time for any questions sent in.
However, none of that overshadows Agorapulse's many features to help your business lead at the forefront of the social media world. You've got all the power at your fingertips to schedule your content, visualize your strategy on a calendar, take an in-depth look at your analytics, and collaborate effectively with your team.
As a small business or agency starting out, there's little more that you could want from a social media management tool that's willing to scale with you as you progress.
Agorapulse Key Features
Here's a list of features Agorapulse's Social Media Management Tool offers:
Manage all your messages and notifications from one social media inbox.
Live team collaboration to schedule, approve, and post content.
Visualize and organize your social media strategy in a stunning calendar.
The ability to optimize and fine-tune your posts for each social media platform available, including Facebook, Instagram, Twitter, LinkedIn, and YouTube.
Use of Boolean operators to narrow down your search results on YouTube and Twitter for the most relevant content.
Ability to label items in your content strategy for simple organization and retrieval.
Listening feature that records public mentions of your business Instagram user automatically.
iOS and Android mobile app
Powerful analytics that showcase your organic, paid, and total reach, as well as clicks and engaged users.
Trackable team and Facebook competitor performance.

Agorapulse's wide range of capabilities and excellent customer support back you up with the most powerful tools on the daily.
Agorapulse Plans and Pricing
Agorapulse offers 4 plans that are designed to grow along with you. It begins with the free plan and works its way up from Pro to Premium and lastly, Enterprise.
The Pro plan comes in at $99/month and the Premium at $199/month, while the Enterprise plan is quote-based. All these prices are discounted by up to 20% if you purchase an annual plan. However, the Premium plan appears to be the most popular plan out of the bunch.
Additionally, you can get a 30-day free trial for a sampling of Agorapulse's offerings. If you want to expand your workplace capabilities, you can purchase add-ons regardless of your plan type.
Be sure to take advantage of the 25% discount your business can receive on the monthly plan if it qualifies as a non-profit.
Why do You Need Tools for Social Media Management?
If you're not on social media, your business is losing out on its biggest market yet. With almost half the entire world's population on a social media platform, there's a huge lucrative opportunity waiting to be tapped.
However, content creation and marketing are no easy tasks. Social media marketers already know this too well. From scheduling content to brainstorming campaign ideas, the role can quickly get tedious and ineffective.
That's where social media management tools come in. As soon as your business is equipped with one, you're automatically empowered to maximize your ROI, boost your efficiency, and automate the most time-consuming parts of a social media marketer's job.
Backed with data-driven analytics and the power to create a heightened brand awareness, your business stands to earn a higher profit than ever with a social media management tool.
How to Choose the Best Social Media Management Tools
Finding the right social media management tool involves more than settling with one that can do simple scheduling and posting.
Much like any other piece of software, you're going want to find one that can instantly bond with your team structure, envisioned social strategy, and offer great support should you need it.
Even though many of the social media management tools offer similar features, don't forget about the importance of what businesses they primarily cater to, their prices, and much more.
Let's look at some of the most important factors you should consider when choosing the best social media management tool.
1. Automation Features
Being able to automate your content and schedule bulk postings is arguably one of the most important features of any great social media management tool.
However, not every tool offers access to the same social media platforms nor do they allow you to schedule unlimited posts. It is in your best interest to find a tool that lets you automate at the level your business and need is at.
2. Budget
Budget is an especially important factor because every social media management tool charges differently and has their own price tiers as well. It all drills down to the set of features you want and how many people are on your team.
3. Experience/User-Friendliness
The tool layout and functionality can dramatically impact the experience you're able to have.
If your team is unable to navigate around a tool, it can't be fully used, no matter how robust its features are. In thinking about how user-friendly a tool may be, take advantage of all the free trials and demos that are offered.
4. Social Media Marketing (SMM) Goals
Think a little about your SMM goals down the line. Are you looking to just schedule a little content here or there? Or are you planning to launch multiple campaigns and read every analytic down to the smallest detail?
Your goals should orient you to a plan and tool that can best handle your desired content strategy and projections into the future.
Executive Summary
Social media management tools are becoming increasingly essential as time goes on, which means you need to find the perfect tool for your brand as soon as possible.
SocialPilot is one of the most well-rounded tools in every respect.
If you're looking for a tool that's best suited for growth, whether you're a solopreneur, SMB, or an Enterprise, eClincher is your best bet. Starting out as an SMB or Agency and looking to dip your toes into the waters of social media management? Try out Agorapulse.
By utilizing social media management tools, your business will be equipped to directly engage with a rising customer base and gain an unprecedented amount of profit and brand awareness.
Further Reading on RickyWang.com: If you're looking for other types of social media software, feel free to check out my review on the best LinkedIn automation tools.