My belief: anyone can learn how to start a blog anytime and make money from it.
There are a ton, many millions if not billions, of people and businesses trying to scale their profit.
A large majority of those are bloggers. Those bloggers are trying to make money blogging.
Keep that in mind.
You are about to start a blog to make money. You have competition.
How does someone win? They beat their competition.
In a competitive atmosphere, it's not always the veterans that win, some newbie that started training months prior to a fight could probably beat someone who's been training years.
Although sure, having a longer span of experience may help, it all comes down to the HOW, not the when.
I officially launched my blog RickyWang.com on September 1 in 2020. That's not long ago at all.
This guide is for anyone no matter if you're just beginning or if you've been blogging for years.
I'll teach you how to choose your niche, the right domain name, blogging platform, hosting, and theme to scale your blog the fastest way possible.
Without having any background in marketing or content writing.
Be sure to read it all so you can get the most out of what I have to offer. You will not regret it.
Enough of the intro, that's the boring part.
1. Why Do You Want to Start a Blog?
Please ask yourself this question.
Why DO you want to start a blog?
I'll start off with my answer. I want to make money blogging.
I don't know about you, but that's the one goal I had in mind. Maybe you have the same goal, maybe you don't.
The point is, have just one or two set goals that only go one way. Lots of people start by saying stuff like:
"I wanna share my knowledge with everyone"
"I want to make money blogging"
"blogging is fun"
"I like writing"
"I want to get famous"
Look at the ideas I've listed. Each one of those goals/reasons is NOT related to any of the others.
Sure, they go well together, but your reason needs to be in it's own lane.
You can't cross lanes with why you want to start a blog.
Think about a year from now. What do you hope to be doing with your blog?
It's simple, but it's not. Don't take too much time thinking about this question, it's just the first step for you to start a blog.
Simply put, if you have to think about or change the reason you want to start blogging, it probably isn't the correct reason.
Trust your gut.
2. Choose Your Blogging Niche
This is one of the steps to starting your own blog that lots of people, even myself, mess up on the first time through.
My first time through, I chose fitness and nutrition, which was at the top of my mind when I thought about PASSION.
Long story short, it failed, miserably. Literally wasted about a month and a sum of money I could really use.
This is what bloggers who have been working years to make money blogging or to gain public influence say: blog about your passions, blog about something that you can see yourself writing at least one or two years from now.
Do you want to be like that?
Do you want to invest your time and money into something you can't get money quickly from?
The reason you decide to start your blog might be different from mine, but in this guide to start a blog, I'm going to focus on how to make money blogging ASAP.
Why do I need a Niche to Start a Blog?
So, the first action you're going to have to take to start a blog is choose your blogging niche.
A niche is essentially just WHAT you're going to write about. It's the topic your blog covers.
To become a successful blogger, you have to understand what niches are profitable, which ones have a potential for incoming revenue.
The only exception to this is if you have too much money to spend and you don't care how much money you make blogging.
But if that's the case, you probably shouldn't be blogging…unless you really want to. 😊
Anyways, try to choose a niche that can be advertised in the market.
How do you choose a niche for your blog?
Most people, like I've said early already, tell you that when you start your blog, you should blog about what you love doing.
Others, the ones that make money faster say to blog about something that is profitable and lucrative.
The "others" are right, but what they tend to focus on is something they are familiar with, such as:
digital marketing
software
business
finance
These are just a few, but my point is that quite a few of those bloggers that teach how to start a blog and make money blogging usually have experience in a related field.
Learn About the Niche if You Don't have Experience (Like Me)
My goal is to start a blog in a field that I have no prior experience in and scale it and to help you do the same.
Check me out, I literally have no professional experience in digital/conent marketing or business. Yet I'm here, teaching you all how to start a blog and scale it to new heights.
So choose a niche that looks profitable and LEARN THE BASICS. That's all you need.
How do you learn the basics? Just start blogging in that niche or join a forum or social media group.
There are plenty of people that are willing to help you figure out more.
If you need a list of lucrative and popular blog niche suggestions for you to start a blog and make money from it, here's a list of profitable blog niches from RickyWang.com.
3. Choose Your Domain Name
If you ask me, this is the fun part of starting a blog. It's supposed to be fun, but in several ways, I kind of screwed that fun up.
I thought too much about it. I tried to perfect mine to fit in too many blog niches (when I was still intent on blogging about my fitness/nutrition passion) the first time I went to pick out a domain.
It was disastrous.
I'm going to try to stop you from making that same mistake.
For starters, your domain is pretty much the name of your blog. It's what people see and should represent your topic.
For example, if I was to start a blog about my personal fitness stuff, I would have wangfitness.com or something along those lines.
But if you don't want to add some personal branding, then just use sites like GoDaddy to do domain name search.
It'll also let you know if a name is available and you'll get other suggestions.
There are still quite a few good names for blogs in all niches, but the ones people might naturally search are mostly gone, sadly.
Stick with something short and sweet.
Convey your blog's topic and/or your branding in the single word or phrase.
I seriously do not recommend using "special characters" or numbers in your name unless it really fits.
Just use letters, really, it's not that hard.
4. Choose Your Blogging Platform
Alright, this is probably the first thing when you start a blog that not everyone with common sense knows about.
What is a Blogging Platform?
This is also known as a blog site or management.
The two options are free and self-hosted. I highly recommend the latter if you want to go through to make money blogging.
What are Free Blogging Platforms?
We'll start off with a few of the better known platforms for blogging:
Blogger
Tumblr
Wix
WordPress.com (not to be confused with WordPress.org which I'll get into soon)
These are available at no cost. Don't stop there though.
When you decide to start your blog, you want to make money from the blog.
These free platforms sure do provide a nice starting ground but they will limit your progress and scaling.
How? Unlike self-hosted platforms, these sites essentially own your blog, they own your domain.
They will have their own restrictions and rules as to what you can do.
And everyone knows, limitations usually aren't the best.
But if you really don't have any budget to spend, then you might not have a choice than to start a blog on a free platform, but really consider migrating to a self-hosted ASAP.
What are Self-Hosted Blogging Platforms?
Self-hosted platforms can also be called Content Management Systems (CMS).
They let you start your blog with your own domain and do whatever you want, hence the name "self-hosted."
With limitations from your domain registrar and web hosting, of course.
There are several self-hosting platforms, but the one I used, and the most popular, is WordPress.org.
This really gives you the freedom you need, copyrighting your stuff/content, marketing your products and services, and just general "non-boring" things.
The ONLY downsides of using self-hosting vs. free blogging platforms to start a blog is that you have to update stuff yourself and all that.
And that you're going to have to pay for your web-hosting plan and probably your domain, depending on what web-hosting plan you go with on your blog.
5. Pick A Web Hosting Plan (and register your domain)
Now, assuming you've heeded my recommendations, you'll now be choosing your own web hosting plan and register your domain.
This step is extremely important.
What is Web Hosting?
When you have your domain name for your new blog, you will choose a hosting service.
A web host is like a storage for sites so that the public can see them.
When you start a blog, you want high performance and uptime so your readers aren't left hanging.
But then another factor that comes into play is the pricing. Since you are just starting a blog, I recommend a web hosting service that is rather on the low end in terms of pricing, but is on the high end in terms of reliability, meaning how many sites are hosted with that service.
Different hosting services have different levels of features such as:
Security Measures
Server Speeds
Server Uptime
Customer Support
SSL Certificates
WordPress Installation
Refund Policies
Initial discounts
Renewal prices
Free domain registration?
How Do I Get and set Up Web Hosting?
I chose Hostinger because of its introductory pricing for 48 months for only $.99 a month.
That seemed cheap compared to others (for starters).
But I'll show you the basics of getting web hosting when you start a blog.
I'll write an article on the best web hosting services soon, so be sure to subscribe to my blog!
Go to your chosen web hosting site. (Hostinger.com is going to be my example)
2. Scroll down to Choose Your Web Hosting Plan.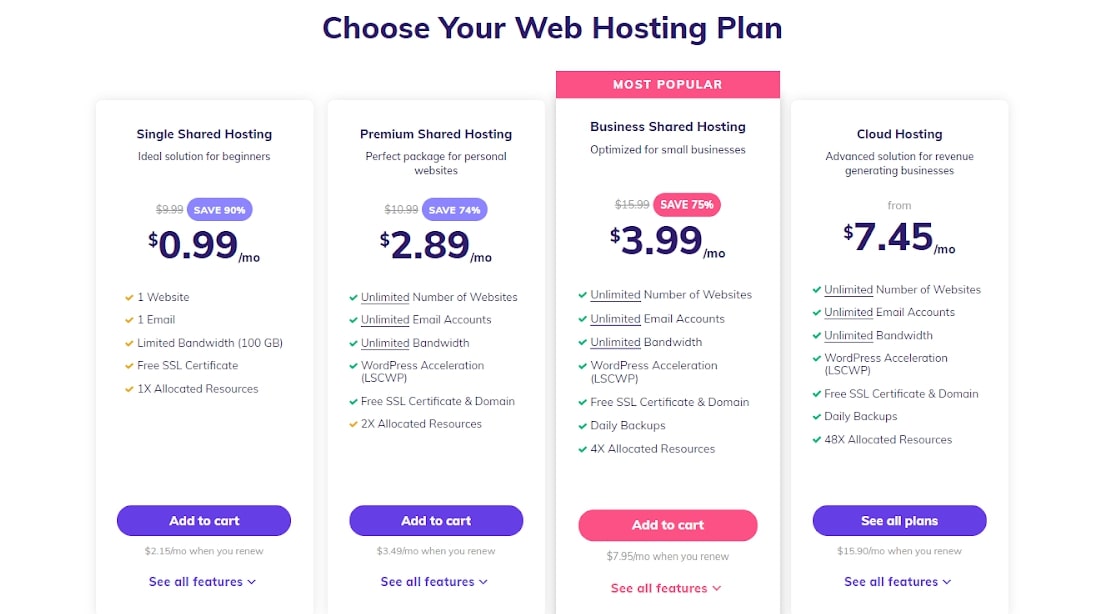 Since I believe you're just starting a blog, I'd go with the Single Shared Hosting Plan for $.99/month BUT it's for 48 months.
That's the part you might want to think about when choosing your web hosting plan.
And as you can see, it's pretty limited in storage and the number of websites and emails and all, but if you're just starting a blog, it'll be the perfect fit.
3. After you choose your plan, go ahead and Add To Cart and go to the Checkout.
As you'll see with most hosting services, payment for a hosting service when you start a blog tends to be cheaper the longer the contract is.
Keep that in mind when you order hosting.
At this point, with Hostinger, you can register the domain name that you've chosen for just $8.99 a year.
BUT if you choose Premium Shared Hosting Plan with Hostinger, you get your first domain name FREE.
And don't stress about this too much when you start a blog though. Take it from me, I had to trash TWO previous domain names because they just weren't right for me and my niche.
And as a side note, Hostinger offers a FREE SSL installation with each web hosting purchase, this is essential for your websites primary security and allows search engines to trust your website.
It also gives your blog that little secure lock thing at the top of the page.
*Shrug* Looks good to me.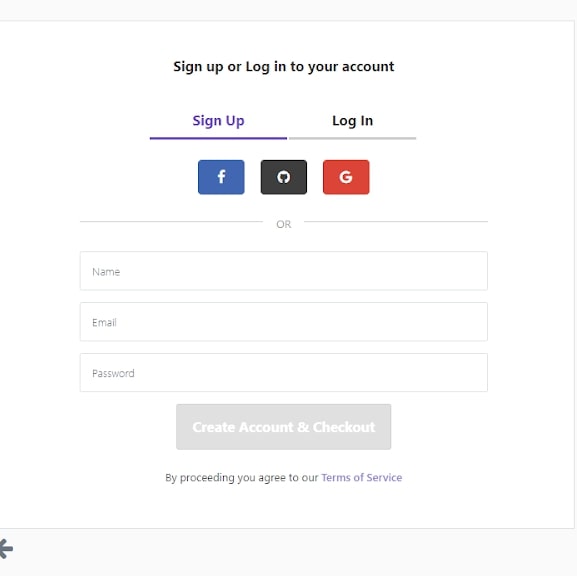 4. Sign up for an account (Hostinger requires you do this, but not all web hosting)
5. After you've signed up or logged in, go ahead and Choose a Payment Method and make the purchase to get your web hosting for your new blog!
6. Now you've got your purchase done and all for your new blog.
And it's time to install WordPress (this is .org) which Hostinger allows you to do real easily and quickly!
Many hosts make this process super easy, but Hostinger's WordPress setup is undoubetly one of the fastest and simple for new bloggers.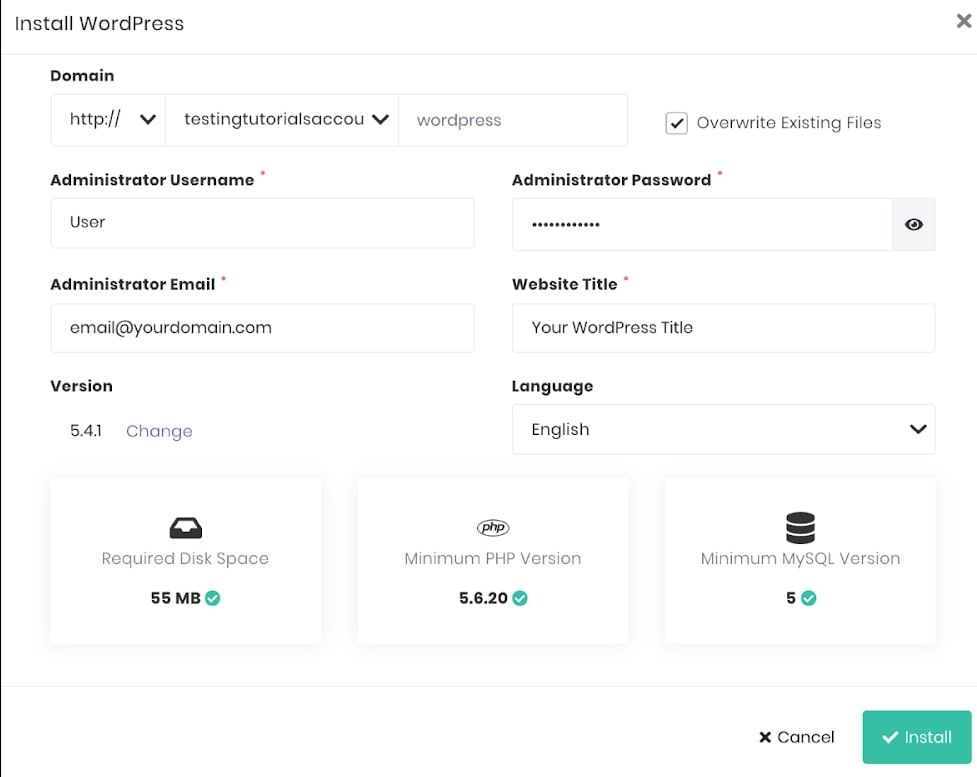 Log into your account's hPanel which is just a fancy term for your hosting account's page.
Go to the Auto Installer in the Website section.
Click on the WordPress icon, fill in the information it asks. (Your domain, create an administrator username and password, email, website title, language)
Click install, you're literally done!
Now you can go to your WordPress dashboard to manage your site!
And since it's WordPress.org, you are free to do whatever you want with regards to managing customizations, plugins, and lots more.
Now you're set!
Got your domain registered and your web hosting secured and you've got your WordPress installed!
6. Choose The Perfect Theme
It's time to choose the perfect theme for your blog.
Since you now have a WordPress Account, you'll need a theme.
What is a Theme?
Simply put, it's just your blog's design.
A theme contains a load of templates that you can customize to create the design and layout that's perfect for you and your website.
What to Look For in a Theme
Look at the theme's features. These will be essential to determine whether you want it or not. If you're just starting a blog to publish content, meaning you're not some sort of big agency, you don't want a theme labeled "agency" or "ecommerce."
Is it responsive? A responsive theme means that it is able to work on desktop browsers, tablets, and mobile devices. If a theme isn't responsive, you WILL be losing out on a lot of potential traffic.
How popular/good is it? The "good" themes are the ones that lots of people use right? Sure, to an extent. But don't worry about that "extent" when you are just getting started on your blog. But look at the ratings, if they're high, might as well go for it.
Highly customizable or nah? If a theme isn't customizable, you're stuck with what you got. I doubt that's what anyone wants, especially since you're planning to scale your blog by making your blog perfect from the start.
You want to be able to do as much as you can to guide the theme's design toward your interests (and the interests of your blog's audience).
When you start a blog, your goal should be to create pages that can catch your audience's eyes and get them interested in reading what you have.
But you also need it to be practical and easy to navigate.
If you have a good looking design but it's difficult to get to where you want to be on the blog, the audience isn't going to like your site, and therefore, they're going to leave.
Oops, no scaling for you anymore.
No scaling means no profit. Feel it now?
Anyways, when you go to your WordPress dashboard, down in the Themes section in the Customize tab, there are thousands of free themes available.
Since you've just started your blog, I would choose whichever one best suits your needs.
But after you finish your blog's setup and you're REALLY ready to launch it out into the public, I would highly recommend using a PREMIUM/PAID theme.
I'll get into answering the question "What are the Best Premium Themes" in a post very soon to help your make the best decision when you start a blog.
7. You've Got Your Blog's Basic Setup!
Finally you're done….with step one in scaling your blog and making a passive income.
But, hey, congratulate yourself, you've managed to at least start your blog.
If you've come this far, I'd like to assure you that you've got the heart and the willingness to spend your time and investment in scaling your blog to NEW HEIGHTS.
Next step is to write your content and promote your blog!
Most bloggers usually put this topic into their "Start Your Blog" posts, but I believe it really makes things kind of confusing since it's such an extensive field in blogging itself.
So be sure to read how to write content and promote it so you can really start your blog and scale it to profit ASAP.
Best of luck, be sure to read my other posts.
Peace.