Disclosure: This post has affiliate links that I get a commission for at no extra cost to you, but rest assured that I only feature the best resources to help grow your business – nothing less.

9 Best Video Editing Software For YouTube For Beginners, PC, Mac, & Windows
It's no secret that YouTube is the leading video sharing website. Is it necessary to use if you want your business to succeed?
A quick look at the latest stats answers that question.

Budding entrepreneurs and major corporations alike rely on YouTube to meet marketing and financial goals.
If you want your content to truly stand out, you have to use the best video editing software for YouTube.
With dozens of software options, choosing the best YouTube video editor may seem daunting. My in-depth guide and review will make the process easier.
Start by learning how to choose software, then continue reading to discover my top picks.

YouTube Video Editing Software | What You Need
Before you jump into reading reviews, you must know how to choose the best video editing software for YouTube.
There are some major factors to consider, and I've outlined them below.
Step 1. Budget
Some of the best YouTube video editors are free. There are numerous options at different price points, too.
Pricing may be a one-time fee for the software, or you may be required to pay for an annual subscription.
Keep this information and your budget in mind to choose the best fit.
Step 2. Ease Of Use
If you've never used video editing software, you'll need a program that's suitable for beginners.
You'll find beginner, intermediate, and advanced software options in the list below.
Many of the best video editing software for YouTube comes with free tutorials, too.
Step 3. Compatibility
The best video editing software for YouTube is often compatible with Windows and Mac, but some only work with one of these operating systems.
Make sure to choose one that works with your OS. Additionally, if you plan to edit using an OS such as Android, check for further compatibility.
Step 4. Features And Tools
Specific tools and features are crucial when choosing the best video editing software for YouTube that suits your needs.
Do you want templates for no-fuss editing? Is comprehensive audio editing a must-have?
Ask yourself these questions to ensure you select the right software fit.
Step 5. Format Support
YouTube supports several video file formats, but each video editing software supports specific file formats.
Make sure your preferred format is included in the software you choose.

What Are The Best Video Editing Software For YouTube?
Best Video Editing Software For YouTube Overall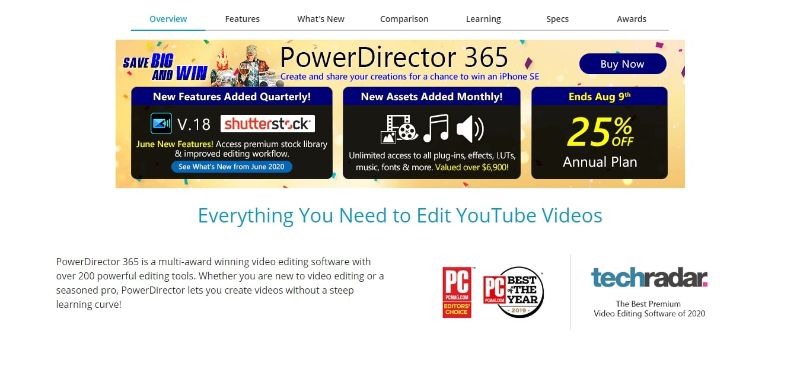 PowerDirector 365 is the latest video editing software from Cyberlink, and it's an understandably popular pick. It includes a comprehensive suite of features combined with a user-friendly interface. This streamlined workflow combination is perfect for creating YouTube content.
PowerDirector 365 supports all modern video formats in up to 4K resolution. Backed by a 64-bit TrueVelocity engine, the software also provides multi-GPGPU and OpenCL acceleration. You'll get high-quality edits without performance lagging.
Cyberlink offers a large suite of plugins and features compatible with PowerDirector 365. The AI Style Packs turn your videos into creative, eye-catching art.
Unlimited creative design packs are updated every month and include title design, video templates, and more.
This latest edition of PowerDirector includes an advanced chroma key engine. You can remove and edit backgrounds with great precision. Multi-key color sampling takes it further to give you Hollywood-style green screen effect options.
For beginners and casual users, the Express Projects feature stands out. It includes robust ready-made templates, and you simply provide the video file. With a few clicks, you'll have a finished masterpiece.
PowerDirector 365 is a 'one size fits most' tool, making it one of the best YouTube video editors. Combined with the competitive pricing, it's clear why this software is my top pick.
Cyberlink PowerDirector 365 Key Features:
4K resolution for video, audio, and photo formats.
Unlimited premium Shutterstock access.
High-quality performance on 8+ core processors.
HEVC & VP9 10bit HDR10 & HLG, ProRes 10bit 4:2:2, XAVC 8bit 4:2:0 and MXF AVC 8bit 4:2:0 video compatibility.
$8,000+ worth of design packs included for free.
Numerous music and sound effect features/plugins.

Cyberlink PowerDirector 365 Plans And Pricing:
PowerDirector 365 is available for a monthly or annual subscription. The monthly plan is $19.99 per month, and the annual one is $69.99 – about $5.83 per month. Get significant savings with the annual option.
PowerDirector currently offers a 25 percent discount on their annual plans. While this sale seems to be ongoing, it's subject to change.
For progressive plugins, extra storage, and more features, Cyberlink offers Director Suite 365 This enhanced software is $29.99 per month or $129.99 per year. If you choose the annual plan, that averages out to about $10.83 per month.
Cyberlink provides a 30-day money-back guarantee. You can try out either plan option with plenty of time to decide if it's a good fit for you.
Cyberlink PowerDirector 365 Cons:
Windows-only software isn't suitable for Mac users.
No free trial offer available.
Best Video Editing Software For YouTube – Runner Up Best Overall Pick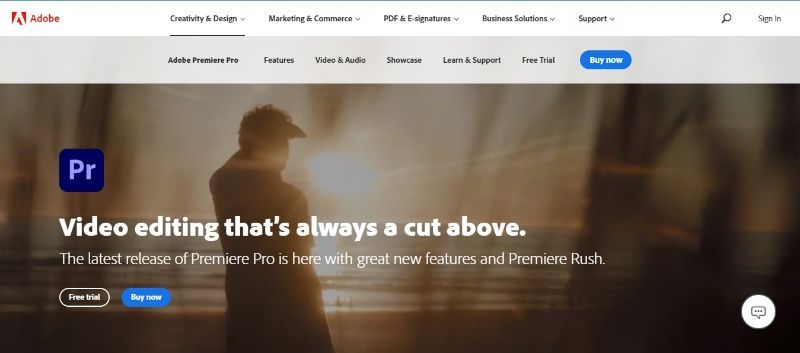 Adobe is world-renowned for its editing software, and Premiere Pro is certainly no exception. The user interface and wide selection of efficient tools make this one of the best video editing software for YouTube options.
You can easily make your YouTube vision come to life with Premiere Pro.Sharp imagery and perfect hues are possible with Adobe's Lumetri Color panel. It's included with Premiere Pro and makes color adjustments a breeze.
From white balance to color grading, this intuitive tool does it all.The software comes with comprehensive tutorials that enhance its user-friendliness. You can make professional edits without a difficult learning curve. The helpful tutorials are ideal for beginners and experts alike.
Automated tools fueled by Adobe Sensei truly make this software stand out from the crowd. You can fine-tune your content using industry-grade tools, and the automation takes away confusion or frustration.
Animation and video effects are plentiful with Adobe Premiere Pro. You can use premade templates or create your unique designs using Essential Graphics tools.
Adobe Premiere Pro Key Features:
Edit footage in any format – 8k, virtual reality, and more.
Seamless integration with all Adobe Creative Cloud software.
Premiere Rush for editing across every device you use.
Auto Reframe for social media optimization.
Adobe Stock Audio for high-quality music tracks.

Adobe Premiere Pro Plans And Pricing: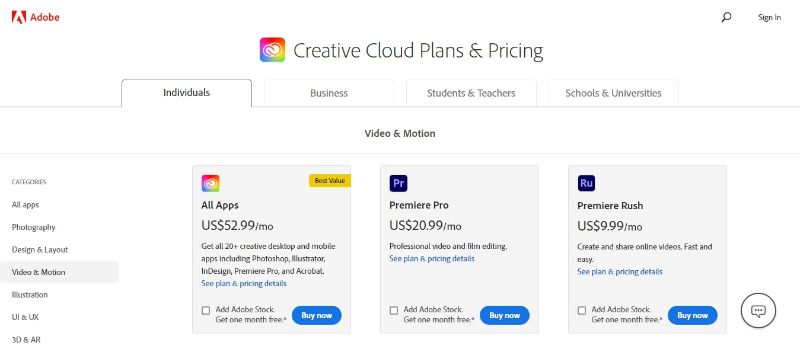 Try before you buy with Adobe's free seven-day trial for Premiere Pro. This is a good way to determine if it's the best YouTube video editor for your needs. After that, you have a few different purchase options.
Adobe Premiere Pro costs $20.99 per month with an annual commitment. Other payment plans for Premiere Pro include:
Annual plan paid in full – $239.88 per year (works out to $19.99 per month)
Monthly plan – $31.49 per month

You get one month of free access to Adobe Stock with any subscription. However, you'll have to cancel after the free month or it will auto-renew.
Businesses, students, teachers, and schools receive discounts on Adobe Premiere Pro. Most discounts are offered as bundled packages of all Adobe Creative Cloud software.
Adobe Premiere Pro Cons:
Auto-renewal of free trial and Adobe Stock – make sure to cancel to avoid hefty charges.
Many users report lagging due to high RAM use.

Adobe's video editing tool is certainly one of, if not the, best video editing tools out there. Don't miss out on some good value for your buck!

Disclosure: This post has affiliate links that I get a commission for at no extra cost to you, but rest assured that I only feature the best resources to help grow your business – nothing less.
Best Video Editing Software For YouTube For Mac Users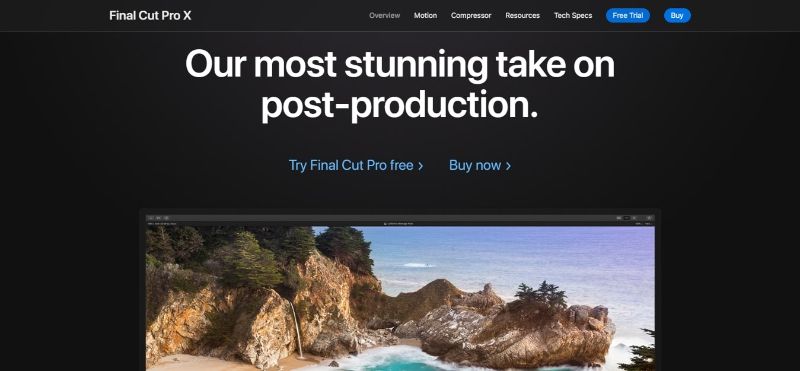 Final Cut Pro is widely considered the best video editing software for YouTube among Mac fans. With a 4.2-star rating from 1,400+ customers, it's easy to see exactly what buyers enjoy about this software.
It's extremely fast, powerful, and optimizes your workflow for excellent YouTube video content production.
Final Cut Pro features Metal engine for editing complex projects. This speedy engine also works with larger frame sizes and higher frame rates, and there's no need to worry about lagging.
It's an excellent step up for Mac users who want to go far beyond iMovie.You can work directly with your favorite applications using workflow extensions in Final Cut Pro. And take advantage of other third-party tools for advanced tracking and many additional intuitive, convenient options with one of the best YouTube video editors.
For effortless caption editing, use the Timeline Index to quickly search and choose captions, flawlessly switch between different versions and more.Using one of the best YouTube video editors, creators can easily add captions to connected audio or video clips within the video timeline.
This ensures that the captions move seamlessly with video edits. It's easy to enhance text, color, location, and timing via the captions inspector.Final Cut Pro lets you export captions in industry-standard formats CEA-608, iTT, and SRT. You can also burn captions directly into your videos.
Captioned videos can be shared directly to YouTube and Vimeo, making this a truly excellent pick for any Mac user.
Final Cut Pro X Key Features:
Premiere editing, audio, motion graphics, and delivery.
Accelerated performance with Metal engine.
Thousands of custom titles, motion graphics, and video transitions.
Integration with third-party plug-ins for seamless editing.

Final Cut Pro X Plans And Pricing:
Final Cut Pro X is available for a one-time payment of $299.99. This initial cost can be off-putting for some, but it's fairly cost-effective over time. With regular use, you'll certainly get your money's worth.
Fortunately, you can try Final Cut Pro X free for 90 days. This is plenty of time to determine whether or not it's the best fit for you. If you currently use an older trial version, you can switch to the latest Final Cut Pro X trial for an additional 90 days.
Final Cut Pro X Cons:
High upfront cost.
Not suitable for Windows users.
Learning curve for beginners.
Best Video Editing Software For YouTube – Best Comprehensive Editor
DaVinci Resolve 16 is a major release from Blackmagic Design, and it includes hundreds of new user-requested features. With an endless array of enhanced tools, it's certainly the best video editing software for YouTube if you need advanced editing options.
For editing on strict deadlines, you'll enjoy the new cut page designed for rapid results. The updated cut page is made with speed in mind, but it doesn't lack any features you'll need.
The interface is streamlined for quick work. You can use it for trimming, adding transitions, automatic color matching, audio mixing, adding titles, and more.
You can still use the regular editing page whenever it suits you. It's painless to quickly switch between both editing modes during a project. This convenient and seamless feature is a top reason DaVinci 18 is considered one of the best video editors for YouTube.
Another addition that's YouTube-centric is the quick export feature. It can be used to instantly export to YouTube from anywhere in this DaVinci editing application. There's no confusion or scrambling to get your content online in time.
One of the biggest changes is the new DaVinci Neural Engine that implements machine learning. Neural Engine supports advanced features including facial recognition. This updated technology even supports speed warp and other enhanced tools.
If you have a high volume of footage to edit, you'll appreciate the new dual timeline and fast review features. This lets you quickly and easily navigate the editing and trimming process. There's no zooming or scrolling required, saving you time and adding convenience.
DaVinci Resolve 16 Key Features:
Intelligent edit modes save time.
Quick export for instant YouTube uploads.
DaVinci Neural Engine supports speed and high-end tools.
Immersive 3D audio using Fairlight.
Fusion technology for advanced speed.
Seamless switch between new quick-cut page and original cut page.

Davinci Resolve 16 Plans And Pricing:
You can choose from two different DaVinci Resolve 16 software options. The first one is free and includes essential features, but not many of the newest additions.
With DaVinci Resolve Studio 16, you'll get the features highlighted above like:
All DaVinci Neural Engine features.
ResolveFX and FairlightFX plugins.
Multi-user collaboration.

For the full suite of state-of-the-art options, you'll pay a one-time fee of $299. The initial cost is a bit high, but it'll pay off with regular use. You can always start with the free version of DaVinci Resolve 16 to get a feel for the basic features, too.
Davinci Resolve 16 Cons:
Advanced features come with a learning curve.
Studio version has a high upfront cost.
Best Free Video Editing Software For YouTube
HitFilm Express provides completely free video editing software with expert quality features and tools. If you're new to video editing, this is one of the best YouTube video editors for you. You can create everything from gaming videos to short, professional-grade films.
When it comes to efficient workflow, HitFilm Express has you covered. The layer and track locking features prevents accidental changes and locks tracks while you work. This helps with error-proof editing and is ideal for those who are new to video editing.
Additionally, you can combine timelines and easily switch from one HitFilm tab to another. It's as easy as changing web browser tabs, but you'll have multiple editing tools open at once. Switch back and forth with no hassle for quick and flawless editing. A large selection of animation tools makes it simple to create audio/video transitions.
You can also add unlimited video and audio tracks to your editing timeline. This makes editing, animation, and other tasks simpler than ever.
Customized transition tools are included with HitFilm Express, and the options are pretty impressive. The options include dissolve, push, slide, fade, and even iris transition. You can build unique transition types that suit your content style. Customization is a major part of this best video editing software for YouTube.
Hitfilm Express Key Features:
400+ unique editing/color presets and effects.
Full 2D and 3D compositing.
Free video tutorials for ease of use.
Unlimited tracks and transitions.
30+ add-on packs for enhanced features.

Hitfilm Express Plans And Pricing:

HitFilm Express is free and includes the key features and highlights in the sections above. However, there are 30+ paid add-on packs. These may be useful or necessary depending on your editing needs.
A few examples of the add-on packs are displayed in the images above. Other categories for them include:
3D tools.
3rd party extensions.
Composite.
Visual Effects.

You can easily browse these add-ons to determine which – if any – are the best picks for you.
They're easy to download so you can enhance the best video editing software for YouTube even more.
Hitfilm Express Cons:
Paid add-on prices add up quickly.
There may be a learning curve for beginners.
Best Video Editing Software For YouTube For Advanced Users
Blender is a free, open-source creation software that's often considered one of the best YouTube video editors. If you're savvy with OSS, scripts, and 3D editing, you'll get the most from Blender.
It offers a full range of 3D creation tools, 2D animation, video editing, motion tracking, and much more.
Blender is backed by its Cycles Render Engine. Features of Cycles include CPU and GPU rendering, VR rendering support, real-time viewport preview, and HDR lighting support. You get ultra-realistic rendering no matter what you're creating.
This best video editing software for YouTube has you covered when it comes to 3D designs with a huge array of tools and add-ons. Use masking and textured brushes for 3D painting that brings your animations to life in a professional manner.
You can do it all with the best video editing software for YouTube.Camera and object tracking allows you to import, edit, and create without using multiple programs.
You can import your raw footage, track it, select masking areas, and view camera movements within your 3D scene. There's no hassle or switching between different software because of Blender's comprehensive design.
Blender Key Features:
Hundreds of free community-created add-ons.
Comprehensive selection of editing and modeling tools.
Production-ready tracking and real-time footage previews.
State-of-the-art rigging and animation tools.
Create your own tools and add-ons.
Combines 2D and 3D right in the user viewport.
A flexible Python controlled interface.

Blender Plans And Pricing:
Blender is free for anyone to download and use.
Its open-source software status ensures it stays free indefinitely, and it can be used for personal and professional purposes.
This is a major reason it's considered one of the best video editing software for YouTube.
Blender Cons:
Tutorials are necessary even for experienced users.
Focuses heavily on 3D creation/animation – not ideal for quick, basic edits.
Best Video Editing Software For YouTube For Beginners
FilmoraPro is largely considered one of the best YouTube video editors. The popular user-friendly interface makes it uncomplicated to edit and trim videos.
You can quickly export your videos to YouTube in SD/HD format up to 4k. FilmoraPro is professional-grade software that's been used by industry experts for 25 years.
If you're a beginner, then you'll appreciate the QuickStart tutorial offered by FilmoraPro. This free guide helps you navigate tools, learn about editing features, and more.
Combined with the appealing and simple layout of the software, you'll quickly learn how to master it all using the best video editing software for YouTube. Enjoy access to tons of unique and professional audio and video effects.
FilmoraPro allows you to use tons of royalty-free audio and video content. Combined with customizable animation options, you can truly make your videos stand out from the crowd.
For quick editing without hassles, you can take advantage of FilmoraPro's presets and the auto-correction tool. Auto-correction allows you to instantly choose the ideal color settings for any video you're working on.
With preset transition screens, you can instantly make creative edits to your footage.
FilmoraPro Key Features:
Lo-Res Proxy workflows for 4K
Real-time audio/video effects that are ready-to-use.
Powerful editing suite for stunning results.
Software is free for casual home users.
Preset exporting profiles for quick/easy YouTube uploads.

FilmoraPro Plans And Pricing:
You have three buying options when it comes to FilmoraPro. There is a free edition that's suitable for home use.
However, your video/content will include FilmoraPro watermarks. You also don't have free tech support access with the unpaid version.
Alternatively, you can purchase the software for annual or lifetime use. You'll pay $89.99 for annual use and $149.99 for lifetime use.
Take advantage of the free edition to see if FilmoraPro is the perfect fit for you. From there, you can choose the best video editing software for YouTube that suits your needs.
FilmoraPro Cons:
Free version requires watermarked videos/content.
Simple but still requires use the of tutorials.
Best Free Online Video Editing Software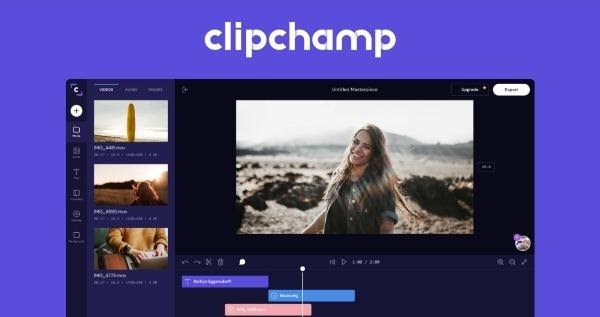 Clipchamp is an in-browser video editor that lets anyone make professional videos for free.
It's got all the essential editing options including trimming, cutting, speed control alongside exciting features like titles, filters, webcam and screen recording, GIFs and more.
Their library of stock video and imagery has over 800k+ assets to choose from. They've also got customizable templates for Youtube, Facebook, TikTok, and more. You can edit, add effects and export in minutes.
Clipchamp's video editing software is currently used by 12 million+ users ranging from content creators, small businesses, agencies, sales and customer service professionals.
Clipchamp Key Features:
Access to 800k+ library of stock videos, soundtracks and GIPHY library
Quick editing tools – convert, rotate, trim with ease
In-browser webcam recorder and screen recorder
Easy video resizer for all aspect ratios
Green screen feature
AI voiceover
Audio Visualiser
Compress Tool for faster video uploads
Easy import from Google Drive, Dropbox, Box

Clipchamp Pros:
In-browser, no downloads necessary
No watermark video editor
Easy timeline editor
Professional filters and transitions
Customisable video templates for social media like Facebook, Instagram, Tiktok and Youtube
Motion titles
Easy to navigate stock library
Upto 1080p high resolution exports
Works on Chromebooks
Free basic plan that allows unlimited video exports in 480p

Clipchamp Cons:
Desktop only on Google Chrome web-browser

For access to more stock and higher resolution exports, consider a subscription starting at just $9/month.
Best Creative Video Editing Software Toolkit
While Instasize is primarily known for its creative photo editing capabilities, it is fast becoming a popular option for those who want to add artistic touches to their videos on the go.
There are times you don't have your laptop with you so having a pocket editor on your phone is a good idea. After you finish editing your videos on your computer, you may want to add more details such as borders or frames to make your video stand out.
Or let's say you forgot to include a certain caption, you can use Instasize to remedy the situation. And you can do this all from your mobile phone!
Instasize Key Features
Easy to operate and convenient to use
Add creative borders, filters, and stylized text to your videos
The latest update lets you add light leaks, film grain, and other artistic overlays to your videos
Instantly resize your videos to best fit different aspect ratios
Perfect for short clips for social media consumption

Instasize Plans and Pricing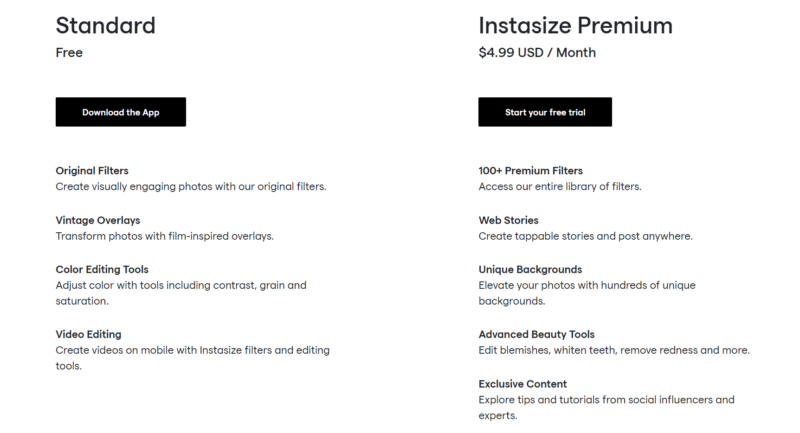 Download the app for free to sample its basic features.We recommend subscribing to Premium for $4.99/month to enjoy all the features of the creative toolkit.
Instasize Cons
At the moment, video editing is only available for iOS users. Frame-by-frame editing is unavailable but you can use this app for adding quick visual elements to your video from your phone.
Best YouTube Video Editing Software | Wrap Up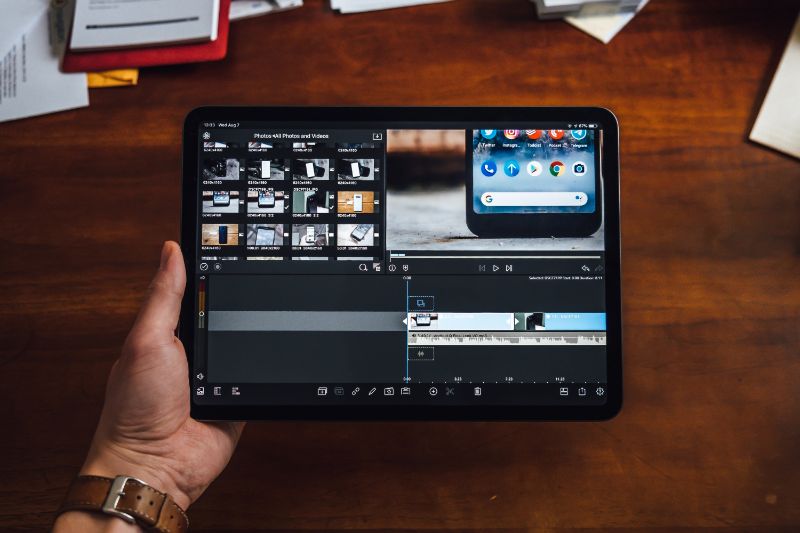 It's easy to see the uniqueness of every best video editing software for YouTube.
While CyberLink 365 comes close to a 'one size fits all' pick, the others are strong contenders.
Mac users will love Final Cut Pro X, and beginners benefit from the user-friendliness of Adobe Premiere Pro.
Make sure you refer to my 'how to choose' section before making your final choice. This will ensure you pick the best YouTube video editor that meets your individual needs. Then you can feel confident about creating content that will stand out from the crowd.