The best survey software is Typeform. They've got a suite of marketing tools, limitless app integrations, robust security features, and templates you can try out – for free! Jotform, Zoho Survey, and Formstack are the other top survey tools.
Do you have a great product or plan but have no idea how to survey a target audience? What you need is survey software.
In utilizing these powerful tools, you'll be able to communicate with your employees and customers on a deeper level to drive your business forward.
On top of that, implementing surveys can empower you with robust insights and analytics that can shape the way you create future products and brand influence.
Without further ado, let's look at 3 of the very best survey software to maximize your business potential.
What is the Best Survey Software?

Disclosure: This post has affiliate links that I get a commission for at no extra cost to you, but rest assured that I only feature the best survey software for better data-driven results – nothing less.
1. Typeform (from $30/month)
Best Survey Software for Small Businesses
Typeform's survey solution empowers you to create surveys that maximize user experience.
Its uniqueness lies in displaying one question at a time to retain customer engagement, which results in better response rates and insights.
You can further bolster your surveys with multimedia elements such as built-in photo and video libraries to breathe life into your surveys.
Question building itself becomes simple with features like conditional logic and hidden fields.
Upon finishing, Typeform offers you 3 options to get your survey into the eyes of your audience and turns your results around to you with generated sharable reports that you can conduct an in-depth analysis of.
Combined with specially designed themes, custom layouts, and integrations, your surveys can truly represent your brand in a solution that brings it all together.
It's a perfectly well-rounded solution to start out with as a small business.
Typeform Key Features
Here's a list of features and integrations Typeform's survey software offers:
Versatile templates in categories like remote working, education and online learning, lead generation, and other interactive business templates.
Third-party app integrations with Slack, Zapier, Google Analytics, HubSpot, Mailchimp, Google Sheets, and other tools.
Hidden Fields: Allows you to greet people by name and transfer personalized information.
Logic Jumps: Lets you tailor your typeforms for your audience.
Anticipation-based builders automatically generate questions for you.
Reports and metrics with built-in data analysis tools.
Payment forms
Mobile compatibility
Robust security features with SSL encryption

No matter what style you're looking for, Typeform helps you get the branding outlook you want in your forms and surveys in the least amount of time possible.
Typeform Plans and Pricing
Typeform offers four plans with a wide range of features. It begins with the Free plan and works its way up from Essentials, Professional, and lastly, Premium.
The Essentials plan comes in at $30/month, Professional at $35/month, and Premium at $59/month – billed yearly.
All these prices are discounted if you purchase an annual plan. You can try out any paid features in a free trial but cannot share surveys or get responses unless you upgrade.
For monthly plans, if you're not sure you want to invest too much, they start at $35/month for Essentials, $50/month for Professional, and $70/month for Premium.
Test out all of Typeform's features with a completely risk-free trial.

2. JotForm (from $29/month)
Best for Nonprofits, Education & Clinics
JotForm has a range of capabilities that make it best suited for those in the nonprofit, education, and clinical industries.
With over 9 million users, it empowers you to design online forms from over 7,000 unique templates and sends you email results.
Additionally, JotForm offers exclusive discounts for nonprofits and educational institutions.
What makes JotForm so compatible with these industries lies in its powers of data transformation and analysis.
For example, JotForm Table is a feature that allows you to collect and organize your data into a table that gives you all the insight you need to make strong data-driven decisions.
If you ever need to collect sensitive info, JotForm keeps you and your customers protected under their HIPAA-complaint forms and Business Associate Agreement (BAA) which adds a layer of privacy and security.
In the healthcare industry, JotForm also lets you schedule appointments, make payments, and update your medical history.
JotForm Key Features
Here's a list of features JotForm's survey software offers:
7,000 unique templates to fit your survey needs.
Custom fonts with advanced styling options to align with your branding.
Automatic report builder
Form widgets to bolster look and functionality.
JotForm tables for data collection and organization.
HIPAA-complaint forms and a Business Associate Agreement (BAA).
500 medical forms and templates to create online surveys geared toward the healthcare industry.
Easy integration with tools such as Google Sheets, Zapier, and Salesforce.
Collect secure online payments through product selling, subscription fees, and donations.

JotForm's online form builder service is perfect for those who go by a data-driven business model yet also value creativity and innovation.
JotForm Plans and Pricing
JotForm offers 5 plans with a robust set of features. It begins with the free Starter plan and works its way up from Bronze, to Silver, Gold, and then Enterprise.
The Bronze plan comes in at $29/month, the Silver at $39/month, and Gold at $99/month, while Enterprise is quote-based. All these prices are discounted if you purchase an annual plan.
However, the Silver plan is the recommended best value plan you can get. Additionally, if you run a nonprofit or an educational institution, you can enjoy a 50 percent discount.
All plans have a 30-day money-back guarantee and 24/7 customer support. You're free to cancel at any time.
Best Multi-Feature Survey Software
Zoho Survey is one of the best survey software solutions when it comes to the amount of customization and features you can play with.
For starters, you're given over 25 question types that include Skip Logic and piping. You can either create your own themes or choose from the 250 expert-made templates.
Sharing becomes easy through Zoho's seamless transition to social and email campaigns, all while maintaining SSL data protection.
When you start to receive responses, Zoho lets you incorporate data visualization by giving you the power to create customizable reports.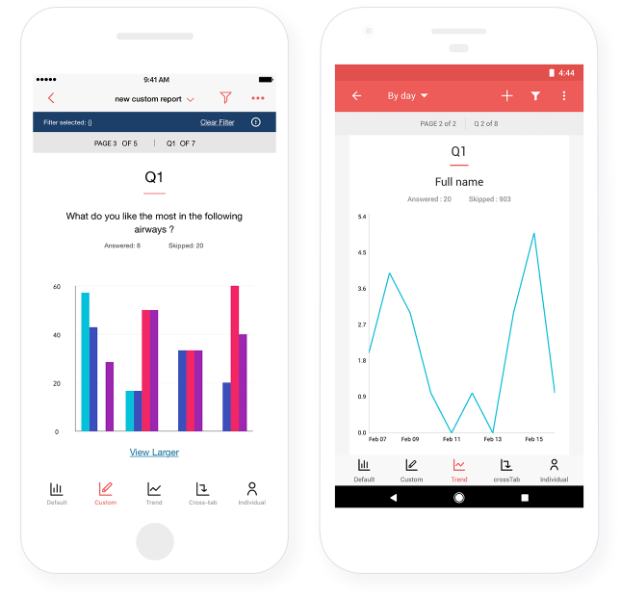 You can further integrate your results into Google Sheets to make better-informed decisions.
Throughout the whole process, you can rest assured that every survey is mobile optimized and that you can work as a team.
In case you're ever lacking an audience, Zoho can even help you to buy responses based on your desired demographic.
Side note: Zoho is better known for its CRM software, a tool that integrates with 500+ other apps and provides a seamless customer experience. You can try it free for 15 days with my affiliate link.
Zoho Survey Key Features
Here's a list of features Zoho Survey offers:
Drag-and-drop questions.
Scoring, skip logic, piping, auto-fill, custom end pages and variables, and white-labeling for a fast and optimized survey creation process.
Zoho Flow integration to over 300 applications.
Zoho Sheet for a real-time transfer of data to a spreadsheet with in-depth analysis and reports.
Zoho SalesIQ gives you the ability to pursue your leads to increase your sales.
250+ templates
Powerful security measures like password protection and multiple-response prevention.
Team collaboration tools to work across the board.

Zoho Survey's many features make it to be one of the most practical survey software on the market for every type of business, whether you have a survey audience out there or not.
Zoho Survey Plans and Pricing
Zoho Survey offers 4 plans that offer plenty of value, including unlimited surveys for each of them.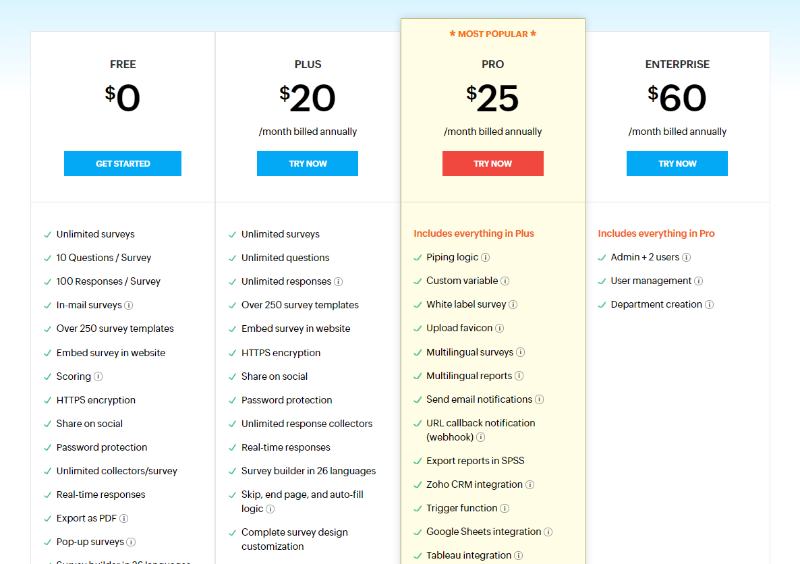 It begins with the free plan and works its way up from Plus to Pro and lastly, Enterprise. The Plus plan comes in at $20/month, the Pro at $25/month, and the Enterprise plan at $60/month.
All these prices are discounted if you purchase an annual plan. However, the Pro plan is the most popular plan out of the bunch.
Additionally, if you run a nonprofit or an educational institution, you can enjoy a discount. Students can obtain the Plus plan for free while educators get 50 percent off on all plans.
Zoho Survey's paid plans also come with a 7-day free trial (no credit card needed) that you can take advantage of.

4. Formstack (from $59/month)
Best for Simple Form Building & Organization
Used by over 27,000 organizations worldwide, Formstack excels in helping its customers create the perfect productivity solution with as little hassle as possible.
Its tools are designed to accelerate and automate digital work. You can quickly build powerful surveys and forms and convert that data into custom documents and eSignatures, all without needing any coding or IT knowledge.
Formstack also has over 100+ integrations which allows you to connect everything to one workplace, all while bolstering your data by keeping it secure and HIPPA-compliant.

In case you're ever stuck on what to do, Formstack ensures that you're never overwhelmed by simplifying the entire process with hundreds of pre-built forms and document templates so that you can get started within minutes.
Formstack Key Features
Here's a list of features Formstack offers:
Drag and drop builder makes it easy and user-friendly to build forms within minutes.
Mobile-friendly forms and e-signatures are responsive and automatically adjust to any device.
Advanced analytics features with custom visual reports, UTM tracking, and Field Bottlenecks.
HIPAA Compliant Forms to reduce slogs of paperwork and security risks.
Smart forms equipped with the power of conditional logic.
CRM Document Generation for automatic must-need business documents.
Hundreds of customizable templates
100+ integrations to power up your workflow.

Formstack delivers a platform that is simple but powerful, designed to maximize your workplace's productivity and transform it into an impact-focused business.
Formstack Plans and Pricing
For the Forms products, Formstack offers 4 plans. It begins with the Silver plan and works its way up from Gold to Platinum and lastly, Enterprise.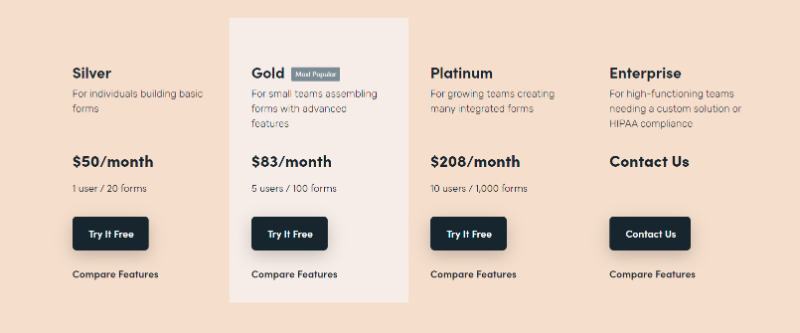 The Silver plan comes in at $50/month if paid annually ($59/month billed monthly) and is geared towards individuals who want basic form-building capabilities.
Gold comes in at $83/month for smaller teams, Platinum at $208/month for growing teams, and Enterprise at a quote request for high-functioning teams. 
The prices shown are discounted annual plans. Formstack does offer monthly options, but the pricing is a whopping $59/month for Silver, $99/month for Gold, and $249/month for Platinum.
However, the Gold plan is the most popular plan out of the bunch no matter how you decide to pay.
Additionally, you can get a free trial of any plan you'd like for a taste of the form-building power you can expect.
If you want to expand your workplace capabilities, you can add on other products or explore Formstack's robust platform plan.
Get started with Formstack with your 14-day free trial.

How to Choose the Best Survey Software
When it comes to survey creating, this may be new territory for a lot of business owners.
Even though many of these survey software offers the same service, it's critical that you find one that best fits your needs to ensure business success and development.
With that in mind, let's dive into some of the most important factors you need to consider.
1. Types/Usage of Surveys
You can build just about any basic survey with any of the software, but if you want to build intricate surveys that fit your vision, you'll need to explore around.
Look at the advanced features that the companies offer and see if they match what you're looking for.
Some of the most popular surveys involve cart abandonment, customer satisfaction, and NPS.
2. Budget
The bigger your budget, the better results you'll see when it comes to survey software due to the level of data and insights paid plans can bring.
However, you don't need to let a small budget prevent you from acquiring great software too, as the list above all has free plans to experience and find the right fit to grow with over time.
3. Number of Users
Is it just you that will have access to surveys, or are you planning to include other team members as well?
Keep in mind that for every team member you add to the survey creator's access list, the price will go up.
4. Frequency
Do you have an idea in mind of how many times you'll run surveys?
Depending on how often you'll want to create and run surveys every year, the software you need will take that into account for pricing.
When comparing plans, be sure to consider your frequency of use and volume of work.
Executive Summary
Survey software is a fantastic way to break into new territory and harness all the potential that direct customer feedback and insight can bring.
Typeform is a great software for any small business needs. If you're looking for software that is especially geared towards nonprofits, education, and clinics, JotForm is your best bet.
Searching for multi-features all in one platform? Try out Zoho Survey. Wanting a powerful but simple form-building solution? Go with Formstack.
By using survey software, your company will be better equipped to directly improve customer satisfaction and experience at unprecedented levels.