Thinkific is the best online course platform with straight-forward course creation, modern design and customization options, flexibility, 24/7 customer support, and a zero transaction fees policy.

Teachable is the better option if you're looking for a robust array of marketing/sales tools and integrations. This option is also more beginner-friendly. Just keep in mind that there are transaction fees for course sales.
It's clear that online learning is not going to back down any time soon.
Whether you're a teacher, professor, entrepreneur, or just a random hustler looking to make money off selling online courses, the $240 billion forecast for eLearning in 2023 sounds like a legitimate gold rush.
With online course platforms like either Thinkific or Teachable, you'll be able to connect with students and professionals from the other side of the globe – just by turning on your laptop.
So if you plan to get your own online course up, running, and selling, here's our comparison of 2 of the top 3 online course platforms: Thinkific vs Teachable.

Note: Feel free to check out my post on the best online course platforms if you've decided Thinkific and Teachable weren't right for you.
Through my experience, both being learner and instructor, the features an online course platform includes are essential for gauging a platform's quality.
But that's not all. You still need to factor in other things like pricing, class limits, hosting, payments, analytics, and a whole lot more.
I've got you covered in this post. We'll cover all the things you need to know about Thinkific vs Teachable – in minutes.
Disclosure: This post includes affiliate links that I get a commission for at no extra cost to you. However, I only feature the best resources for you to build the best online courses – nothing less.
Thinkific vs Teachable: A Quick Glance
Thinkific is a platform with over 100 million online courses taken in 190+ countries, classes run by 50,000+ course creators, and over $650 million earned.
With over 100 employees in over 15 countries to streamline your process no matter where you are, this online course platform is one that you can't go wrong with.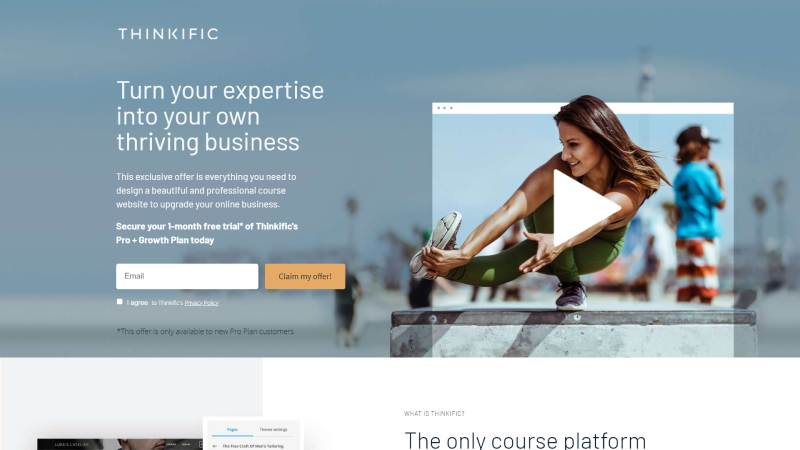 Thinkific Key Features:
Video and assignment-based learning tools
Membership capabilities
Updated and ressponsive web designs
No coding needed!
Suite of marketing and analytics software

Teachable, though founded in 2014 (2 years after Thinkific), boasts an audience of over 100,000 course creators and 23 million learners and students.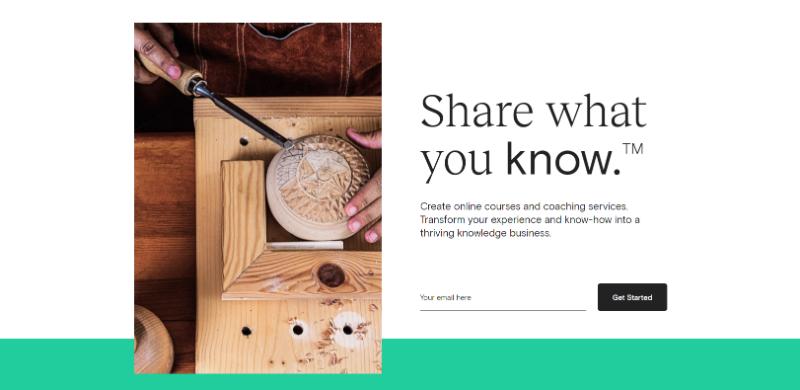 Teachable Key Features:
Easy-to-use drag and drop editor
Analytics tools to track engagement and sales
Landing page design capabilities (marketing and sales pages)
Integrations with WordPress sites and ecommerce features

As you can clearly see, both course creation platforms are packed with features (those are just a few of what they have to offer!).
But where do they excel? If you have marketing experience and would like a detailed analytics dashboard, Teachable is your best bet. If you're looking for an enticing course design, layout, and customization, Thinkific is the better option.
Here's a quick look at the Thinkific vs Teachable comparison highlights if you don't have time to read the whole review.
Thinkific Overview
Teachable Overview
Thinkific is the best online course platform, but Teachable also has an excellent suite of features you can't go wrong with.
Next, we'll get into a comparison of Thinkific and Teachable's performance, user-friendliness, security, marketing features, integrations, analytics, customer support, pricing, payment integrations, and course customization.
Thinkific vs Teachable: Which is the Best? 🧐
1. Performance and Uptime 🛠️
Imagine a potential student or customer landing on your course's sales page. They're about to click 'Confirm and Pay'… then 'poof'.
"This page isn't working."
And you've just lost a customer and a potential brand referral. How do you fix this? Choose a course creation platform with a near-perfect uptime.
Thinkific boasts a 24/7 uptime with a 99.99% record.
Teachable also states that they have premium 24/7 support monitoring with a >99.9% uptime with "results to prove it."
However, going through reports of site statuses using links like the ones below, it seem Teachable does lag behind Thinkific by a barely noticeable margin:
https://status.thinkific.com/
https://status.teachable.com/

The most common issues were related to billing information updates, connectivity issues, and 504 errors.
So while Thinkific may be the winner with regards to uptime and performance, Teachable is an incredibly safe alternative since performance is a priority for both platforms.
With an official uptime at just .01% short of 100%, a 24/7 support team, and priority website monitoring, Thinkific seems to be the clear winner here.
Get started with Thinkific for free.
Disclosure: This post includes affiliate links that I get a commission for at no extra cost to you. However, Thinkific, as you can see, is merely the best option for creating online courses with regards to performance and uptime.
2. Course Creation (User-Friendliness) 😃
If you want a platform with a user-friendly dashboard and easy-to-use features, Thinkific and Teachable both have your back. But there are a few differences in how they work.
This is what Thinkific offers:
Drag and drop course creator for… dragging and dropping.
ZERO code needed
Supports multimedia content (videos, images, surveys, downloads, forums, etc.)
FREE video hosting platform to reduce the hassle of purchase multiple packages
Suite of themes to kickstart your course layout and design
Integrations with email marketing software (ConstantContact, Mailchimp, ActiveCampaign, etc.)

Teachable also has some top-notch features to help improve functionality and ease-of-use.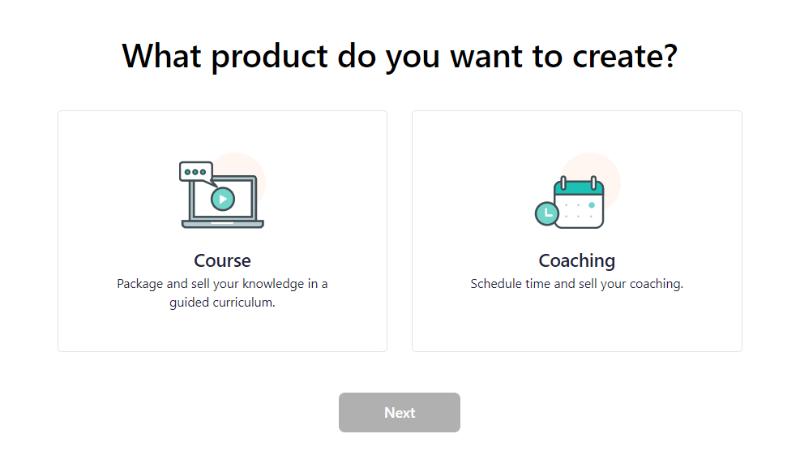 Some of Teachable's offerings include:
Ability to add text, PDF, image, video, and audio files from cloud storage services e.g. Google Drive, Dropbox, etc.
Drag and drop course builder
Responsive website builder tools (mobile, desktop, and tablet)
Simple language options
Suite of optimized sales pages for more sales
Team collaboration capabilities
While Thinkific puts up a good fight with it's marketing capabilities, Teachable wins because of it's options to build a well-designed and beginner-friendly features.
Get started with Teachable for free.
3. Security (Site and Courses) 🔒
With the rise in technology, comes the rise of technological threats. In 2021, it was estimated that these cybersecurity attacks cost global users a total of $6 trillion.
You don't want your online course and community to be a part of that number.
Both Thinkific and Teachable have top-notch security measures in place to keep your financial and personal data safe, but it couldn't hurt to go over their security measures.
Here's how Thinkific keeps their users safe: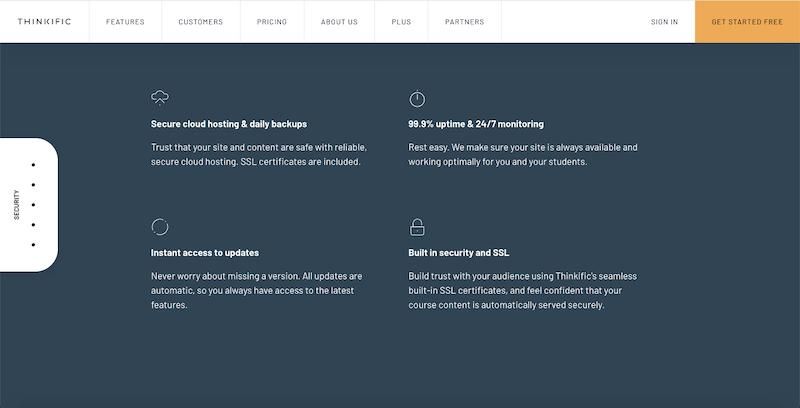 24/7 security via cloud hosting
Automatic backups to prevent loss of data
SSL certificates to provide the first layer of internet security
Periodic security updates (automatic)
Thinkific's platform monitoring team
You are the sole owner of your data

And here's how Teachable keeps out cyber threats:
Only PCI level-1 compliant payment providers (data security)
2048-bit SSL certificate (secures creator/learner's data)
Automatic updates and new features
You own your data, no one else
Both platforms have extensive security measures in place, but Thinkific just has a higher number of features thus earning it the win.
Get started with Thinkific for free.
4. Marketing Features and Integrations 🖥️
Creating an online course is a great feat. But what good is it if there's no one to buy it?
You need a pack of marketing tools to scale your course audience and sales.
Course marketplaces like Udemy do a ton of your marketing for you on top of giving you an already-massive audience, but the main drawback is the incredibly high fee they take per sale.
So the best option is to market your course yourself. That said, let's take a look at Thinkific vs Teachable's marketing features.
Thinkific Marketing Features:
Affiliate marketing: You get cash for referring others to Thinkific AND the option to promote your own course affilaite program. That way, there will be more people willing to promote your course, thus doing your marketing for you
Email marketing: Give your customers personalized welcomes, updates, frebies, promos, campaigns, and whatnot to keep them interested
Integrations with 1,000+ external websites and tools to run campaigns however you'd like
Data tracking and analytics: Take a look at your progress (real-time) and optimize for more sales
Ad tracking analytics via Facebook, Google Ads, etc.

Now let's see what Teachable has to offer.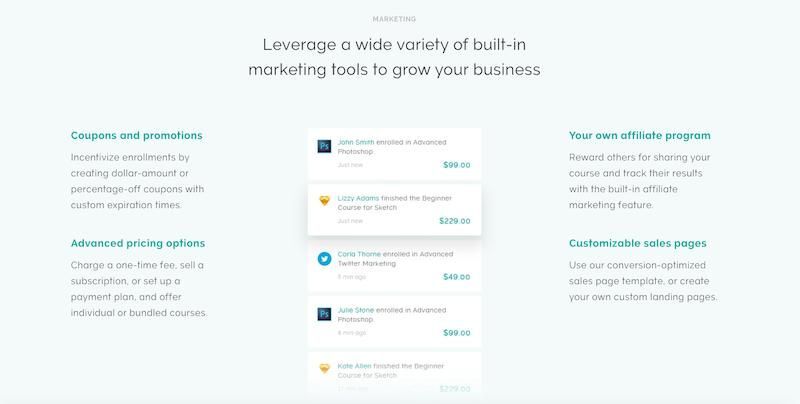 Teachable Marketing Features:
Affiliate tracking: Built-in features to track and reward affiliates for marketing your course and getting you sales
Coupon codes: Create coupons andpromotional offers to encourage new users to try and promote your online course
Customized pricing options: You can set up courses that cost a one-time fee, monthly subscriptions, bundled discounts, etc.
Landing page templates and features for optimized lead generation
Payment options: Accept payments from over 130 currencies for any course
Marketing integrations: Add tools like MailChimp, Keap, and more, to automate processes and scale your course sales
Marketing analytics to analyze campaign success
Both of these online course creation platforms have a heavy-set list of marketing features, but Teachable offers a more robust laboratory capable of manageing and letting you test more integrations and features.
Get started with Teachable for free.
5. Data Analytics 📈
Data and analytics. Two of the most important words for business owners and entrepreneurs.
That's why you need the right tools that allow you tracking, analytical, and campaigning capabilities.
With an ever-increasing number of businesses looking to go virtual into the digital world, data is more important than ever. It's estimated that the worldwide BI (business intelligence) market will reach $29.48 billion by 2022.
So if you want to usurp your competitors and stay on top of trends, data is an essential asset.
Here's how Thinkific and Teachable differ in their data and analytics offerings:
Thinkific Data and Analytics:
Simple integrations with major analytics platforms like Google AdWords, Facebooks, etc.
Filtering capabilities: Check on specific groups of students or individuals and progress
Personalized campaigns: Reach your target audiences for higher conversions from relevant prospects. Also allows email campaigns sent to specific groups of users

Teachable Data and Analytics: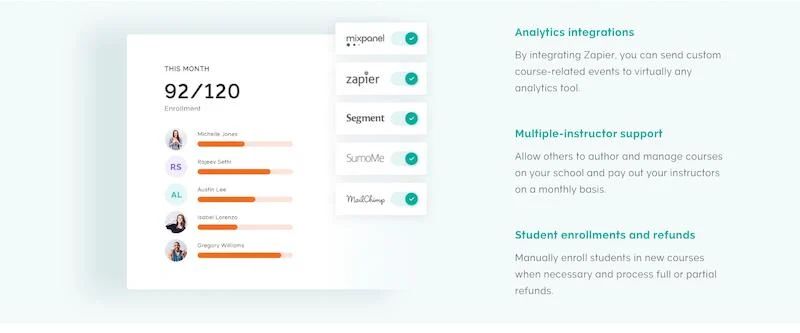 Interactive dashboard with sign-up, revenue, views, students, and sales tracking
Advanced filtering: Define completion rates and sort students into groups accordingly
Export options available to keep track of revenue and student information elsewhere
Integrations: Work hand-in-hand with tools like Zapier to send course campaigns with a plethora of other marketing tools
Ability to track which campaigns did what in reeling in a new student to your online course

While these features are usually reserved for more advanced online instructors, beginners can certainly take advantage of these even though there might be a little learning curve.
Both Thinkific and Teachable offer a wide array of analytics tools, but Teachable's suite is more user-friendly and allows beginners to test them out more properly.
But if you're an expert, both are perfect options if you're looking for a solution to help track your students and sales.
Get started with Teachable for free.
6. Customer Service 👩‍💼
From getting your profile set up to making your first sale to scaling your online course, customer support plays a crucial role in your online business,
The role of customer service is to provide fast and immediate support whther by live chat, email, phone, or some other medium.
Other ways companies like these two course creation platforms help customers are by using social media groups, communities, specific support accounts, etc.
Here are ways that both platforms, Thinkific and Teachable, offer support:
Digital tutorials and resources
Support tickets
Onboarding emails (that you can reply to)
Knowledge base
Active Facebook groups

Teachable Support:
Teachable offers live chat support on its Professional plan. If you ask me, it's definitely a worthwhile investment since this is the fastest support you could ever get.
You send in a message, one of the support team members gets a message, and they hop on the chat. Easy as that.
However, Teachable's live chat support is not available on weekends.
Thinkific Support:
While you can't get in touch with Thinkific's support team through a live chat feature, you can fill out a quick form and get a response from an agent assigned specifically to your request to get back to you.
Not only are these replies and services more personalized, they're also available on weekends (something Teachable's live chat feature lacks).
🤷 Winner: Draw
Thinkific's customer support team seems to be more proactive and better trained to resolve issues. In addition, the price you'll be paying to priority support tickets might actually be lower in the long run.
But Teachable's major card is its live chat support feature, something that's pretty hard to beat.
Get started with either Thinkific or Teachable free for 14 days.
Disclosure: This post has affiliate links that I get a commission for at no extra cost to you, but rest assured that these course creation platforms offer the best support and features – nothing less.
7. Payment Integrations 💳
A secure payment integration is essential for online course reliability. Good thing is, both Thinkific and Teachable have you covered here.
But the thing about Thinkific is that it includes an integration called Stunning which lowers the failed transaction rate with Stripe.
In addition to Stunning, Thinkific also offers other integrations for handling payments.
Teachable, on the other hand, is able to handle VAT taxes, but that may serve as a nuisance to some.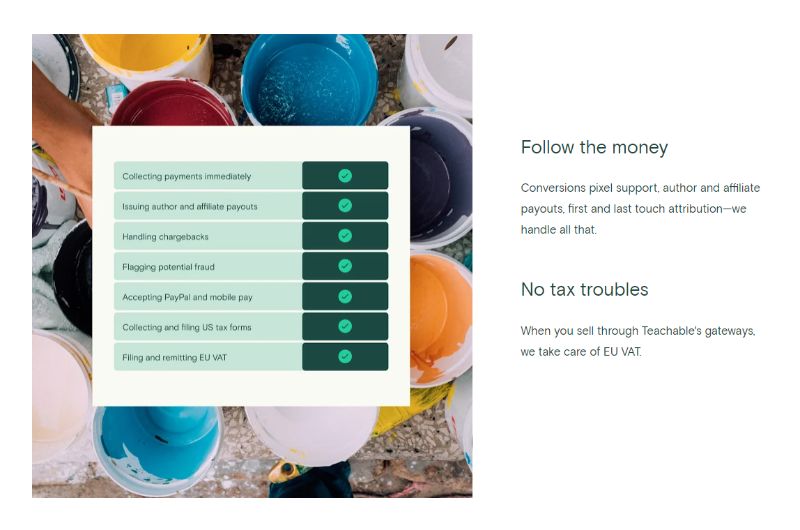 Thinkific is the clear winner since it's able to be integrated with a number of third party tools to provide more secure and stereamlined payment processing.
Get started with Thinkific for free.
8. Course Customization 👷
While your platform's security, flexibility, and tracking features are incredibly important, the customization aspect is probably the most important when trying to stand out in the crowd.
We'll take a look into Thinkific vs Teachable features regarding course customization.
Thinkific Customization:
Prerequisite lessons: Allow access to a certain lesson or module only if something else has been completed
Roll out prerequisite lesson: Allows users to request for a lesson in advance
Drip content: A content scheduling feature that allows content to be fed out at a customized pace
Easily categorize your courses into free, paid, and subscription options
Use Thinkific's theme library to pick a design you like
Course completion certificates
Real time course instructors to help students out

Teachable Customization:
Streamlined setup: You can get started with just your name and a name you pick for your school/course
Intuitive quizzes and animated discussions
Branding: Customize your site's looks
No code: Incredible web design and customization features without a single line of code
Comment and email features to build a loyal community of learners
Community of thousands of live online instructors to help provide online courses and tips
While Teachable does make it incredibly easy to get your profile, dashboard, and first course set up, Thinkific is the better choice in the long run since it provides much more features for managing student progress and customized course pages.
In addition, Thinkific equips you better for handling multiple tasks, different groups of learners, advanced functionalities, and just having a better experience overall.
Get started with Thinkific for free.
9. Pricing and Plans 🏷️
It's completely normal to settle for a product to meet your budgeting needs. But is it always the best choice? No.
Sure, if you're looking to test the waters, the cheapest plans are the way to go. But if you want to create an online course that's worth millions, a free Thinkific plan won't cut it.
Pro tip: If you want to invest anything into online course paltforms, go for annual plans. You'll save anywhere from 20-30% per month that way (trust me, it adds up).
Thinkific Pricing:
Pricing starts at $0 for the core features while the Basic, Pro, and Plus plans start at $39/month (billed annually).
If you want to go with Thinkific, just go with an annual plan if you're able to afford it.
If you're not able to, try out the Free plan to get it's core set of three course spaces, unlimited students, quizzes/surveys, content hosting, instant access to funds, and more.
A good idea is to try out the free plan to see if you like the basics of the platform e.g. the interface, customization capabilities, support, and layout.
Thinkific also makes it super easy to transition to a paid plan if you've decided your courses need a more robust plan.
Teachable Pricing:
While Teachable doesn't offer a free plan, you can take it for a test run by simply contacting sales or trying a paid plan free for 14 days.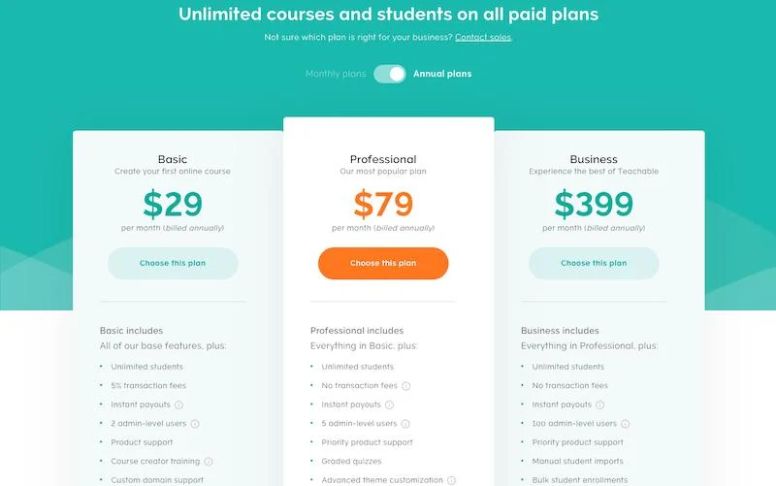 Their Basic plan starts at $29/month (paid annually) and go up to $399/month for their Business plans.
While Teachable's Basic plan is cheaper than Thinkific's, the other more advanced plans are similar in their features and capabilities.
In addition to unlimited students and video, Thinkific offers a free plan that lets you test out the course creation platform's services, functionalisy, and security options.
Plus, it's a great choice for entrepreneurs and instructors looking to upgrade to a paid plan later.
Get started with Thinkific for free.
Executive Summary
Both Teachable and Thinkific are both strong platforms (two of the top three) for creating and selling online courses.
But the final decision is up to you based on your personal and business needs.
If you're aimed at growing your course (sales, revenue, course numbers, and audience), Thinkific has the features to help you do that as it's the go-to for businesses that need a reliable and secure solution that "just works."
What's more, trying out Thinkific is an excellent decision to make if you're not sure you're ready for the premium features yet.
Teachable is almost right up there with Thinkific as it offers an incredibly flexible interface and drag and drop features, but the transaction fees may be a nuisance to some.
Create your online course today with Thinkific's free 14-day trial.
More Reviews on RickyWang.com: If you liked this post, feel free to check out my comparisons on Kajabi vs Teachable. Or, you could read about the best online course platforms if you'd like to see other Thinkific vs Teachable alternatives.