10 Free Digital Tools You Need For Blogging
Once you've read my post about starting a blog, it's time to make the most of yours.
If you're inexperienced with blogging, this is probably going to feel like a daunting task. I understand this mindset, but I can assure you that it's possible.
You need proof? Look at this blog.
There are dozens of free digital marketing tools for blogging. But below, I've highlighted eleven tried-and-true free blogging tools that'll be sure to help you kickstart your blog!
You'll find everything from keyword generators to readability scanners.
With a combination of these tools, you'll be sure to increase traffic, decrease bounce rates, and more with the tools featured in this post.
The 4 Best Free Tools For Keyword Research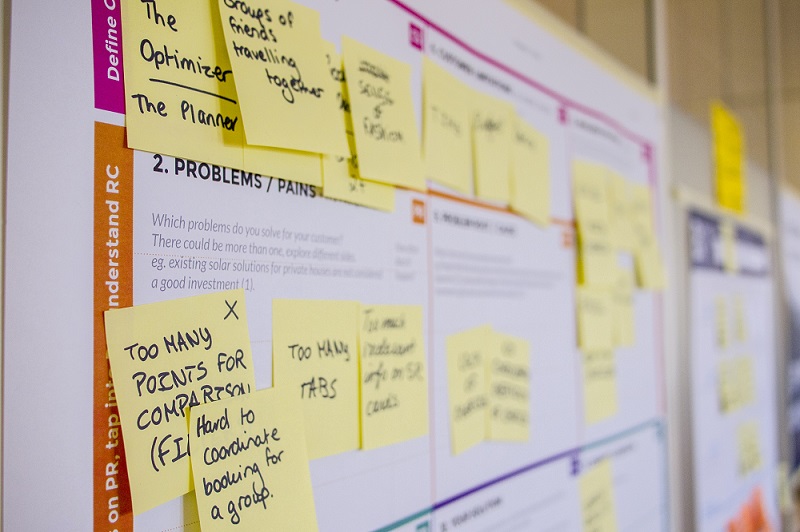 I'm going to tell you this right up front: choosing the right keywords is crucial for writing a successful blog post.
Keyword research is the first step in creating SEO-friendly blog content. Research tools give you insight into:
How in-demand keywords are.
How difficult or easy it is for keywords to rank in search engines.
How readers use your keywords when performing web searches.
Search queries using two words account for 40% off all web searches. In contrast, four-word queries account for less than five percent of searches.
This is a major difference and shows the importance of using the best keywords.
The free tools below are ideal for keyword research and planning. They offer great insight into what your potential audience is looking for, so you can drive traffic directly to your blog.
You want to know how popular your blog post idea is? Google Trends is your first stop when deciding what keywords or topics to use.
This free Google tool is easy to use and very thorough. Type in your keyword/topic ideas to discover the:
Search volume.
The fluctuation of search volume over time.
Keyword performance by region.
Related topics and search queries.
Use this information to develop an excellent content strategy.
You can integrate related keywords, follow seasonal trends in your posts, and attract a location-specific audience.
If you're torn between two keywords, try using the 'compare' feature. You'll get side by side data for both phrases to see which one has more potential.
Take my word for it, it'll help you quite a bit.

Ubersuggest is a tool created by online marketer Neil Patel. Patel has developed many useful free Internet marketing tools, and this one is no exception.
Ubersuggest offers great insight into keywords, so you can see which ones are your best options. Type in a keyword or phrase, click 'suggest', and you'll instantly get:
Search volume data.
SEO difficulty score.
The age range of people who've searched this keyword.
A huge list of keyword suggestions.
I searched 'digital marketing' and got over 500 keyword suggestions. This is impressive and sure to help you map out plenty of great blog content.
Ubersugggest generates keyword lists based on:
What results are working best for your competitors.
What people – AKA your audience members – are typing into Google.
You can copy and paste keyword lists or export them for later use. On the left-hand side of the page, explore the different icons for more keyword information. Examples include:
Keyword ideas.
Content ideas.
Traffic analysis.
SEO analysis.
The comprehensive data is very useful for creating high-ranking blog posts. To access full data for your keyword, you'll need to upgrade to a paid plan. The free Ubersuggest tool is a solid is a great starting point to see if it suits you.
Answer The Public is a tool that puts you in your reader's shoes. The unique design uses search engine autocomplete data to present questions and phrases related to your keyword.
In other words, you get direct insight into what consumers are searching for online. Keyword research results are divided into these categories:
who, what, when, why, and where (the five W's)
how
can
are
which
will
The results you get are displayed as a search cloud image. I recommend opening the image in a new window to view its full size for easier reading. You can also download the image to reference later on.
I searched for 'blog posts' using Answer The Public. These are a few of the dozens of results I got:
'how many blog posts per week'
'when to publish blog posts'
'what to write blog posts about'
'why blog posts are important'
'where to share blog posts'
These queries are pulled directly from Google and other search engines. When you use them to plan content, you're answering real questions from your target audience.
The results above are optimal for subheadings within a post. Use them to easily and effectively direct search engine traffic straight to your blog.
Keyword Tool is a popular alternative to Google Keyword Planner. When you search keywords and phrases, you'll get as many as 750 keyword suggestions.
I searched for 'affiliate marketing' and got the results above. Next to each keyword suggestion, the following information is displayed:
Search volume.
Trend.
Cost per click.
Competition (low, medium, or high).
This tool makes it easier to narrow down keywords. For example, compare the results 'affiliate marketing programs' and 'affiliate marketing companies'.
The search volume for 'affiliate marketing programs' is higher ranking than 'affiliate marketing companies'.
The keyword difficulty is medium for 'affiliate marketing programs'.
The keyword difficulty is high for 'affiliate marketing companies'.
You can conclude that 'affiliate marketing programs' is the better keyword option. This valuable data helps optimize your blog content.
Top 3 Free Digital Tools For Content Creation
Before you start blogging, I suggest checking out my post about creating blog content. You'll discover nine effective tips and techniques everyone should know.
A quick look at recent stats shows you that content creation methods can make or break your success. An in-depth study by Orbit Media reports:
The average blogger writes four headlines before selecting one.
60% of blog posts contain lists.
57% of blog posts cite statistics to back up statements.
'How-to' articles are the most popular blog post format.
Below, I've listed a few free blog tools you can use for optimal content writing. They're excellent resources if you're struggling with the brainstorming process.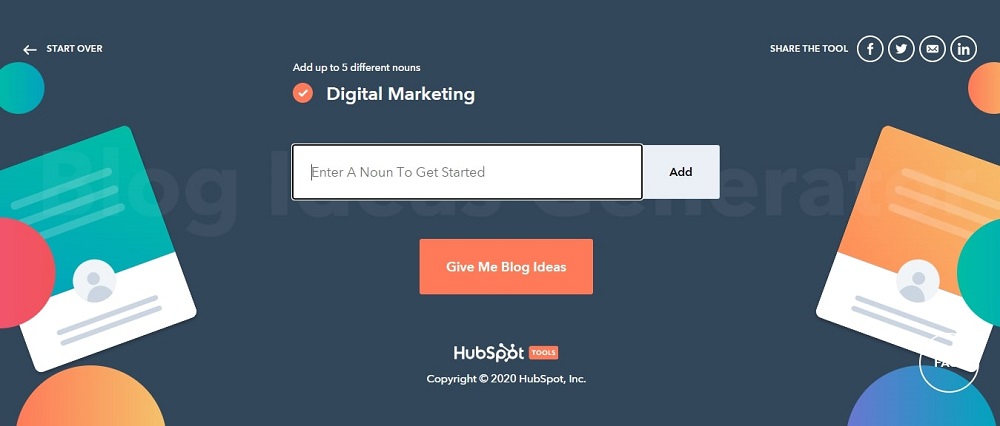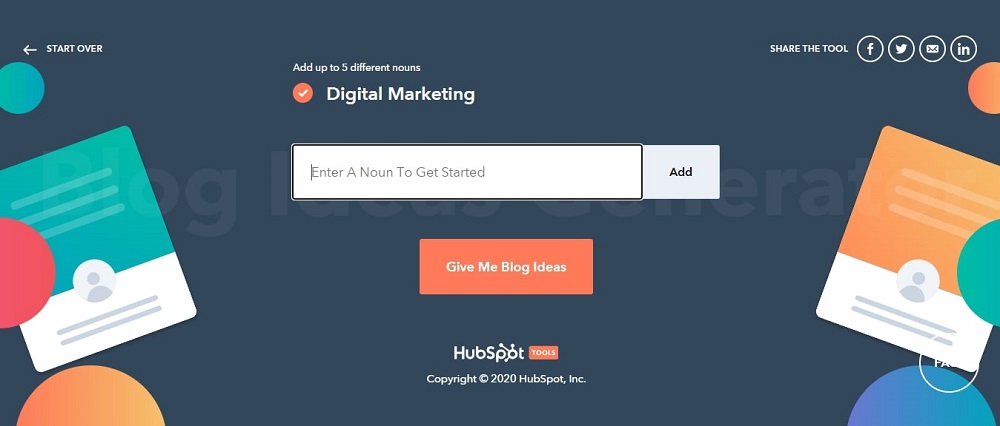 Without high-quality headlines, it's difficult to gain leads and increase sales. Copywriter Ted Nicholas stated that 73% of buying decisions are made when they read the headline.
HubSpot's Blog Topic Generator is simple and straightforward. You can enter up to five nouns to get started, and HubSpot provides five titles. This gives you a week's worth of content ideas for your blog.
I tested the tool out using 'digital marketing' as the key term. The five titles I received were:
'Digital Marketing: Expectations vs. Reality'
'Will Digital Marketing Ever Rule The World?'
'The Next Big Thing In Digital Marketing'
'Digital Marketing Explained In Fewer Than 140 Characters'
'This Week's Top Stories About Digital Marketing'
These topics are pretty broad, but this may actually benefit you. The titles above are easy to tweak to suit your goals. You can:
Create top-ten style lists using any of the titles.
Write how-to guides for implementing top digital marketing trends.
Compare and contrast promotional strategies.
Write about your own trials and errors with Internet advertising.
This Hubspot tool is 100 percent free to use. For even more ideas, you can fill out a form to receive 250 more unique blog content topics.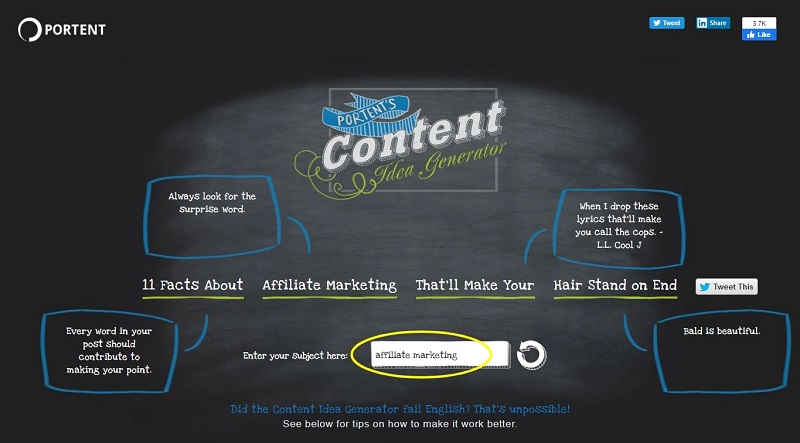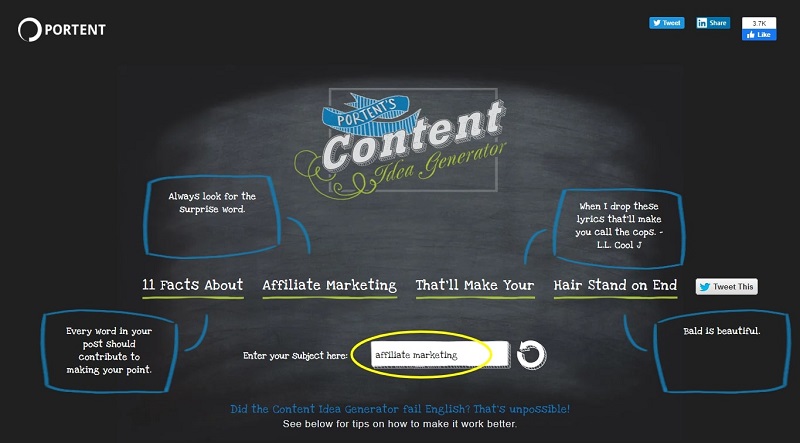 Portent's Content Idea Generator is a unique tool that creates humorous, fun, and shocking headlines. You simply enter a keyword, press enter, and get your title.
I used 'affiliate marketing' in the example above. Here are a few more ideas the tool generated:
'11 Podcasts About Affiliate Marketing'
'How To Build An Empire With Affiliate Marketing'
'19 Ways Affiliate Marketing Is A Dying Art'
'15 Problems With Affiliate Marketing'
'Why Affiliate Marketing Is Cuter Than A Kitten'
As you can see, there's a mix of results. Some fit the keyword nicely, but others sound a bit silly.
This tool may not work for every brand, but it's great for socially engaging blog content. If you want to expand to social media marketing, catchy titles are the way to go.
You can refresh the results as many times as you want. Your options for content creation ideas are virtually endless. Give it a try to discover eye-catching headlines and topics related to your keywords.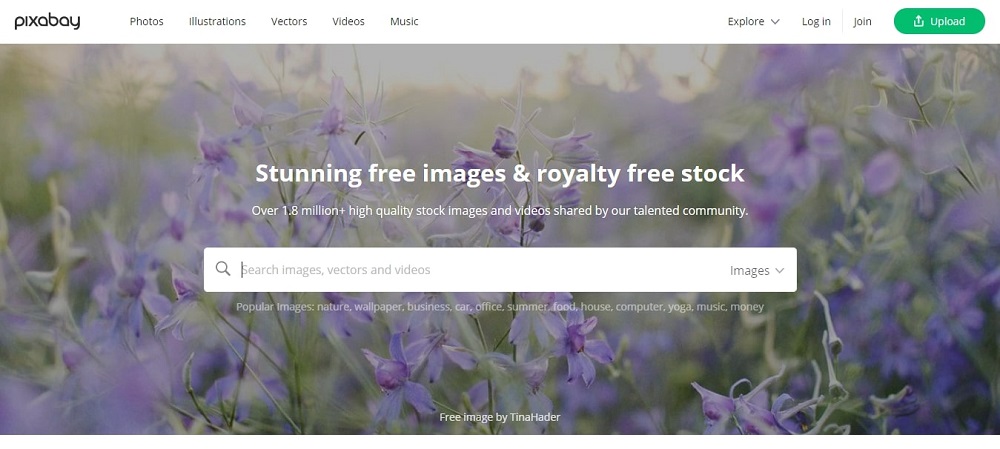 Blog posts with images receive 94% more views than text-only posts, but that's not the only benefit they offer. Images are also a great way to:
Break up chunks of text.
Tell a memorable story.
Help support statements and data.
Make your content more relatable.
Increase social media shares.
Create professional-looking posts.
Pixabay is an excellent resource for high-quality stock images. The site boasts over 1.8 million photos, videos, and illustrations that are completely free to use.
It's not necessary for using the website, but I strongly recommend creating a free Pixabay account. You get access to full-resolution images and skip the CAPTCHA popup when downloading content.
Unsplash is another free image website that offers over one million photos. You can browse by topic or use the search feature. You can download full-resolution images without creating an account.
Elite 3 Free Digital Tools For Editing And Revising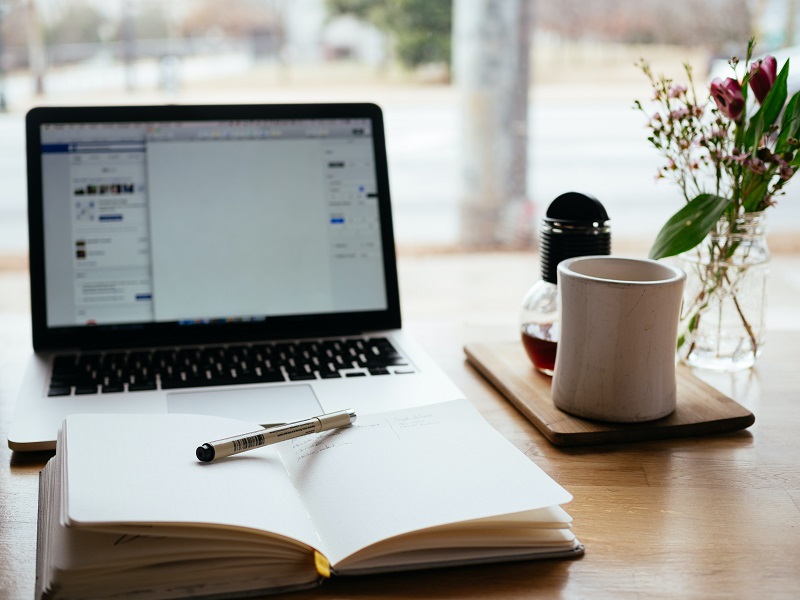 You may not associate editing and revising with digital marketing. The truth is that the editing process can make or break your blog's success.
Run-on sentences and bulky paragraphs can easily make readers lose interest.
Basic spelling and grammar errors hurt credibility and seem unprofessional.
Complex vocabulary is off-putting for the average reader.
These are just a few examples, but they paint a bright picture for you. Read on to discover the free blogging tools you should use before hitting 'publish' on a blog post.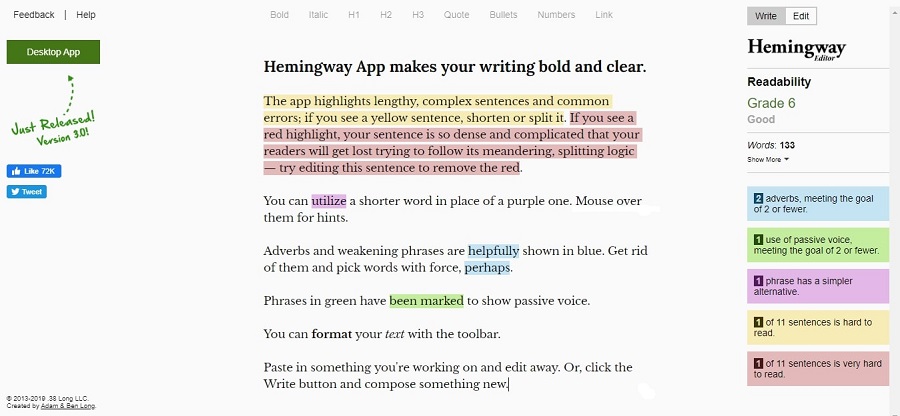 Hemingway is a free analysis tool that checks the readability of your text. The tool reports readability by grade level and the estimated time it takes to read your text.
Hemingway uses different colors to highlight issues with:
Adverb usage.
Passive voice usage.
Complex phrase usage (and alternative phrases to consider).
Sentences that may be otherwise difficult to read.
This is very thorough for a free tool, and the user-friendly layout makes revisions a breeze. You can even download a desktop version for offline use.
Use Grammarly to take basic proofreading to the next level. This tool can help you find common errors that your automatic spell check may overlook.
Copy and paste your blog post into Grammarly's online checker to find mistakes in spelling, punctuation, grammar, and more. You can also use Grammarly's free browser extension.
For enhanced editing features, consider the added benefits of Grammarly Premium. This paid alternative offers:
Suggestions for vocabulary enhancement.
Genre-specific style checks.
Plagiarism detection.
Sentence structure suggestions.
Grammarly Business is a team-friendly version of the premium plan. If your blog is a collaborative effort, you may want to consider the perks of this paid version.
Readability is a must when creating high-quality blog content. You want your posts to be easy for the average reader to understand.
That's what this free digital marketing tool helps you gauge.
What's the average reader? That depends on your niche, but it'll generally be from age 5 to 100.
That's just my guess, but it shouldn't be too far off. No, I'm not being serious.
But knowing your niche's audience's general age range is essential for ensuring your content gets read and not snoozed on.
The Flesch-Kincaid readability test is a popular formula for scoring text comprehension. Text falls into one of the categories listed below:
100.00–90.00 – 5th-grade level text that is very easy to read.
90.0–80.0 – 6th-grade level text that is easy to read.
80.0–70.0 – 7th-grade level text that is fairly easy to read.
70.0–60.0 – 8th to 9th grade-level text.
60.0–50.0 – 10th to 12th-grade-level text that is fairly difficult to read.
50.0–30.0 – College level text that is difficult to read.
30.0–10.0 – College graduate-level text that is very difficult to read.
10.0–0.0 – Professional text that is considered extremely difficult to read.
For reference, Reader's Digest has an average Flesh-Kincaid score of 65, and Time Magazine scores an average of 52.
This means Reader's Digest is easier for general audiences to understand. Better understanding equals better conversions. Easy.
The Automatic Readability Checker scans your content and scores it using the Flesch-Kincaid model. Simply copy and paste your text to get the results.
Blog content should score at least 60, but aim higher for the best readability possible. You never know when someone who hasn't been past 5th grade will stumble onto your blog. 😊
You can increase your score by shortening sentences and using simpler words.
The Conclusion to These Free Digital Marketing Tools for Blogging?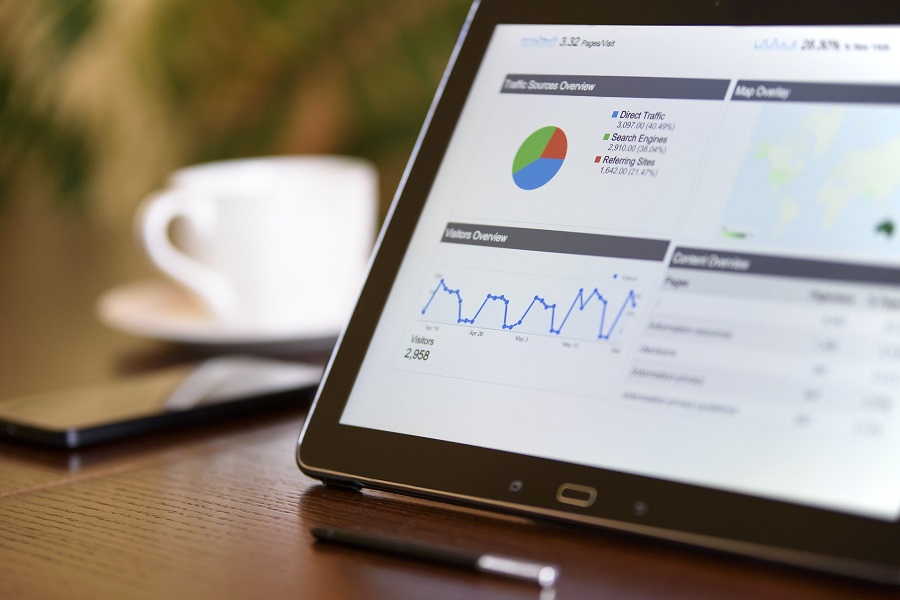 Blogging requires hard work and dedication, and cutting corners isn't going to help you create the online business you've always wanted.
But I've got good news for you: you can simplify the process using the free digital marketing tools I've mentioned above.
These resources help you optimize your blog content for increased web traffic and conversions!
Staying up-to-date on the latest tools and techniques is important.
Keep an eye out for my upcoming blog posts for more in-depth online marketing information.
It'll always be worth your time to read.
Peace.