Are you encountering problems with storing, manipulating, and managing multiple records for your business? You need database software.
More than 90% of businesses with over 11 employees have adopted database software for data storage, security, and processing. What's more, the database market has risen 11% in recent years and is now worth a whopping $15 billion.
The best database software start at $39/month, allow up to 20,000 records, includes 2 GB of storage, and comes with 3 app connections.
Here are the 5 best database software for your business.
What is the Best Database Software?
Knack – Best Database Software Overall (No Code)
TablePlus – Best Native Database Management System for Developers
Improvado – Best Database Software for Marketing Data Management
Oracle Database – Best Database Product Variety & Deployment
My SQL – Best Open Source Relational Database System

1. Knack (from $39/month)
Best Database Software Overall (No Coding Needed)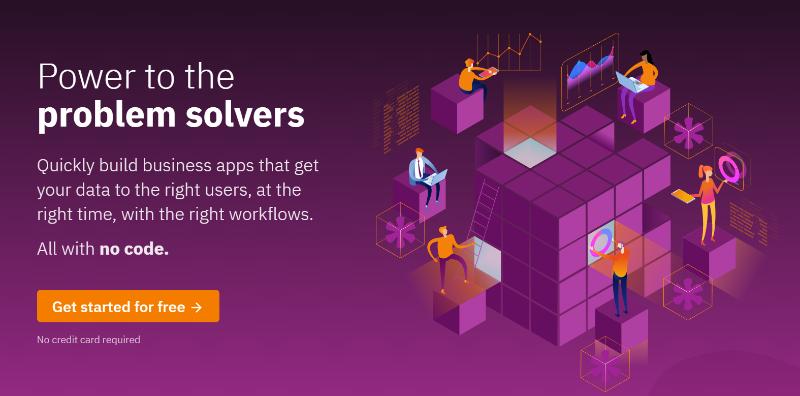 Knack is one of the most popular and easiest database software tools to use.
How easy? You don't even need to learn to code to take advantage of the platform. Try to beat that.
It's even being used by some pretty well-known organizations including Intel, Honda, Spotify, HP, and Panasonic.
Whether you're a SMB, agency, or enterprise-level business owner, Knack has it all.
Pro tip: For sales agents, they offer custom CRM templates so you can schedule meetings, distribute tasks, and manage customers.
Knack Key Features:
Knack provides various key features to build online databases with zero coding.
Here are some of Knack's key features:
Query Language
Data Manipulation
Data Migration
Data Synchronization
Data Security
Application Deployment
WYSIWYG Editor
Lifecycle Management
Customized Branding

Some of their other "less technical" resources include database templates to handle purchase orders, payroll software, inventory management, and project management tools.
Pricing Plans:
Knacks offers three main monthly pricing plans in additional to custom Plus 1, 2, and 3 for enterprise solutions.
To get a quick glimpse at the enterprise plans: Plus 3 will cost you $999/month for 1.5 million records.
Knack's Starter Plan: $39/month for 20,000 records, 2 GB of storage, and 3 app connections.
Knack's Pro Plan: $79/month for 50,000 records, 10 GB of storage, 8 app connections, and priority support.
Knack's Corporate Plan: $179/month for 125,000 records, 50 GB of storage, 25 app connections, and premier support.

While the Starter Plan is plenty enough for beginning online database development, you might want to upgrade to the Pro Plan if you aim to scale.
If you're not sure about investing in Knack's database platform, worry not! All plans allow you to try them for a 14-day free trial.

2. TablePlus (from $59/month)
Best Native Database Management System for Developers
TablePlus is a tool with an elegant UI that enables you to run various databases such as MySQL, Postgres, SQL Server, Microsoft SQL Server, and much more.
It has customers from the world's best companies including Unity, Shutterstock, PHP, Grab.
TablePlus assists you to be more effective while working with many relational databases.
You can connect to a server, create multiple databases, manage and save your data at lightning speeds.
TablePlus has a spreadsheet-like interface for you to browse and update data inline in the most spontaneous way.
You can write several queries and select to run them simultaneously or only the query at the cursor.
Instead of driving queries, you can make a new table from the GUI tool. What's more, is that you can filter out the records you want to view.
TablePlus Key features:
TablePlus helps to make database management faster, easier, and more efficient for you.
It is a simple, native build and has powerful features. Here are some of TablePlus' key features:
Quick Support
Shortcut key available
Limitless extensibility
Export & import database
Code review & safe mode
Advanced filters
Inline edit
Database security
Pricing Plans:
TablePlus offers an annual license that includes one year of important updates. The three plans are discussed below.
1 Computer for $59
2 Computers for $99
A custom license for over 3 devices or team
It offers a 7-day money-back guarantee to its users. If you want to apply for a license for additional devices, you must extend seats, or buy a Multiple-Computers license.
3. Improvado (from $100/month)
Best Database Software for Marketing Data Management
Improvado is a tool to get all the data into one place in real-time. It is flexible and provides automated dashboards and records.
The tool is made for marketers so that they can focus on the marketing dilemma and connect to any platform.
This simple and automatic platform reduces the need for developers to help you implement it or make alterations.
You can decide to view your data inside the Improvado dashboard or you have the choice to extract your data and download it, transfer it to a data warehouse, or visualize it in the BI tool of your preference.
Improvado Key features:
It provides integration with several third-party tools, including Google AdWords, Excel, Facebook, Tableaus, Twitter, Salesforce, MailChimp, BigQuery, etc.
You don't need SQL experts to learn its functionality with Improvado; hence, it is cost effective and doesn't require hiring a developer.
Easily extract and send all data sets to visualization tools, including Google Data Studio, Looker, Tableau, and Google Sheets. etc. It is also provided with an automatic dashboard.
It has a robust reporting mechanism and eliminates manual reporting by over 90%.

Pricing Plans:
Improvado offers a price plan at $100 per month, although you can get a package according to your business.
You can go with Enterprise edition to choose a pricing plan of your requirements.
4. Oracle Database (from $0 or custom quote)
Best Database Product Variety & Deployment
Built-in 1977 by Lawrence Ellison, Oracle database (Oracle DB) is an electronic database management system (RDBMS) by the Oracle Corporation. and is among the leading, trusted, and widely used electronic database engines.
The system is supported on an electronic database framework wherein data objects are usually directly obtained by users.
The Oracle Database is usually operated by global enterprises, which manage and process data across wide and native area networks.
Oracle Database is the first database builtbuild for enterprise grid computing, the best flexible thanks to maintaining applications.
With this architecture, each new system is often quickly provisioned from the pool of components. There's no need for peak workloads because capacity is usually simply added or reallocated from the resource pools as needed.
Oracle Key features:
Oracle database ensures the data it provides tools to manage data access and usage. Implementing authorization and editing user actions can limit unauthorized access and allow distinct access to the users.
Oracle database is flexible and can operate into any personal or supercomputer with the same efficiency.
Its layout comprehensive recovery features to recover data from almost all kinds of failures. In case of failure, the database requires to be recovered within no time for high availability.
Oracle database provides more significant features like captures less space, higher security features, and processes your online database fast.

Pricing Plans:
Oracle database provides different businesses different pricing plans according to their budget and requirements.
You can contact them on customer support whether to know about their availability.
5. MySQL (from $2,000/month)
Best Open Source Relational Database System
MySQL may be a smoothly available open-source electronic database Management System (RDBMS) that utilizes Structured command language (SQL).
Even if you aren't a professional, you can easily use the basic features this database system provides.
MySQL was owned and sponsored by the Swedish company MySQL AB, which was bought by Sun Microsystems who are now known as Oracle Corporation.
In 2010, when Oracle gained Sun, Widenius forked the open-source MySQL project to design MariaDB MySQL works on several system platforms, including AIX, BSDi, FreeBSD, HP-UX, ArcaOS, eComStation, i5/OS, IRIX, Linux, macOS, Microsoft Windows, NetBSD, Novell NetWare, OpenBSD, OpenSolaris, OS/2 Warp, Oracle Solaris, Symbian, SunOS, SCO OpenServer, SCO UnixWare.
MY SQL Key features:
MySQL comprises a security layer which is to protect data from task intruders.
It can manage an enormous amount of data as the platform supports multi-threading which makes it effortlessly scalable.
It has the fastest database language for speed.
MySQL utilizes Triggers, Stored procedures, and views that let the developer give high productivity.
MySQL is faster, more secure, and affordable because of its unique storage engine architecture.
It gives extremely high-performance results as compared to other databases without losing the essential functionality of the software.

Pricing Plans:
MySQL provides three pricing plans to its users.
MySQL Standard Edition $2,000
MySQL Enterprise Edition $5,000
MySQL Cluster Carrier Grade Edition $10,000

What is Database Software?
Database software is designed to store, manage, extract, create, edit, search and automate database files and information.
Comprehensive database software is a program known as the database management system (DBMS).
As of December, Oracle is the most used database management system of all time with MySQL and Microsoft SQL Server.
Database software is primarily won't collect and manage data, typically during a structured format. It provides a graphical interface that allows users to make, modify and control data fields and records during a tabular or organized form.
The data stored using this software are often recovered in a raw or report-based format. Many database software lacks language support, like SQL, MySQL, or the other database querying language.
For example, MS Access software enables users to make, manage and query a database using its GUI controls and features, without having to write programming queries.
Benefits of Database Software
Database software plays a significant role in the company's growth, the primary goal of database software is to generate and manage more data internally.
Using database software you can gather, collect and process information about your customers, suppliers, and even competitors that can give your business a well-defined advantage.
Here are some benefits of using database software:
1. Reduced Data Duplication
Data duplication occurs when the same piece of data exists in various locations in the device which can become a problem for a company as they will have a lot of the same files and misinformation.
Database software tools reduced data duplication frequently.
2. Efficient Integrations
Data integration assists the company to see a combined report of different data residing in different files.
Database software tools allow efficient data integration so that every person can analyze the data report.
3. Consistent Data
The users need to see a consistent view of the data for conformity.
The database management system tools make it simpler for the user to see the changes made by other user's transactions and transactions of other users.
4. Data Recovery
The company cannot afford to lose its personal data and information because of a system crash or failure.
The database software tools do data recovery at regular intervals which can save your important data from deleting.
5. Data Privacy
Any malware or cyberattack can cause your data to leak, but using database software tools enables users to gain access to their data according to authorization levels.
This way, users can safeguard their data privacy at any cost.
6. Enhanced Productivity
Database software comes equipped with a better data management system to offer high-quality insights for more reliable decision-making at a quicker pace.
How to Choose the Best Database Software
The way you manage data in your app plays a significant role in delivering a positive user experience.
It doesn't matter how well your app's interface is designed and how clean your code is unless your application can instantly retrieve, process, and deliver data.
All of this data should be protected so that thieves can't get their hands on it. Fortunately, this can be accomplished with a wisely chosen database management system there are over 300 database management systems on the market.
Choosing between so many tools is truly amazing but the delicate thing is that you don't have to. Having used a variety of database vendors in production, I can surely say that there is no one right answer.
There are several features you should pay attention to when choosing your database management tool.
1. Data Analytics
Database software enables you to segregate high-quality data through advanced business analytics.
They enable companies to leverage advanced analysis techniques and help you reflect data efficiently.
2. Control Access
Access to multiple users enhances the collaboration and team approachability to data. The database software tools offer control access to multiple users through concurrency control strategies.
3. Data Security
The security of data is very important for a company, any loss or stolen data can cause massive problems. The database software tools provide additional layers of data security to keep the company data secure. It limits unauthorized access, regular load, or capacity testing is done to block crashing of databases and regular fixes for known vulnerabilities.
4. Integration
Database software tools are applied to aggregate information from various sources like social media, sensor data from IoT, data warehouses, customer transactions, and much more. They share a current, clean version of it across a company.
Database Software – Wrap Up
Whether you're a SMB or enterprise software company, you'll need database software.
Not sure where to start? Go with Knack – it's cost-effective and includes an entire suite of advanced features to help you scale your business.