Don't have time to read? My top pick for the best Bluehost alternatives for web hosting is DreamHost. The top runner ups are HostGator and SiteGround.
In this review, I'll go over what each web hosting option has to offer, as well as what makes each provider better than Bluehost, and vice versa.
Let's get started.
Choose from the best Bluehost alternatives — for better hosting

#1 Bluehost alternative — DreamHost — Best option for just about anyone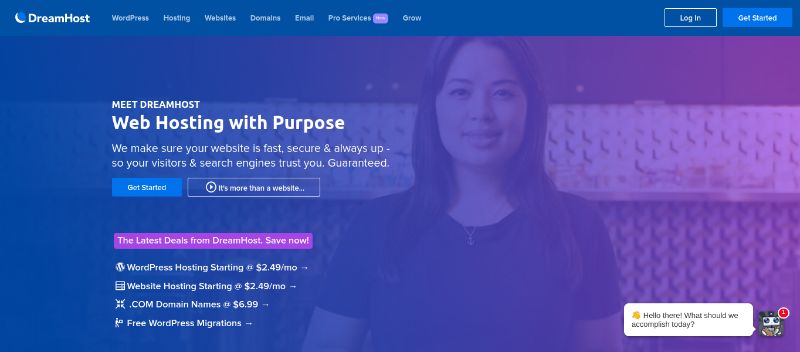 If you know about Bluehost's web hosting service, chances are, you know what Dreamhost is.
The thing is (and I'm sure you've noticed) that nearly everyone out there promotes Bluehost as the #1 web hosting provider for getting websites set up.
I beg to differ. I've always known DreamHost as the superior one.
I'd write a review on "DreamHost alternatives," but more people are searching for "Bluehost alternatives." ¯\_(ツ)_/¯
Not convinced? >> Check out my in-depth guide and review on the best web hosting services for 2021
Main features — DreamHost vs. Bluehost
| Feature | DreamHost | BlueHost |
| --- | --- | --- |
| Domain Name | Free (Lifetime) | Free (1 Year) |
| SSL Certificate | Free | Free |
| Backups | Automated (Daily) | Free |
| WordPress Install | Already Installed | 1-Click Installation |
| Traffic Allowance | Unlimited | 446,000+ (monthly) |
| Support | 24/7 | 24/7 |
| Refunds | 97-Day Guarantee | 30-Day Guarantee |
| Others | Read More | Read More |
Pricing — DreamHost vs. Bluehost
| Hosting Type | DreamHost | Bluehost |
| --- | --- | --- |
| Shared Hosting | From $2.49/month | From $2.75/month |
| VPS Hosting | From $13.75/month | From $19.99/month |
| Managed WordPress | From $16.95/month | From $19.95/month |
| Dedicated Hosting | From $149/month | From $79.99/month |
| Cloud Hosting | From $4.50/month | From $9.99/month |
| Domain Names* | From $.99/year | From $1.99/year |
| More Options | Read More | Read More |
*These domain names are names registered in addition to the free domain you get when you purchase a hosting package. In other words: no hidden costs!
#2 Bluehost alternative — HostGator
#3 Bluehost alternative — SiteGround

Why would you want Bluehost alternatives?
To answer this question, let's take a look at some recent Bluehost reviews from Trustpilot (because I trust them).
Note: I only took reviews with profile images since those tend to be more legitimate. I am in no way attempting to downplay any company; these are just based on my research.
Here's the overview of the 7 latest Bluehost reviews on Trustpilot.
Review #1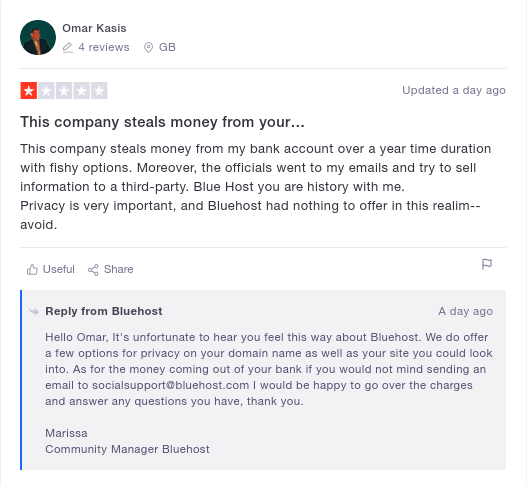 Review #1 claims that Bluehost stole money from his bank account "over [the span of] a year" and "officials" were messing with his emails trying to "sell information to a third-party." His punch? "Privacy is important."
Bluehost responds saying they "offer a few options for privacy" and "would be happy" to review the info about the alleged charges.
Review #2

Review #2 claims that Bluehost should be avoided lest you want it to "cost YOU!"
Review #3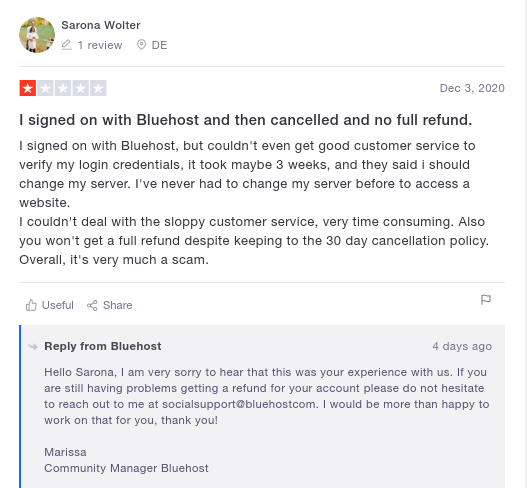 Review #3 claims they couldn't get "good customer service" to verify "login credentials" and that it took "maybe 3 weeks" to get an answer. In addition, the reviewer claims they did not get a full refund despite "keeping to the 30 day cancellation" guarantee.
All in all, the review states Bluehost has "sloppy customer service" and that it's "very much a scam."
Review #4
Review #4 jokes about Bluehost saying they "couldn't host cakes."
Review #5
Review #6
Review #7