Don't have time to read? My top pick for the best all-around performance management software is Lattice.
Kissflow HR Cloud and Namely are our top runner ups.

Disclosure: This post has affiliate links that I get a commission for at no extra cost to you, but rest assured that I only feature the best resources to help grow your business – nothing less.
Performance management systems are tools that let managers evaluate job performance and accelerate employee development.
Without performance management software, employees and managers reply on quarterly or annual performance reviews – not efficient at all.
Using these HR software solutions, companies can be provided with continuous performance management reports anytime.
All in all, performance management tools are to improve overall productivity and help employees and managers alike to drive toward the end goals.
The 3 best performance management software
Lattice – Best for sharing continuous feedback
Kissflow HR Cloud – Complete solution for employee lifecycle management (from hire to retire)
Namely – Best all-in-one talent management platform

What makes these performance management software stand out?
#1. Lattice
Best for Sharing Continuous Employee Feedback
Lattice is one of, if not the, best performance management systems in the world.
There are over 1,850+ businesses using Lattice to engage employees including, but not limited to, Reddit, Slack, and Asana.
Not only does this software create productive teams, it makes it easy to create a healthy workplace and strong minded leaders.
It includes everything managers need to optimize employee development with continuous performance feedback – something that no other performance management software does.
Here are some more of their perks:
Performance reviews for each individual
Real-time constructive criticism & feedback
1:1 collaborations
Employee goals
Praise & recognition for achievements
Frequent status updates

What's more, Lattice's package includes tools for people analytics, questionnaire templates, and roadmaps to conduct an audit of your company's overall organization.
Lattice also includes integrations with other essential tools like Slack, G Suite, BambooHR, Workday, and more.
So no matter which department you're in whether it's HR, employees, managers, or even marketers, the software works around the clock to increase productivity and engagement.
Lattice pricing plans
Lattice offers 3 pricing plans plus an optional extension:
Performance: $9/user/month
Performance & Engagement: $12/user/month
Enterprise: Custom pricing (get a quote)
Grow (plan extensions): +$3/user/month

I'd recommend the Performance & Engagement plan since it has the most reasonable pricing for all the features you will need to scale a small business.
Note: Lattice does not offer free trials, but they do offer free product demos.
The Performance plan is great for testing the tool, but they do have a starting annual agreement of $4,000 – a great investment if you like what you see with the demo.
No matter the size of your company, Lattice has plans that are designed to fit your needs.
Not sure if you want to get Lattice? Simply request a demo.
#2. Kissflow HR Cloud
Best for Employee Lifecycle Management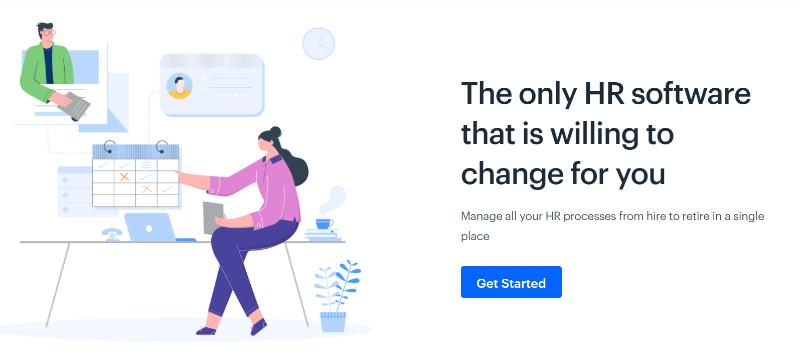 Kissflow is used by over 10,000 customers all across the globe in over 160 countries and was created to help all business users discover, create, and use a variety of applications.
It's also the first Unified Digital Workplace Platform in the world – it means Kissflow is the only tool you'll need to manage your work.
If you want a performance management system that's beautiful, flexible, has an updated design, improves workflow exponentially, and is code free (seriously, no coding or complexing mapping needed), Kissflow is the PM software for you.
Kissflow pricing plans
Kissflow offers 3 plans:
Starter: $390/month for 20 users
Professional (recommended): $690/month for 50 users
Enterprise: Starts at $1500/month for 100+ users

For their Enterprise plan, it "is based on expected transaction volume and maximum number of users and is only available on an annual subscription."
So if you're a large company that's looking for the best performance management software, it's the way to go.
But if you're s small business or startup, the Professional plan is the best option since it has everything you'll need to scale.
The Starter plan is very limited in what it offers, but may keep up for a bit. But there really isn't a point in it since all plans offer a free 14-day trial. No credit card required.
#3. Namely
Best All-in-One Talent Management Platform
Last, but certainly not least on the podium (it's hard to say), we have Namely.
This performance management software is one of the best all-in-one (if not the #1) solutions for HR and performance management.
Need solutions for HR, payroll, benefits, and talent management? They've got it.
With tons of features for employee onboarding, your teams can set the requirements and goals right from the employee's first day of work.
Here are some of Namely's top performance management features:
People operations platform: time off tracking, org charts, and a social news feed
Cross-department management and tracking
Benefits: enrollment, consulting, and compliance
Payroll: tax filings, W-2s, and benefits deductions
Talent management: easy onboarding, goals, and performance reviews (unlimited)
Self-performance reviews
Customized templates
Review cycle automation
Performance goal setting
Employee appreciation and recognition automation
and much more.

What's more, Namely has streamlined the process of dealing out and receiving performance related questionnaires from employees and management – to provide a better assessment of processes and performance.
Namely pricing plans
Namely is the best fit for mid-sized businesses (they say so themselves) due to the extensiveness of their software suite. While small businesses can certainly use the their performance management platform, it may be a large overkill.
Note: Namely does not publicly mention their pricing options, but if you decide that they are the best fit for your business, just request a free demo here.
Hopefully by now, you've decided on the best performance management software between Lattice, Kissflow, and Namely.
But if not, here are some FAQ and tips to help you decide.
Performance management software related FAQ
What is the best performance management system?
Our top pick is Lattice. They provide continuous employee feedback that's now more important than ever due to the never ending need to improve team management and collaboration.
Our top runner ups are Kissflow and Namely, both of which provide an all-in-one solution to HR software.
Sure, they're not as geared toward performance feedback as Lattice, but if you want to buckle down with one piece of HR software to rule them all, these are your best options.
What are performance management (PM) systems?
Performance management systems let you track and monitor the performance of individual departments and all employees.
These systems are proven to help with overall organization and are based on your company's specific job/position competencies to reach an overall goal or quota.
How do I choose a performance management system?
What are the fundamentals of performance management?
They're pretty simple:
1. Get and develop great people.
2. Create a supportive environment.
3. Focus on getting employees to their targets.
4. Let them figure the best way to get to the goal.
Why is performance management important?
Performance management helps boost employee productivity and engagement.
It's proven that more engaged employees stay at companies longer and are active in the workplace in addition to showing better results.
Investing in proper performance management software is the right choice if you want to improve engagement levels and maximize ROI.
Best performance management software (Wrap up)
What's the best performance management software? There's no single answer to this question, as it depends on what you're looking for.
The answer isn't the same for everyone since it really depends what you're looking for.
If you're looking for continuous performance management and feedback, Lattice is the perfect tool.
Kissflow and Namely are the best options if you want an all-in-one HR solution plus added PM Software capabilities.
No matter how big your business is, this guide is geared to help you choose the best performance management software for you.
Do you use a solution different from what we've featured? Let us know and we'll check it out!